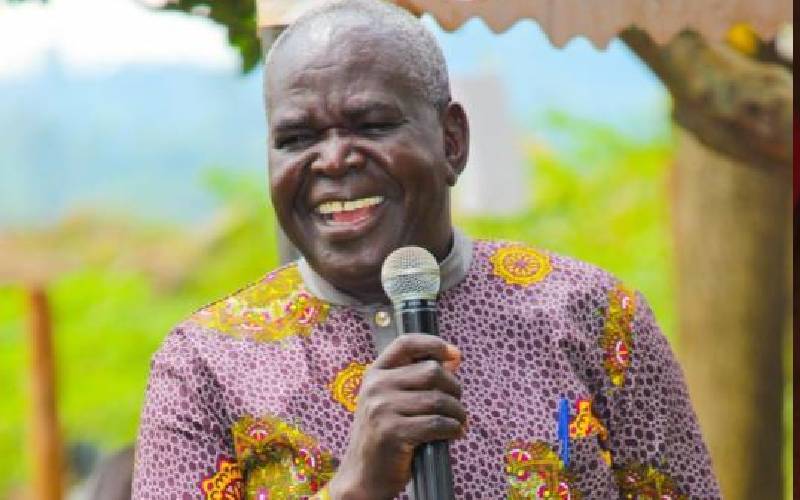 When high school principal Philemon Agar Koyier sought early retirement in January 2017 to join politics, he had no serious health or financial complications.
Pursuit of post-retirement insurance cover was not an immediate priority as his pension benefits were enough security and "all my attention was focused on how to become a ward representative, which I contested and lost,'' recalls the 61-year-old.
But for the respected teacher in Migori County, life began changing in July 2020 when "I developed a lot of pain in my waist and decided to visit a local private health facility. I was diagnosed with 'typhoid and malaria' and consequently put on a quinine drip.''
The pain persisted for three days and a CT scan was recommended "but when the pains miraculously disappeared, I was discharged,'' but three months later, Agar woke up with a non-painful swollen right arm which he wrongly concluded was due to the quinine drip and close family and friends thought as much and dispensed with visiting the hospital.
"After some time, I noticed a swollen mass on my right breast," and alarmed, Agar went to a health facility in Migori town for further medical attention, but alas! He had not serviced his NHIF cover for a number of months and whose fines he paid, but had to pay cash for Ultrasound and X-Ray.
The results revealed that his breast could be cancerous and the cells had started spreading as evidenced from the lower vertebral bones.
The doctor recommended the removal of the breast mass "if only I could produce cash which I did not have,'' offers Agar whose NHIF card required approval from the headquarters in Nairobi, but which declined until "a Fine Needle Aspirate (FNA) test was done.''
Agar shifted to a hospital in Homa Bay where an orthopaedic surgeon recommended a CT Scan and Core Needle Biopsy which according to orthopaedic Surgeon Dr James Obondi, is mostly recommended when initial tests suggest an "abnormal tissue, a lesion, a tumor, or a mass'' which could only be accessed in Kisii town, more than 50 kilometres away.
The results were quite alarming: The breast mass was cancerous and the cells had spread to the lumbar vertebral bones. Both lungs were not safe either.
An oncologist was needed and most are in Nairobi where due to restrictions in movement due to Covid19, posed a challenge but a travelling permit from Migori County Commander came in handy.
In Nairobi, a cancer specialist Dr Andrew Odhiambo's assessment detected metastasis as causing the spread of cancer cells through the lymph system or bloodstream.
When observed under a microscope and tested in other ways, metastatic cancer cells have features like that of primary cancer and not like the cells in the place where the metastatic cancer is found.
This is how doctors can tell that it is cancer that has spread from another part of the body.
Dr Obondi says it is possible to live for many months or years with certain types of cancer, even after the development of metastatic disease.
Agar was then referred to another consultant, Dr Henry Abwao who recommended radiotherapy-which his NHIF card could not cover much yet "I had to undergo 10 radiotherapy sessions at Sh6,000 per session."
That cost came to Sh600, 000 and given the logistics of admission and other costs he requested for access without being admitted and "I am now undergoing radiotherapy sessions" which started in April this year.
Agar says overlooking health insurance cover was a regrettable oversight but he has learnt a lot including approaches to cancer care and terminologies.
Parts or whole breast may be removed
Metastasis, as in stage IV (4) cancer is the process by which cancer cells spread to other parts of the body commonly lungs, liver, bones, and brain.
Metastatic cancer is Treatment
Surgery
Parts of the breast or the whole breast may be removed (mastectomy) with the option of reshaping it through reconstructive surgery. Lymph nodes may be removed to detect whether cancer has spread.
Radiation Therapy
Radiation uses high energy X-rays or particles to destroy any residual cancer cells in the breast or in other parts of the body after surgery. Radiation can be external with a machine or internally with a radioactive particle in the body (brachytherapy).
Hormonal Therapy It targets cancer cells that grow in response to hormones such as oestrogen and progesterone.
Chemotherapy
Involves killing rapidly growing cancer cells with drugs that can be given intravenously (through the blood) or orally (by mouth). Chemotherapy can be performed before or after surgery depending on how advanced the cancer is.
Targeted Therapy
Is a more direct form of drug therapy that specifically targets cancer cells to control growth and spread. All forms of drug therapies have side effects that vary from nausea/vomiting and hair loss to neurological and cardiac effects.
Source: Kenya Metastatic Breast Cancer Network
Related Topics