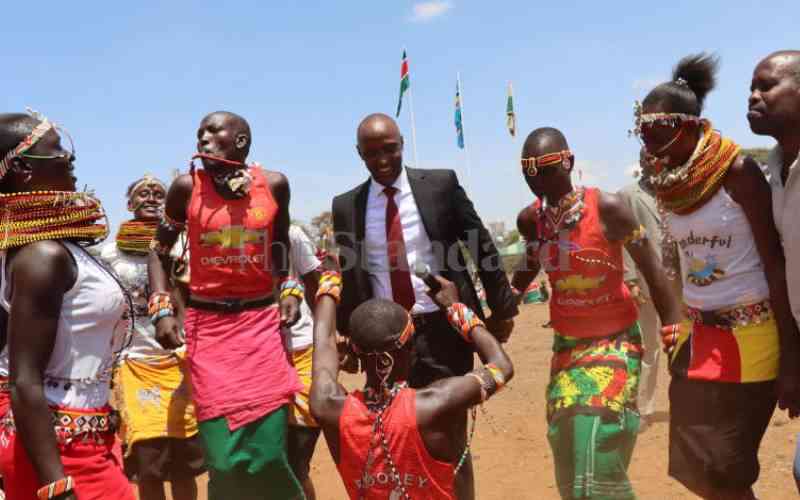 Political leaders from Isiolo, Marsabit, and Tana River Counties have formed a caucus that will champion the interests of locals.
The leaders were speaking Kinna in Isiolo South Constituency during a thanksgiving ceremony for former area MP Abdullahi Banticha who was appointed as Isiolo CEC finance.
Isiolo Governor Abdi Ibrahim Guyo said that the region will only benefit from major development projects if leaders from the region unite and rally their support behind President William Ruto.
"The intention of our caucus is to jointly lobby for the interests of the people of our three Counties, especially from the national government," he said.
The governor was accompanied by Saku MP Ali Dido Raso, Former Tana River Governor Hussein Dado, Marsabit Senator Mohamed Chute, Isiolo Woman Rep Mumina Bonaya, Tana River Woman Rep Amina Dika, Principal Secretary for Crop Production Kello Harsama, former Moyale MP Qalicha Gufu, former Galole MP Hassan Dukicha.
Guyo who is the only governor elected on a Jubilee Party ticket said the leaders were ready to work with the United Democratic Alliance (UDA) and President Ruto despite being elected on different party tickets.
Mr Dado is the patron of the new caucus while long-serving Saku MP Ali Dido Raso is the chairperson.
The leaders lauded President Ruto for appointing three Principal Secretaries and three Chief Administrative Secretaries from the three counties that are predominantly occupied by Oromo-speaking communities.
Dado and Raso noted that this was the first time since independence that the region had gotten such a share in government appointments.
"We need to solidify the support of all leaders and residents from the region behind President Ruto's government," he said.
Related Topics