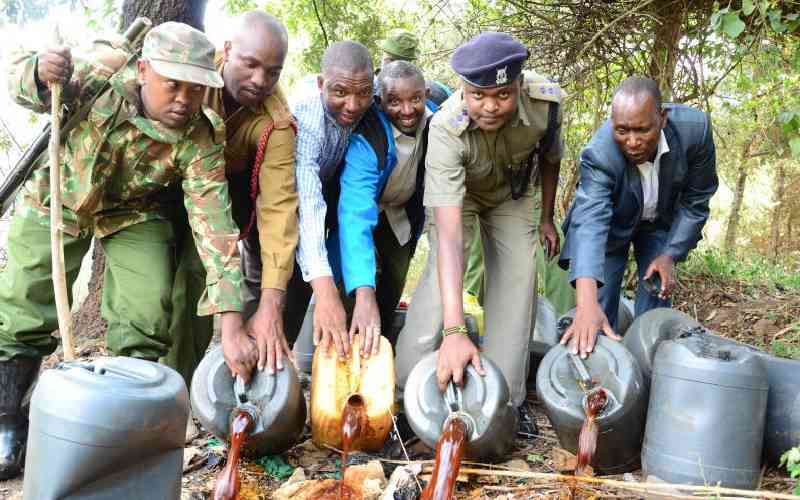 The relationship between the national police, alcohol drinkers and the law has been long and controversial. This love-hate relationship goes back to the days before the existence of Kenya as a country, colony or protectorate.
Home-brewed drinks had prior to the introduction of conventional government in Kenya served a critical role in regulating the everyday life of communities. They were used as a currency to seal many transactions such as marriage, exchange of labour as well as fines.
Beer also served as a medium for settling disputes in the family set-up and between clans. It had a special role during feasts and rituals such as the start of the harvesting, initiation of a child, marriage arrangements and honouring of ancestors.
But all this changed after 1885 when world leaders met in Berlin and parcelled out Africa as a kid would slice up a birthday cake and dish out slices to friends at whim. One of the European leaders' concerns in Berlin was to control what was to be imported into Africa.
Historians argue that superpowers then were wary of importing guns and wines into Africa for fear that this could make the continent ungovernable.
The conference sought to control Africans' access to their traditional drinks to ensure the settlers had a regular supply of sober labour. At the coast where the Imperial British East Africa Company (IBEAC) first set foot, the firm had to rely on the exploits of one of the police officers, Kapur Singh, who had been sent from India to protect 150 agents and the trading routes from hostile Africans as they ventured into the interior.
According to Hans-Martin Sommer, the Africans at the time loved indulging in palm wine and were quite insolent towards the agents. And in keeping with the spirit of Berlin, IBEA established an administration with an armed security force in 1896 with fortified stations to protect its trading routes, centres, stocks and staff. The colonial authorities were aware that drinking made African unpredictable and dangerous, and therefore difficult to control. This is why its administrators introduced the palm wine regulations of 1900. Unfettered drinking discouraged young men from engaging in wage labour. And the government sought to introduce restrictions on African drinking hours.
Although the law made it mandatory for people involved in the tapping and sale of wine to get licences from district commissioners, it did not eradicate palm wine. Colonial government reports blamed beer among Africans to be the cause of disrespect, indolence and criminality.
Police have ever since been deployed to crack down on consumers and sellers of illicit brews. Post-colonial taxes have never eradicated this vice.
Related Topics