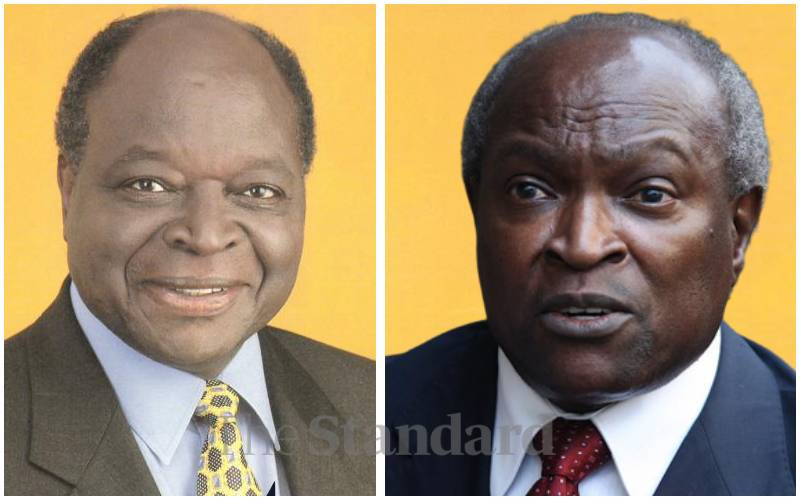 Former President Emilio Mwai Kibaki quietly left the earth just as he did the office when he retired. Kibaki breathed his last on April 21 2022 and was given a State funeral led by the Kenya Defence Forces (KDF).
After leaving government, Kenya's third president and an economist of repute mapped out how his earthly wealth would be shared among his children. He listed Judy Wanjiku, Jimmy Kibaki, David Kagai and Anthony Githinji as his children and heirs to his Estate.
However, the Will would later turn out into a full-blown battle between Kibaki's heirs and two other people that have come up claiming they were excluded from inheriting the wealth despite being fathered by him, albeit outside wedlock.
The two want DNA tests done to ascertain they are indeed the former Head of State's children. One of the prayers is to exhume Kibaki's body. The matter is set to be heard in a Nairobi court on February 28 before Justice Eric Ogola.
Jacob Ocholla
On one hand is Jacob Ocholla Mwai who wants Kibaki's body exhumed. Ocholla claims there are no existing male siblings that can assist get the right DNA to ascertain that he is Kibaki's son. Ocholla claims he is Kibaki's first-born child. "The 2nd Objector seeks to have the body of the late Emilio Stanley Mwai Kibaki (the deceased) exhumed in order to extract DNA samples for purposes of conducting a DNA paternity test on the Petitioners and Objectors.
"The 2nd Objector seeks for exhumation of the late Emilio Stanley Mwai Kibaki's body because there are no known male relatives of the deceased who are still alive that would provide DNA samples for a DNA paternity test," Ocholla's court papers seen by The Standard.
On the other hand, the second objector codenamed JNL wants Wanjiku, Jimmy, Kagai and Githinji be subjected to a DNA test to prove that she is their sibling. JNL asserts that she intends to fight for her inheritance rights and as such, a DNA test will tell truth.
JNL states: " It is for this reason that the applicant seeks the court to have a DNA test conducted on herself and the other known four children of the deceased to establish her paternal alleles, and that they share a common paternity or established generic relations."
Request to exhume Kibaki's remains
The prayer to have Kibaki's remains exhumed is, however, opposed by his four children. Wanjiku filed a reply on behalf of her other three siblings.
She argues that exhuming Kibaki would not only be detrimental to his family, but to Kenyans at large.
In order to put out the complexities of the orders being prayed for, Wanjiku argues that Kibaki being a retired Head of State, was accorded a state funeral, which was funded from public coffers and overseen by the military.
In fact, she says, Tanzania declared two days of national mourning while South Sudan had three days to mourn the fallen Head of State. Kenya had his body lay in state at Parliament for three days to allow Kenyans to view before it was interred in Othaya, and the burial day was a public holiday.
According to Wanjiku, her late father's death was a national and international matter, and the court should not entertain a prayer to exhume him.
"By reason of the foregoing, I verily believe that the final laying to rest of the deceased as a retired Head of State is a matter of national and international importance and is publicly funded.
"By reasons of the paucity of evidence and the second objector's summons, such orders for the disinterment of the deceased should not be whimsically granted by this honourable court and in the manner sought," Wanjiku replies.
She argues that it is suspect for Ocholla and JNL to show up after Kibaki's death as he never introduced nor acknowledged them as his children to his family.
"It is quite strange that none of the objectors made any effort to contact the petitioners in over 60 years during the pendency of the deceased's life to make the allegations they now do in their applications relating their relationships with the deceased," says Wanjiku, adding that the court should only factor in a clear and straightforward nexus between the two and the late President.
On August 11 2022, a gazette notice was published notifying Kenyans that the court would proceed to grant Kibaki's three children, who he had appointed as executors of his will, powers to administer the estate and make distribution of inheritance to beneficiaries as per his wishes.
Following the notice, JNL filed her objection arguing that she had been locked out of the wealth despite being an heir to the deceased. JNL narrates that she was born in 1961.
She says her mother and Kibaki met while they were both students in the United Kingdom in the late 1950s.
However, Wanjiku argues that she knows JNL's mother, a renowned author, was married to Dr. J.K. She asserts that JNL adopted Dr. JK's name, adding that they (Kibaki's four children) have never interacted with her either publicly or in family functions.
"I verily believe that in preparing and leaving his will dated December 23, 2016, the deceased had a firm recollection of his biological children and beneficiaries who were named as the joint executors and are the petitioners in these proceedings. ... They are strangers to the deceased's estate," replies Wanjiku.
However, in her further affidavit, JNL argues that although her mother was married to Dr. JL, and had two daughters, she separated with him in 1954, seven years preceding her birth. She says her birth certificate remains blank on the part of the father.
"I wish to state that being known by the name (L) does not make me neither his biological child, nor him being my biological father... I wish to state that my sister Judy Wanjiku Kibaki is deponing on matters that are not within her knowledge to prove," JNL argues.
JNL states that she schooled together with the four at Hospital Hill Primary School for seven years, and were common friends and acquaintances. She alleges that she even schooled in USA with Wanjiku and have been friends.
According to her, sometime in 2017, she met with Wanjiku at a dinner and they discussed how Lucy married Kibaki 16 days after her birth.
"The most critical issue we discussed was the fact that she and I are sisters. I shared with her that we share a father, that my mother and our father met while both were studying in the UK in the late 1950s, that they continued with their relationship after he returned to Kenya...
"Our father visited me in the hospital nursery after I was born; that he and her mother, the late Mama Lucy Kibaki married on Saturday Dec 16, 1961, exactly 16 days after my birth while my mother was still in hospital recovering and that I am seven months her senior," she claims.
According to JNL, the family of former commissioner of income tax G.K Ihiga and Dr. Julius Kiano were aware of her parentage and knew that she was Kibaki's daughter.
She adds: "The late Hon. Matiba was a very close family friend to my mother's colleagues, and a business associate of the deceased. He discussed with my father about my well being on many occasions."
She claims that Jimmy, Kagai and Githinji as well as members of the larger Kibaki family such as Samuel Kibaki, who is said to be a brother to the president, had agreed to recognise her as a sibling in an alleged meeting but the female members of the family were allegedly resistant.
On Ocholla, Wanjiku says that the name Mwai is an assumed one and not her father's. She states she is aware that her aunt Esther Waitherero never approached Ocholla or discussed with them about him.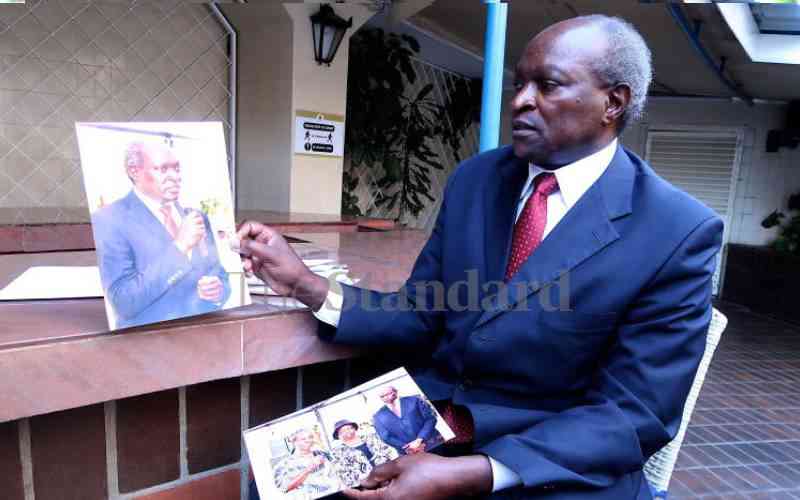 "The second objector's allegations are untrue and uncorroborated. I verily believe that the timing of the second objector's allegations is suspect particularly in the face of lack of any documentary evidence or any third party corroboration of the second objector's allegations of his relationship with the deceased," Wanjiku argues about Ocholla.
In the case, Ocholla, 62, claims to be a child of the former president. Ocholla had initially filed a succession case of Kibaki's estate in Nyeri. He wants the court to compel the Kibaki family to recognise him as the first-born son and give him an equal share of the late President's vast wealth.
To show a nexus between the deceased and himself, Ocholla argues that he is relying on his striking resemblance with the deceased. He claims that he shares phenotypic features with the deceased, particularly baldness, forehead, ears, nose, cheeks, cheekbones, body frame, and gait.
The man wants the court to order the funds that Kibaki left in his estate be used to shoulder the cost of exhumation and conducting a DNA test.
"The process of exhumation may require the involvement of different State agencies and therefore it is important for the court to order that those agencies facilitate the exercise.
He further argues that in the event the court decides that it should be a sibling DNA instead of the paternity one, then it should allow any person who is dissatisfied with the results to approach the court for a paternity test.
"We pray that issue an order directing that the body of the Late Emilio Stanley Mwai Kibaki be exhumed in order to extract DNA samples for purposes of conducting a DNA paternity test on the Petitioners and Objectors.
"Additionally, we pray that the costs of the DNA paternity test and the costs of the exhumation contemplated be defrayed by funds to be withdrawn from the accounts of the Estate of the Late Emilio Stanley Mwai Kibaki (the deceased)," his court papers filed before the High Court read in part.
Ocholla has listed Bechuana Mutisya, Rachel Lugari and Wilfred Ndung'u to support his case.
However, Wanjiku argues that being a lookalike is not enough to establish family relations with a person. She also argues that his claim that they too, should be subjected to a DNA test to ascertain their linkage to Kibaki, is without any backing.
"The second objector's summons and supporting affidavit sworn on October 12, 2022 are without basis to the extent they allege the petitioners are not the children of the deceased, again without basis, further deny the existence of the deceased's male relatives."
Related Topics