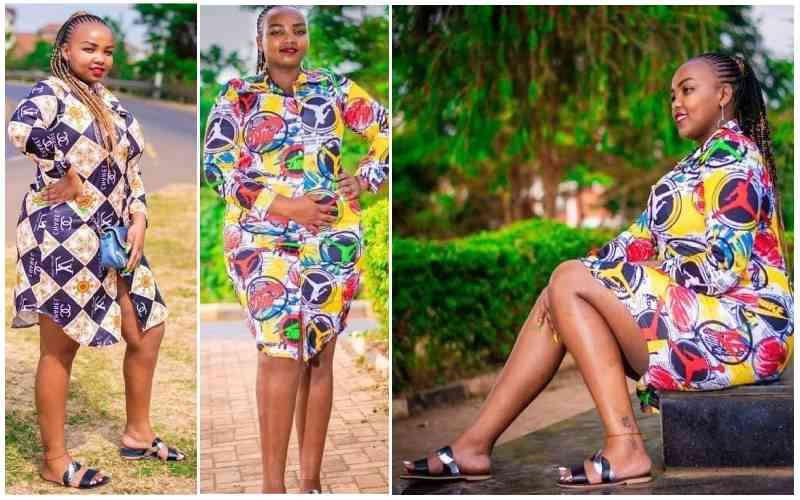 The 23-year-old woman who died alongside her lover on January 17, 2023 following a tragic plunge into Titanic Dam in Juja Constituency, Kiambu County was buried on Wednesday, February 1 at her parents' home in Mathioya, Murang'a County.
Fridah Warau Kamuyu was laid to rest at Kagwanja Village in Kamacharia Location.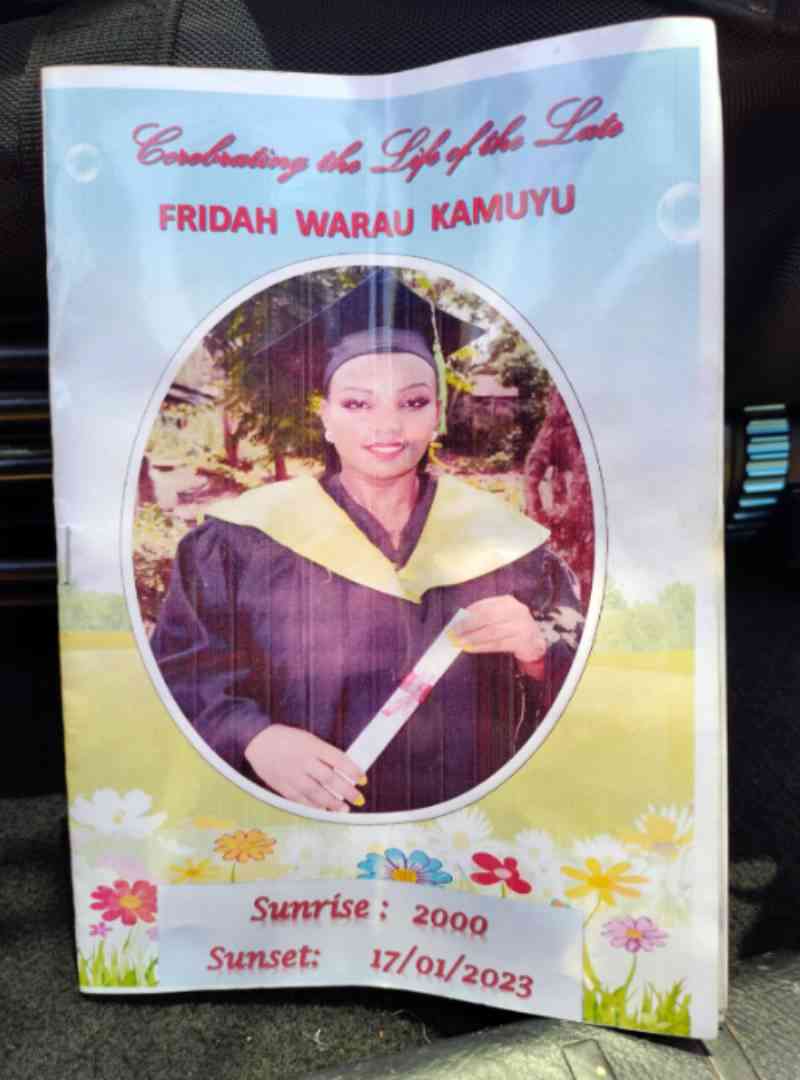 Her parents, Chris Kamuyu and Grace Ruguru, in their eulogy, described Kamuyu as a happy woman, who brought so much joy to the people she interacted with.
"Dear daughter, your love overwhelmed us with great joy in our hearts. We still recall your great laughter and stories. Your presence filled us with joy and happiness. We loved you so much, but you left us so soon. Rest easy, Fridah," Kamuyu's parents said in the tribute read out during her funeral on Wednesday.
One of the deceased's sisters, in her oration, reiterated the parents' statement, saying Kamuyu's best attribute was her ability to make the people around her happy.
"Dear sister Fridah, you have been our best friend. [We'll miss] how you used to make us laugh and that smile on your face. We lack words to express the love [that] you showed us all in our lives. We will keep your legacy of love and making others smile, even when things turn against their wishes. Till we meet again Fridah, bye," the deceased's sister said.
Kamuyu's eulogy stated that she was born in the Year 2000 at Kagwanja Village in Mathioya Sub-County.
Her siblings are Mary Wanjiru, Anne Nyambura, Bildad Wachira and Monicah Wangui.
"Fridah, who was brought up well by her parents, was an obedient girl," the eulogy said.
"She started her schooling at Kagwanja Primary School in the Year 2005, where she studied and got her KCPE certificate in the Year 2014. She proceeded to Butere Girls' High School [in Kakamega County] and did her KCSE in the Year 2019. She [thereafter] enrolled at Uzuri Institute in Thika for a Diploma in Hotel Catering and Management course," said her eulogy.
"The late Fridah was baptised at ACK St. Paul's Kagwanja Church in the Year 2006," added the oration.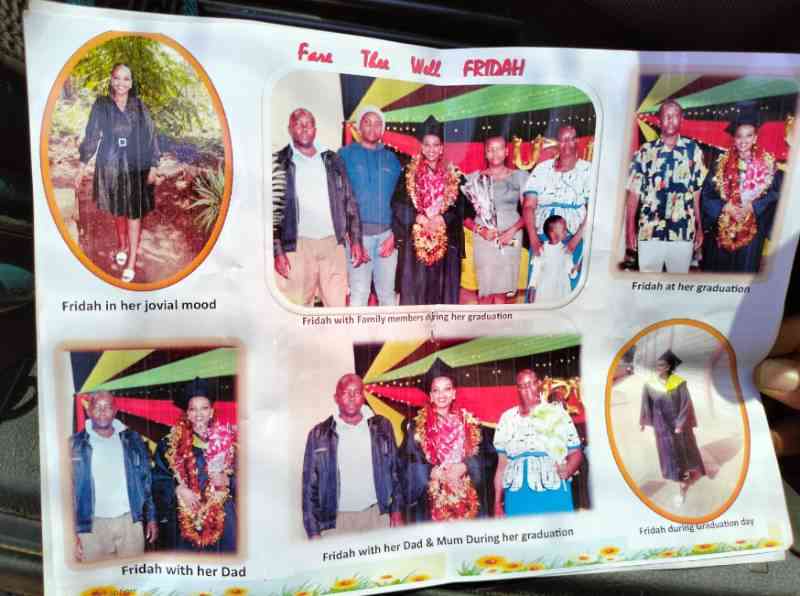 In regard to her demise, Kamuyu's eulogy said: "She met her untimely death on 17/01/2023, and she rested at a tender age of twenty-three years old (23 years). God gave us Fridah and has taken her away. Fare thee well."
According to friends, who spoke to The Standard after her body was identified at the City Mortuary on January 26, Kamuyu was a bubbly, ambitious and likable woman.
She had known her boyfriend Tirus Maina Gikonyo for three months.
The two were in Gikonyo's car, Nissan X-Trail, when the vehicle reversed into the dam in unclear circumstances.
Gikonyo, 39, and Kamuyu, 23, drowned, and their bodies were removed from the dam the following day, January 18.
It took less than 48 hours for Gikonyo's body to be positively identified by his spouse and brother, while Kamuyu's took ten days.
Gikonyo, a married man, was the managing partner of a Kenyan company called Hardrock Engineering that deals in kokoto (ballast).
Kamuyu graduated from Uzuri Institute in November 2022 with a Diploma in Hotel Catering and Management.
In Nairobi, her parents Chris Kamuyu and Grace Ruguru live in Dagoretti.
Until January 26, the parents were unaware that their daughter had died.
According to Kiambu County Criminal Investigations Officer (CCIO) Richard Mwaura, it was after they processed Kamuyu's fingerprints that they established her identity and alerted her parents.
"We had to process her fingerprints because no one had come out to claim her," Mwaura told The Standard.
The Kiambu CCIO said the parents were unaware of their daughter's whereabouts because she lived at a hostel in Thika where she was schooling, and rarely called home.
"After graduating from college in November 2022, she got a job as an M-Pesa shop attendant in Thika Town. We understand that she met Gikonyo, a resident of Makongeni, in the course of her work. Their friendship transitioned to a romantic relationship. At the time of their deaths, they were three months into their relationship," said Mwaura.
Kamuyu was the second born in a family of four children (three girls and one boy).
A report filed at the Juja Police Station by one Mwangi, who introduced himself as Gikonyo's friend, said on January 17 daytime, Gikonyo told him that he was going to Ruiru to meet his girlfriend.
According to Mwangi, Gikonyo had two partners – one who lives at Kahawa West, and another at Makongeni Estate in Thika Town, Kiambu County.
"He only told me that he was going to meet his lover, and that we'll talk later that day," said Mwangi.
Witnesses, who filed reports with the police, said on January 17 at 7pm, they saw Gikonyo's car reversing towards the dam.
"He reversed but stopped on the first instance. We hooted and warned him that he'd plunge into the dam. He, nonetheless, reversed for a second time and stopped on the edge of the dam. Our incessant hooting to persuade him against reversing fell on deaf ears when he reversed for the third time and sunk in the dam," said one of the eye witnesses in his report filed at Juja Police Station.
Police established that between 1pm and 5pm on the fateful day, Gikonyo and Kamuyu were drinking at an entertainment joint in Ruiru before driving to Titanic Dam in Murera Ward at around 5pm.
Bodies of the two victims were retrieved from the dam on January 18.
Gikonyo was buried on Friday, January 27 in Mukurweini, Nyeri County.
The Nissan X-Trail, which they were in, was removed from the dam on January 18 evening and towed to Juja Police Station.
Related Topics