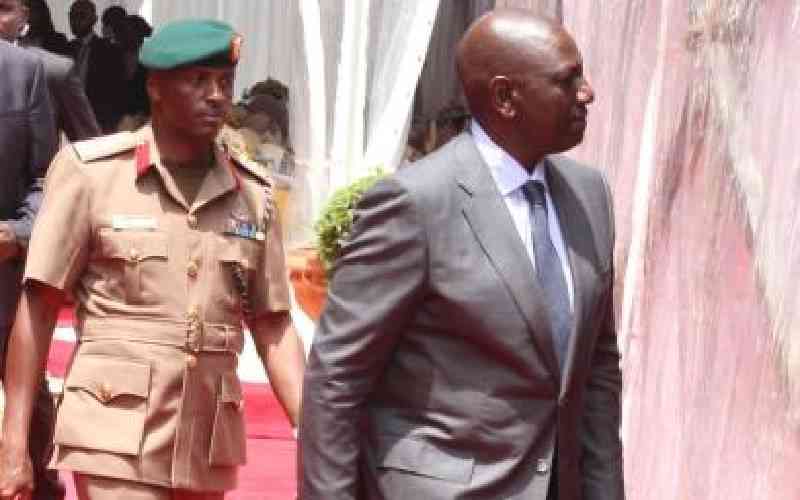 President William Ruto's nomination of Bernice Silaal as the National Police Service (NPS) accounting officer has been challenged in court.
President Ruto appointed Silaal as the NPS Principal Administrative Secretary (PAS).
Dr Magare Gikenyi, a surgeon, has filed a petition before the Employment and Labour Relations Court, arguing that the appointment is illegal.
Gikenyi says the position does not exist in law. He argues that there ought to be a Principal Secretary in charge of police finances, adding that it is a duplication of the role of Interior Principal Secretary.
He also argues that Kenyans cannot afford an extra hand in the current economy.
"The role of the 52nd respondent will be similar to the Principal Secretary, essentially duplicating roles and depleting the country's scarce financial resources and bloating the already bloated civil service. No evidence has been provided to the extent that the principal secretaries have been overwhelmed so as to require the assistance of the Principal Administrative Secretary," he says.
He also wants the court to bar Parliament from vetting the 51 Principal Secretary nominees, arguing the list did not meet the two-thirds gender rule.
He says the list consists of two to three ethnic communities and female nominees are less than a third. "The list did not reflect ethnic, cultural and regional diversity contrary to Articles 10, 73, 75 and 232 of the Constitution and hence illegal, null and void. Haphazard establishment of political reward offices goes against Article 201 of the Constitution on prudent use of financial resources," he argues.
He urges the court to bar Parliament from vetting the 52 nominees and the PAS adding that if they are cleared, the appointment will be an affront to the Constitution and injure majority of Kenyans.
On November 2, Ruto nominated PSs and sent the names to the National Assembly for approval.
He increased the number of state departments to 49 and appointed 51 Principal Secretaries with two going to the Office of the Deputy President, a departure from the Uhuru Kenyatta administration that had 42 PSs.
Among the 51 nominees are former legislators, as well as Kenya Kwanza loyalists and some PSs who served in the Jubilee government.
The president has retained five Uhuru PSs: Belio Kipsang has returned to the Ministry of Education as PS for Basic Education, Harry Kimutai has remained in the Livestock and Development docket, Charles Hinga has also been retained as Urban and Development PS, Dr Chris Kiptoo has been moved from Environment and Forestry docket to National Treasury while Julius Korir will be in Cabinet Affairs docket.
Peter Tum has made a comeback as nominee for Medical Services. Among the politicians nominated as PSs are former Laikipia West MP Patrick Mariru (State Department for Defence), former Langata MP Nixon Korir (Lands and Physical Planning), and Phillip Harsama (Crop Development), a member of Ruto's United Democratic Alliance.
Related Topics