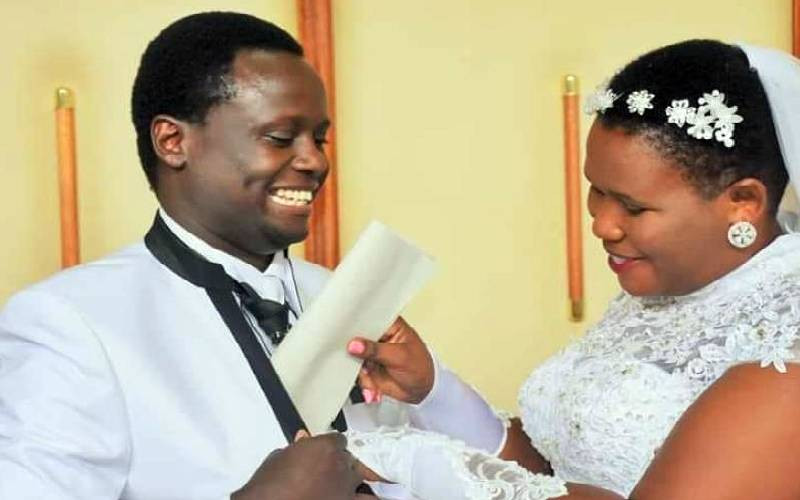 A Friday, October 28 tweet by Runyenjes MP Muchangi Karemba on the political happenings in Meru County highlighted the delicate nature of marriage and politics.
He said: "[Meru Governor] Kawira Mwangaza requires to do one thing: to exempt [her husband] Murega Baichu from the running of Meru County Government. [If she does that], everything else will flow."
On one side, Governor Mwangaza has chosen to stick by her husband Murega Baichu amid growing pressure to send him behind the scenes.
On the other side, are Meru constituents and MCAs, who accuse her of roping in a stranger to the position that they chose only her to run - the governorship.
Sixty-six (66) days after her swearing-in on August 25, 2022, Governor Mwangaza, the first female county chief in Meru region, is treading precariously, her tectonic August 9, 2022 victory against Meru's top politicians, including Kiraitu Murungi and Mithika Linturi, notwithstanding.
There are two petitions seeking she be investigated or impeached for alleged abuse of office and gross misconduct. The first one, filed by a constituent, is awaiting the action of Meru County Assembly Speaker Ayub Bundi.
Bundi told The Standard on Thursday, October 27 that the assembly will examine the grounds cited in the petition and decide whether to undertake subsequent actions against the governor, or not.
The second petition is another by a resident Thuranira Mutuma, who has asked the EACC to investigate Mwangaza for alleged nepotism after she hired her sisters as her bodyguard and personal assistant.
At the same time, her spouse Murega Baichu is the Meru Youth Service Patron, a position that Governor Mwangaza gave him the nod for.
"It's true I have hired one my sisters as my bodyguard and another as my personal assistant. My bodyguard is a police officer. I only requested the National Police Service to assign her bodyguard duties in my office. The other one, who is my personal assistant, has been playing that role for five years now. Honestly, is there a need to vet the two before they are assigned to me?" posed Governor Mwangaza, when she filed her response to the EACC petition at the Milimani Law Courts in Nairobi on Friday, October 28.
On allegations of her husband enjoying "State resources" yet he holds no public office, she said she's the one running the affairs of Meru County Government, and that her husband only volunteers to help in the non-administrative duties, occasionally.
"My husband will never be paid by the county government. He is doing voluntary work, to help our youth," she said on Friday, October 28.
Murega Baichu, on the other hand, alleges that Meru MCAs are out to frustrate his marriage, saying they are hell-bent on separating him from his wife.
He further claims so committed are the MCAs that they do not want him to sleep in the official governor's residence or use the official county vehicles.
"I've been forced to use a wooden house that my wife and I lived in before she relocated to the official governor's residence. According to the MCAs, I am not supposed to sleep in the governor's official residence because I am not a State official," said Baichu.
"The EACC should enlighten me on the boundaries I shouldn't cross as the spouse of an elected governor. I'm mostly interested in knowing whether I can sleep in the governor's residence or I can use the county government vehicles," added Meru's first gentleman.
The EACC was quick to respond to this claim, terming it strange.
"The strange issues raised in the press conference [by Governor Kawira Mwangaza and her spouse] were neither raised by the commission nor were they part of the contents of its letter to the governor. Such are not matters that concern the commission," the anti-graft agency said in a press statement on Friday.
"The commission clarifies that its letter to the governor dated October 19, 2022 was strictly limited to allegations of conflict of interest, nepotism and abuse of office against her."
Whereas Governor Mwangaza is accusing a section of her critics, particularly the MCAs, of personalising attacks against her, other observers say her biggest undoing is her inability to set the boundaries between marital conduct and governance.
"Kenya has seven female governors today. They are Susan Kihika of Nakuru, Anne Waiguru of Kirinyaga, Cecily Mbarire of Embu, Fatuma Achani of Kwale, Gladys Wanga of Homa Bay, Wavinya Ndeti of Machakos and Kawira Mwangaza of Meru. Why is it that we aren't hearing of any drama from the other five or six first gentlemen? Why is it that it's only Kawira Mwangaza's county that has an issue with the first gentleman's involvement in county administration?" posed Lilian, a resident of Nairobi County.
Dr Strange (@Imonaar) said on Twitter: "Calling out Murega Baichu is not an attack on men. He is overstepping into county governance and all the signs are out there. If he wanted to lead Meru County, then he should have been on the ballot [as a gubernatorial candidate]. Otherwise, he should step back."
Another Twitter user, Abuga Makori (@abuga_makori), is, however, seeing nothing wrong with Baichu's active involvement in his wife's daily activities as governor.
Makori said on Twitter: "In counties led by male governors, the leaders have allocated official government vehicles to their wives, the county first ladies. Why is it criminal for the first gentleman of Meru County to enjoy State resources? Meru constituents should spare this man."
As debate rages on whether Baichu should actively be involved in Meru County politics or not, the county is yet to get its CECs.
Governor Mwangaza's would-be first face-to-face engagement with the MCAs at the County Assembly ended in disarray on October 19 when the ward reps walked out of the chambers in protest. The governor had arrived to make her address to the House.
Mwangaza would, thereafter, remove all MCAs from a WhatsApp group that she had created, saying they were uncooperative.
As time lapses, the ten CEC nominees that Governor Mwangaza had, on September 30, submitted to the County Assembly for vetting, are yet to be approved, with the vetting report yet to be tabled to all the 69 Meru County MCAs as of the time of publishing this story. The county has 45 elected MCAs and 24 nominated MCAs.
Among the CEC nominees are four women, three pastors and two politicians.
Even as a section of MCAs and critics continue to pile pressure on her to delink her marital welfare from the county politics, Governor Mwangaza maintains that the criticisms are politically-motivated.
She has accused the MCAs of attempting to arm-twist her over ward development fund.
In a letter to the Controller of Budget Margaret Nyakang'o, Governor Mwangaza has sought an advisory on the ward fund.
The governor claims MCAs have demanded the allocation of funds to be administered by them, failure of which, they'll frustrate her administration, including refusing to approve her Cabinet nominees.
The MCAs have, however, accused Mwangaza of misrepresenting facts to Nyakang'o by claiming they wanted to manage the ward kitty.
As all this plays out, with observers saying that her actions border on cavalier, and that failing to tame the emerging issues could cost her dearly, Governor Kawira Mwangaza says "bring it on".
"There is nothing wrong I've done. I'm urging the politicians from Meru County to stop playing dirty politics. Dirty politics leads to poor life. I'm strong. The impeachment talk is hot air. If they succeed in impeaching me at the County Assembly and the Senate, I'll challenge the decision at the High Court. I'm ready to defend myself, because I have done nothing wrong," she said on Friday, October 28 outside the Milimani Law Courts.
Related Topics