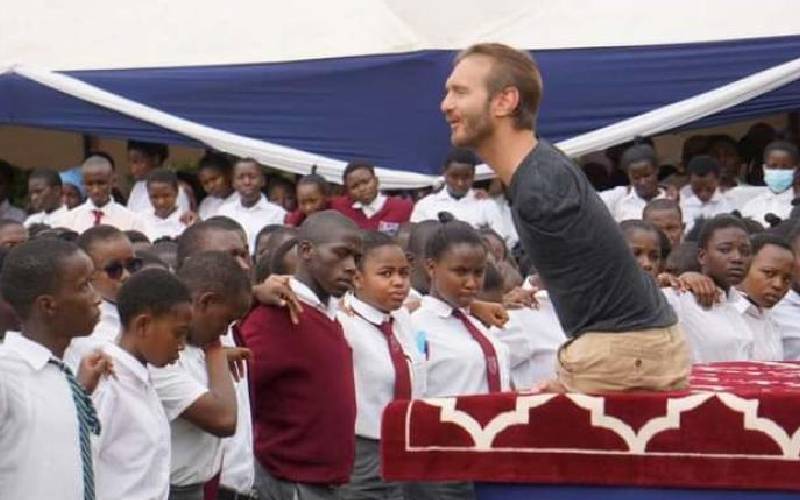 The community surrounding the newly created Ithanga Sub-County in Murang'a County is still reminiscing nuggets of wisdom from an Australian American evangelist Nick Vujicic, who visited Ithanga Secondary School last week.
The 40-year-old motivational speaker born with tetra-amelia, a rare disorder characterised by absence of arms and legs, visited the school last week, and counselled the students for free in a session likely to have an effect for the rest of their lives.
After getting wind that the international speaker was at the village, which is approximately 100km from Nairobi, about 14 schools sent students to witness the evangelist, who many learners later said was the perfect meaning of the saying 'disability is not inability."
After a two-hour session with the students and sharing his challenges accepting himself, Nick said about 10 students sent him letters confessing that they had since dropped thoughts of committing suicide. "About 1,000 students made a commitment to follow Jesus and 10 letters were received saying that they planned to commit suicide next week but those plans no longer exist, and now they have been changed fully from inside and out," the evangelist announced.
The Life without Limbs founder jetted into the country on Monday last week to witness a book launch in Nairobi when one of his handlers requested the Ithanga Secondary School principal Mr Christopher Mwangi to receive him for the inspiration talk.
"I seized the moment and informed neighbouring schools to hurriedly bring students to get the rare chance. Many received him in shock but at the end of the talk appreciated that he is a wonderful creature of God spreading a message of hope and gospel to the people," said the principal.
This is the third time Nick is visiting Kenya after 2003 and 2013, but he has never been to a remote village since he charges a premium for his inspirational talks. This time he visited Ithanga village in the remote semi arid Murang'a East, over 40km off tarmac - for free.
He promised to be back in the village after the August polls. "He started by apologising on behalf of family members who harassed and assaulted the students and they (students) cried uncontrollably. He later asked them to write on pieces of paper what they were going through and indicate their cell phones to reach and pray for them," the principal said. Ms Nancy Muiruri, a guidance and counselling teacher at the institution, described Nick's speech as the best inspiration for residents of an area considered a wasteland and low potential as compared to the rest of Murang'a.
Related Topics