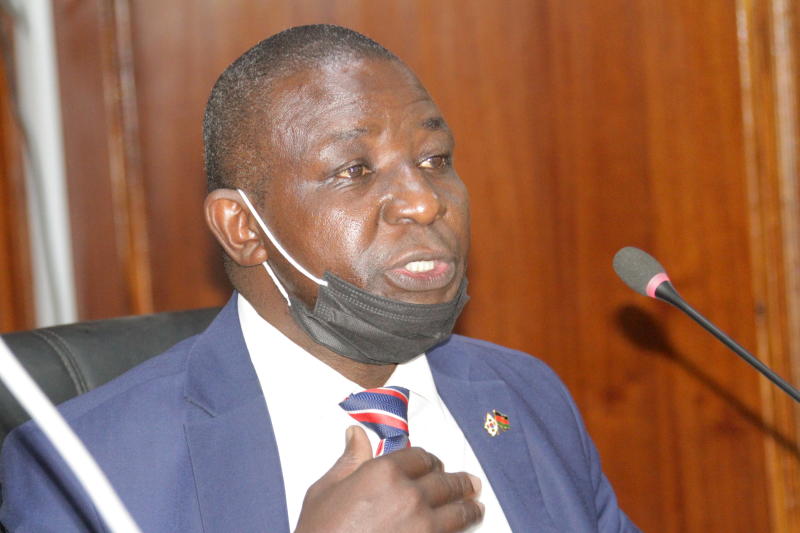 The firm that supplied Gatundu South MP Moses Kuria with an electric mat that saw him hospitalised with severe injuries was banned in Texas, USA.
The National Assembly Health committee yesterday heard how Ceragem Limited was banned over cancer cure claims amid revelations that it was operating in the country without approval by a relevant state agency.
The Pharmacy and Poisons Board has reportedly not authorised the company to operate as a healthcare provider.
The details emerged when top officials of the company appeared before the committee chaired by Murang'a Woman Rep Sabina Chege following a petition by Mr Kuria.
The MP sought to establish if the company's products have been approved by the Kenya Bureau of Standards (Kebs). The lawmaker – who is still nursing injuries – further demanded to know if individuals promoting the products are qualified and licensed to operate.
Yesterday, Kuria told the committee that he was pressing for criminal investigations against the company.
He said he has since written to the Directorate of Criminal Investigations to commence the probe.
"Their products were banned in Texas for fraudulently making claims of curing cancer," Kuria claimed. He attended the committee sitting virtually from his hospital bed.
The MP wants the company to take responsibility for promoting products that pose great danger to users.
The Ceragem Limited Chief Executive Officer Vincent Omallah admitted the Texas incident but said they are back in operation in the US.
"Texas had some issues with Ceragem; we are aware some of our members said they can help cancer patients but as we talk now we have a number of shops operating in Texas and most Western countries," said Omallah.
He told the lawmakers that their products come with a manual for clients. The CEO said that with the instruction manual there was no need to have trained health personnel as promoters of the products.
Chege questioned why the firm was dealing in medical products without engaging health professionals.
"Who has authorised you to medically talk about cancer without medical personnel? Who has licensed you to practice in Kenya and who regulates you?" She posed.
The committee accused the firm of taking advantage of Kenyans, who are desperately seeking alternative medicine.
Chege said their concern as a committee was not about Kuria's case but that of Kenyans who may resort to using the product.
The firm has been operating for about 14 years and has shops in Nairobi, Mombasa, Thika, Eldoret, Murang'a, Eastleigh, and Garissa.
Kuria explained that he bought the electric mat and blanket through a friend who is an MCA from Murang'a county, to cure numbness in his feet.
However, it caused his legs to sustain third-degree burns.
The gadget was developed to neutralise the negative effects of a sedentary lifestyle. In Kenya, it goes for Sh250,000.
The Korean Company, Ceragem Kenya lists the equipment's benefits as enhancing deep sleep, blood circulation, strengthening immunity, and promoting metabolism.
Kuria said, "I was actually preparing to buy another one for my mother. It is nothing but a deadly weapon."
The MP was admitted to Karen Hospital on September 27. He said he used the mat and his feet "exploded."
Related Topics