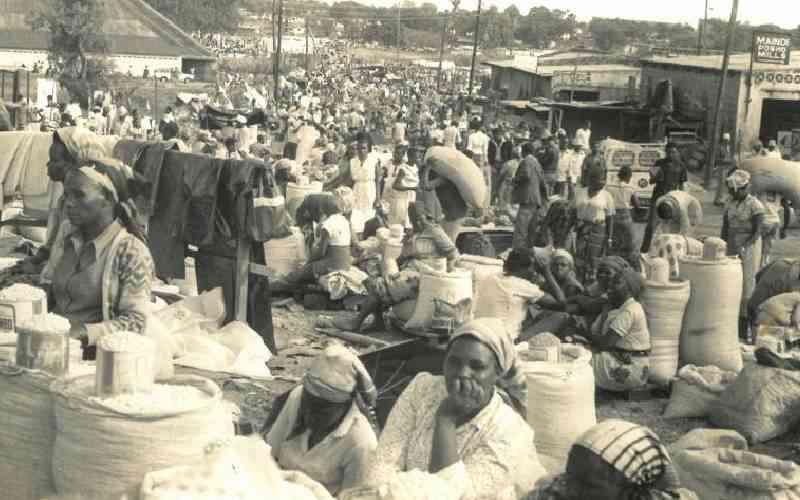 When the winds of change started blowing around the African continent, there was an air of anticipation in Nairobi. The hawkers waited with baited breath.
This was in 1960, and uhuru was coming. The government was unwilling to use brute force in chasing away petty traders.
The spirit of the traders and the government's helplessness are aptly captured by a report filed by Kiambu District Marketing Officer on April 20, 1960.
"The easing of movement restrictions and curfew has caused an absolute flood of uninspected produce into Nairobi in the form of baskets, head loads and even small handcarts." Hawking became rife within the city, presenting a nightmare to legitimate wholesalers with nowhere to sell.
The report warned, "If the produce inspectors do not do something, in a month or two, the market will be run by the African and Asian Traders, not the City Council, " which, to my mind, is almost the position now.
The new tidings marked the birth of cartels as desperate hawkers seeking selling space formed illegal markets at Donholm Road, Bengal Road and Dagoretti Corner. Several urban farmers selling their produce were adding to the chaotic marketing conditions and violations of urban land use rules.
At the time, the central business district designated as European City was out of bounds for Africans. The government had only licensed partly 800 traders demanding a reduction in rents charged by the municipal council markets terming them too high.
By the time Charles Rubia took over as the first African Mayor of Nairobi in 1962 and granted 1,500 licences, Nairobi had lost the battle to illegal hawkers.
According to the 1961 Nairobi District Annual Report, the increase in hawking and illegal markets, called Uhuru, resulted from the government's reluctance to use force to kick out the hawkers.
The first major confrontation between the traders and the city authorities was on November 16, 1960, at Shauri Moyo. A considerable crowd confronted two police officers trying to arrest hawkers. They were overpowered and chased out.
Machakos Country Bus stop made a name as a no-go zone for authorities because the hawkers teamed up with milling crowds to chase away city council law enforcers.
Three decades later, after Rubia allowed hawkers to operate from downtown Nairobi, they came to his aid when he and other opposition leaders started to champion multi-partyism by holding demonstrations.
Related Topics