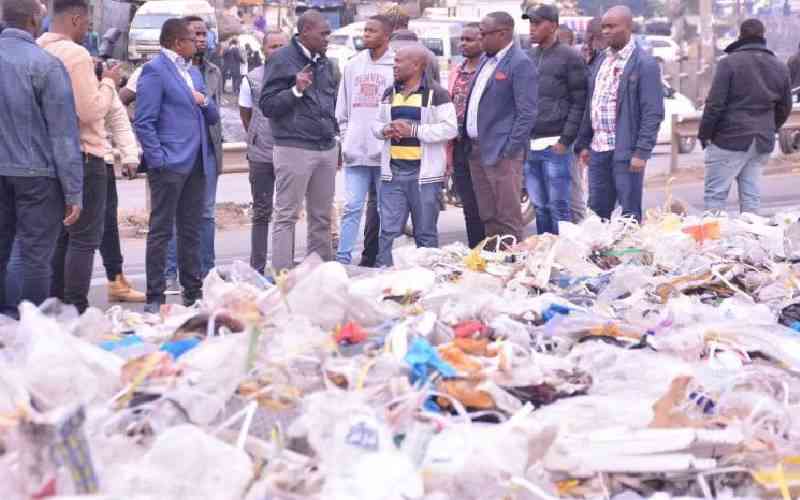 A man staggers in front of me with a sack of potatoes heavy on his shoulders. At the gate of Wakulima Market, he almost falls as he steps over a pile of rotting tomatoes and cabbages.
When he finally eases the sack onto the ground, I ask him about the environmental conditions around him.
He looks set to vent in the few seconds he has before he can go for another sack, offloaded from trucks outside the market, but when he realises I am a journalist, he declines.
"There's garbage but we are okay," he says, exiting hurriedly.
People in Wakulima Market are cautious about what they say. In a previous interview, I gathered that cartels are usually lurking and ready to kick out those who don't toe the line. This includes those who talk to the media about the market.
Yet even without his input, I can see just how horrible conditions are around Muthurwa and Wakulima markets and further down in Gikomba.
Ticking time bomb
The roads leading to Wakulima Market are full of plastic waste and beyond, on the roadsides, smelly, rotting fruit.
It is a ticking time bomb - the onset of rains will have drainages clogging and making some of these areas nearly inaccessible.
A vendor who gives her name as Wangui is also keen not to say any negative things about the market.
"Everything is okay here," she says, "We can't complain."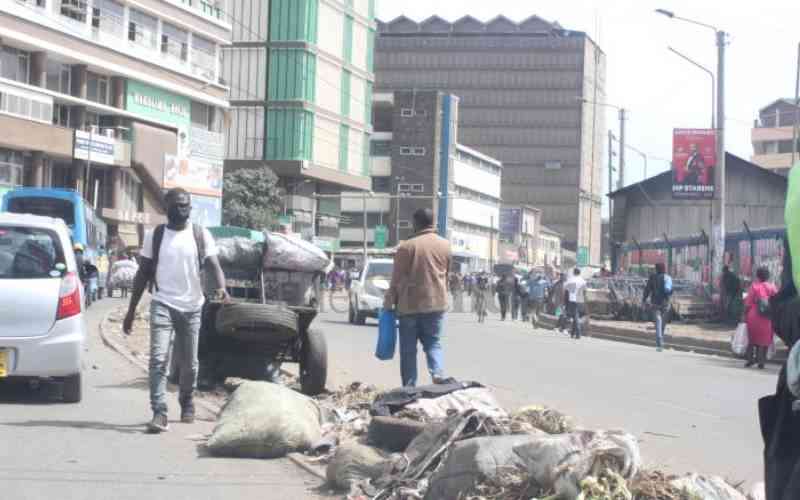 Along Mfangano Street, Carol Wangari works in an agrovet. Outside, matatus bound for the North Rift call for passengers. Their wheels are buried in mud despite rains not having fallen in some time.
"Mfangano is barely clean. But wait until the day the rains fall. The flood water will come all the way here," she points at the doorstep.
Dumping in the city is one of the causes of flooding, as garbage clogs up the drainage system. In such times, many parts are impassable.
High streets is not spared either, Tom Mboya Street is now lined with litter on either side of the road, and drains in many such parts of the city are full of plastics- polythene bags and bottles.
The city of over 4.4 million by day, according to The Kenya National Bureau of Statistics (KNBS) census of 2019, has a number of dysfunctional systems, one of which is drainage.
Soaring population, which has seen buildings come up and turn the city into a concrete jungle, has put a strain on the drainage system.
There are not enough open, unadulterated areas where rainwater can infiltrate into the earth, and the drains are either too narrow or too dirty, to allow the volumes of water the city releases every day to flow easily.
Njau Gitu, a governance, policy and strategy advisor, believes that decongesting the city could be a panacea to the dumping, hence drainage, problem.
"There are areas that have been designated as matatu termini. These spaces are outside the Central Business District (CBD)," Dr Gitu says.
"Moving a lot of human traffic outside the CBD will mean decongesting the city, and thus ensuring less dumping. Funds have been used to prepare these areas, and they should be put into use. These are zones that are easy to manage."
He also says that the Nairobi Central Business District Association should be actively engaged in creating solutions for a city whose streets are getting dirtier by the day.
Nairobi governor Johnson Sakaja romped to victory on the back of a promise to make Nairobi "work."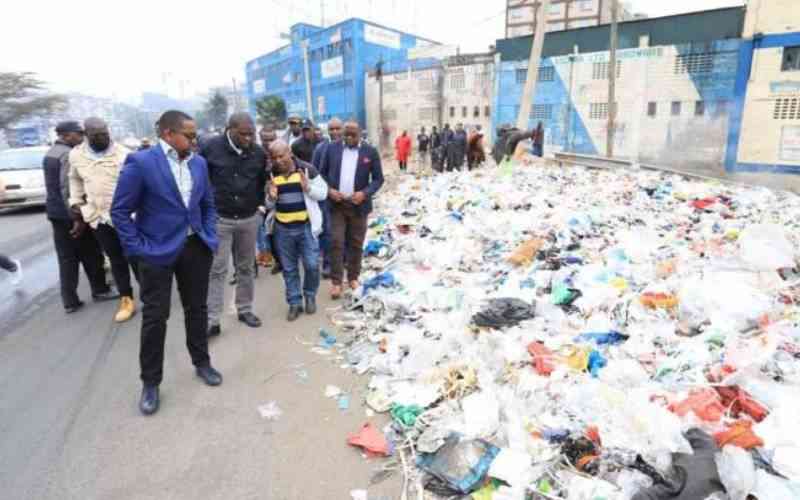 Hopeful city dwellers will be desperate to see him transform CBD from the eyesore it is into a habitable working space. Crowds in these places are made of as many criminals as innocents.
Teresia Nyaguthii works at a beauty parlour in Lavington. Over time, she has seen some of the problems of seep into the upmarket. In her neighbourhood, litter has started piling up.
"We have the occasional cleaners," she says. "But litter is reappearing faster than it ever used to. There is a lot of dumping and when it rains, it becomes horrible because of flooding."
Drainage systems
The area is now also prone to traffic congestion as some of the high-end areas seem to relax construction regulations and allow high-rise buildings, which bring with them more people.
In December 2014, then Nairobi governor Evans Kidero launched Nairobi Integrated Urban Development Master Plan (NIUPLAN), referenced to Kenya's Vision 2030, Nairobi Metro 2030 (2008), The Spatial Planning Concept for Nairobi Metropolitan Region (2013), The Constitution of Kenya (2010), The Physical Planning Act, The County Government Act (2012), The Urban Areas and Cities Act (2011) and other applicable statutes form the legislative framework, according to the document.
Among other areas of consideration were storm-water drainage systems, with an analysis of the city's main pain points.
"The system is composed of roadside drains along the existing urban roads, storm sewers and canalised trunk drains to collect storm water from the catchment areas and discharge the water to the tributaries mentioned above.
"Because the topography is generally sloping from west to east, the storm water is drained by gravity. In the suburbs of Nairobi City, it is observed that storm water is collected and discharged through roadside drains and small natural streams whose networks are not well-developed as a whole," said the plan.
Roadside drains, NIUPLAN noted, were not functioning effectively due to improper design and construction, structural deterioration, and non-removal of sediment and garbage.
"The storm water drainage network is not functioning effectively. Many drainage sections or outfalls remain blocked, mainly due to the difficulty in identifying such locations in densely built-up areas, such as in informal settlement," NIUPLAN noted.
"In general, there is no systematic identification of problems on the storm water drainage system, and localised works are done on an ad-hoc basis, only to create another problem elsewhere."
There were discussions for infrastructure for drainage in a meeting that had Ministry of Health (MoH), National Environment Management Authority (Nema), Water Services Board (WSB) Kenya Urban Roads Authority (Kura) and Kenya Electricity Transmission Company Limited (Ketraco), among other players.
Among the recommendations in the report was to develop the storm water drainage in Nairobi City in such a manner that ensured integration of the river and localised drainage networks.
"Within the catchment area of the river, the development and maintenance of the river should be planned and implemented to ensure the required hydraulic capacity for storm water drainage as well as the riparian reserves maintain a better water environment.
"Local drainage networks should be developed under the conditions, provided for in the plan for development and maintenance of the rivers," NIUPLAN said.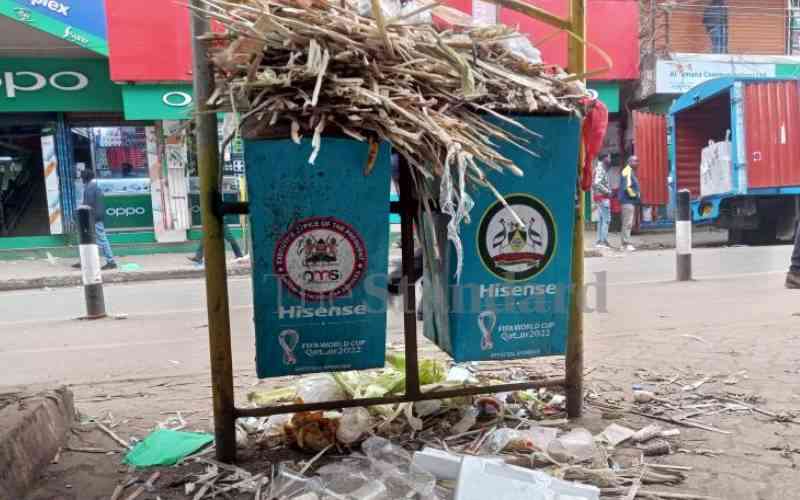 Before NIUPLAN was birthed, other plans, such as the Plan for a Settler Capital in 1927, focused on drainage in a settlement that had all the makings of a future big town.
Nairobi Metro 2030 set a goal of comprehensive storm water drainage and flood water mitigation plan. Nairobi Metropolitan Service Improvement Project (NaMSIP), a five-year project which was approved by the WB Board in May 2012, was after the same goal.
But years after the launch of some of these most elaborate plans, little has been done. Slowly, a lot of Nairobi CBD woes find their way into the upmarket residential areas. Whenever it rains, most of the city is a mess.
Traffic gridlocks
In April 2013, Japan International Cooperation Agency (JICA) Study Team initiated the infrastructure development planning for storm water drainage in Nairobi City and made primary observations of its situation during the rainy season.
JICA said that Nairobi City was suffering repeatedly from the localised inundation in many locations during the rainy season.
During a rainstorm, the inundation of the main roads causes traffic gridlocks in the city centre.
"A number of roads were washed and pitted with puddles even the day after the rainstorm. Storm water stagnation is attributed to the degradation of the living environment in housing areas," said JICA.
The causes were roadside drains not functioning effectively due to improper design, construction, structural deterioration, and lack of removal of sediments and garbage.
Further, it said that urbanisation in higher areas increases concreted ground surfaces with less infiltration capacity and results in the rapid concentration of storm water in the downstream areas.
Developed areas where topography forms a centralised low point (basin-like) with zero natural drainage for any generated storm water without the introduction of a significant storm water drain to carry the water out of the low point, with Runda Estate cited as an example.
Again, no action was taken to address some of these most pertinent issues.
"Any usable planning document for storm water drainage in Nairobi City is unknown. It was reported that a storm water drainage plan for Nairobi City had been prepared in the 1980s with support from the World Bank and GTZ. However, the document was neither available nor used in the City Engineering Department of Nairobi City Council (NCC)," NIUPLAN noted.
"There is no usable technical data available with the City Engineering Department of NCC for carrying out planning, design, construction, and maintenance of the storm water drainage system in Nairobi City at present.
"The absence of such technical data makes it hard to properly manage the development and maintenance of the storm water drainage system and results in problematic situations that remain unimproved as described before in subsection." it said.
Related Topics