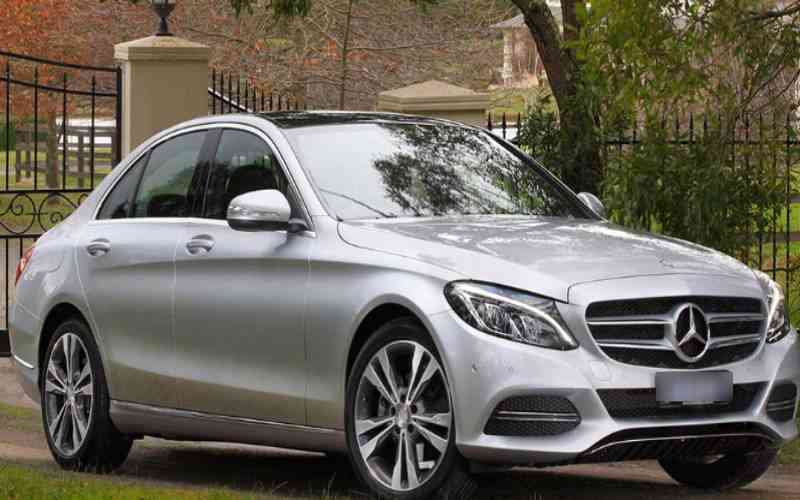 People who own the car have more positive reviews about it compared to those with negative reviews.
Its executive Mercedes-Benz badge, performance and reliability endears it to the enthusiasts.
The C200 is a slight upgrade on its sister the C180. It boasts of more safety features, engine power and style.The C initials in Mercedes-Benz mean the vehicle is a Compact Luxury Sedan. C200 enjoys great sales and seems to be the most popular among the automaker's variants.
Its rivals in the Kenyan market include Toyota Mark X, Toyota Lexus IS, Volkswagen Passat, Audi A4, Mazda Atenza, Honda Accord, Nissan Teana, Subaru Legacy, among others.
The Mercedes-Benz C200 comes in different engine sizes, with the most common being the 2-litre four-cylinder petrol engine.
Other engine variants include the 1.5-litre turbocharged petrol engine and the 2-liter four-cylinder diesel engine.
The 2015 Mercedes-Benz C200, which is common at the Kenyan car bazaars currently, costs between Sh3.3 million and Sh4.2 million, depending on trim level.
The C200 engines are linked to either a 6-speed manual transmission or 7-speed automatic transmission gearbox.
The vehicle is a five-seater sedan that has been in production since 1993, and has spanned four generations.
The 2,000cc engine C200 produces 184 horsepower and 221 pound-foot of torque.
Estimates show that the car can accelerate from 0 to 100 kilometres per hour in about eight seconds. However, this is subject to certain factors such as the weight of the load carried, the condition of the car and the road terrain.
There are C200s that are hybrid powered.
The Mercedes model has a full-tank capacity of 66 litres. At the current petrol price of Sh177.30 per litre in Nairobi, it would cost you Sh11,700 to fill the fuel tank.
The vehicle averages about 11kms to 12kms per litre, depending on driving habits and the condition of the car.
That means that on full tank, the vehicle can cover between 600kms and 700kms.
Where the C200 scores poorly, is its ground clearance that stands at 5.1 inches. This means that it could be a struggle to take this car to rocky or gravelly places upcountry.
Its attractive features include several SRS airbags, ABS, electronic stability control, brake assist, traction control, blind spot monitoring and lane departure warning technology.
It comes with leather seats, though experts say most leather fittings in the C200 is synthetic.
Its other downside, beside the cheap leather fittings and low ground clearance, is expensive sensors that easily break down.
"If one fails, chances of a subsequent one failing are very high," a Nairobi-based mechanic told The Standard.
Being a Mercedes-Benz brand, its spare parts also don't come cheap.
"The vehicle, if well maintained and serviced, will serve you for almost eternity. Its full service costs anywhere between Sh30,000 and Sh40,000," said Charles Njoroge, a mechanic at AutoXpress in Nairobi.
If you want a head-turner, a beautiful beast and a comfortable car - all fitted in one - then go for the Mercedes-Benz C200, but remember to have the pockets that align with its maintenance needs.
Its common breakdowns include folding mirror problems, clunking noise from the gearbox, hesitant acceleration, vibration when driving and headlight bulb failure.
Its kerb weight (weight while empty) is 1,495kgs, making it a heavy, stable car on the road. It can comfortably carry load of up to 575kgs.
Its boot space is anywhere between 435 litres to 480 litres, ensuring it gives you ample room to haul your luggage.
Related Topics