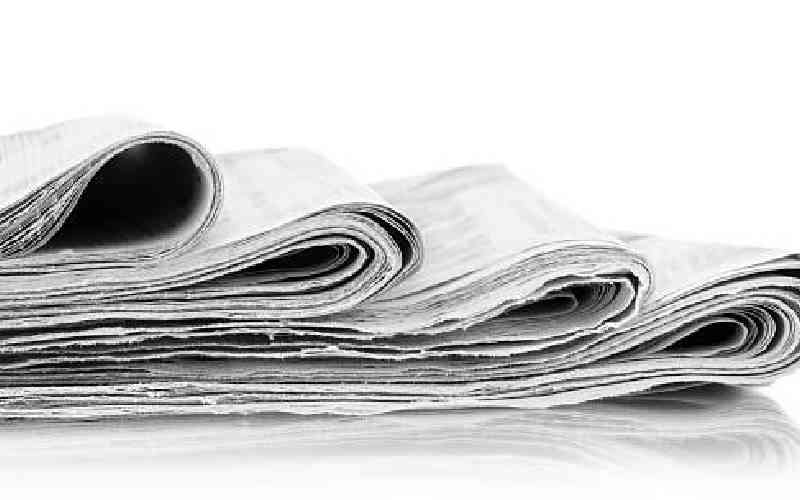 This week, I am obligated to advise our Deputy President Rigathi Gachagua to take columnists seriously if he wants to prove them wrong. When a rainmaker warns of rainfall and tells you you will be wet, the best way is to carry an umbrella to avoid dampness. That way, you can prove them wrong, not on the rain that must come, but on the painful outcome.
Therefore, I say that a seated newspaper columnist can see far more than a politician standing on a church dais. So, if president Ruto and his deputy Gachagua take columnists seriously, they will prove us wrong.
I will not reiterate what President Ruto and his deputy Gachagua said last Sunday, during a thanksgiving tour in Bomet County about columnists since it is in the public domain. But, in short, the DP asked columnists to stop advising them on how to lead.
On his part, the president said whatever we write in our columns is propaganda. So the Political Chessboard elects that in your one or two terms, which will pass like wind anyway, you shall draw from the book you value the most - the Bible. Consider this story.
In 871–852 BC, the kingdom of Samaria was under the Seventh King from the Omride dynasty. One day, the King realised that there was a territory that belonged to them, but other people inhabited it.
As it was custom, the King summoned all prophets in the land and asked them, "should I go and reclaim what belongs to us". All of them said, "go! go! go! King and victory will be on your side." He was elated and treated the seers to a royal luncheon.
Then, a friend King who had visited him doubted the honesty of the prophets. He told him to seek a word from another prophet. According to the host King, there was only one remaining who never prophesied anything good about him.
After a long persuasion from the visiting King, the said prophet came, and his word was, "King, you and your army are weak and unprepared for this battle". The enraged King slapped the poor Prophet, spat on his face, locked him up in jail, and proceeded with the battle. He was killed the same day!
This is the story of King Ahab and it is well documented in the Bible. But, unfortunately, that prophet today is the columnist, the Fourth Estate. Their words could be irritating and sometimes disparaging. However, your reign will be preserved if you listen to their cautions and take cover.
Those under regime's payroll usually take regime leaders to political massage parlours, giving them deep tissue massage and reflexology with a "political happy ending". They are capable of lulling regimes to ruin, but a wise emperor hears twice when a critic speaks and only once when a crony advises.
Furthermore, it is difficult for any regime to incarcerate the Fourth Estate. There were accusations that the former government misused the media toward the 2022 elections. If that is true, how long did they do it?
Let us talk about the columnist, the elephant in the house. These are experts in their own rights. Columnists are positioned down the plains (among citizens) where they can accurately picture those in the mountain (in power)—going by the Machiavellian classical approach.
We don't just write from nowhere; sometimes, we brave lone nights away from our wives and hot beds to think and weigh options. Other times we read like exam candidates to get an accurate picture of the past, the present and the future.
No columnist can sustain propaganda without exposing their underbelly. Therefore, the columnist only asks the government to consider their thoughts and put in place measures to evade the landmines that await them.
This is the conclusion of the matter. When we are wrong, it is because you took us seriously. But, on the other hand, whenever the columnist is correct, it is because those in power dismissed them and awaited doomsday like fools.
Dr Ndonye is a senior lecturer in the School of Music and Media at Kabarak University
Related Topics