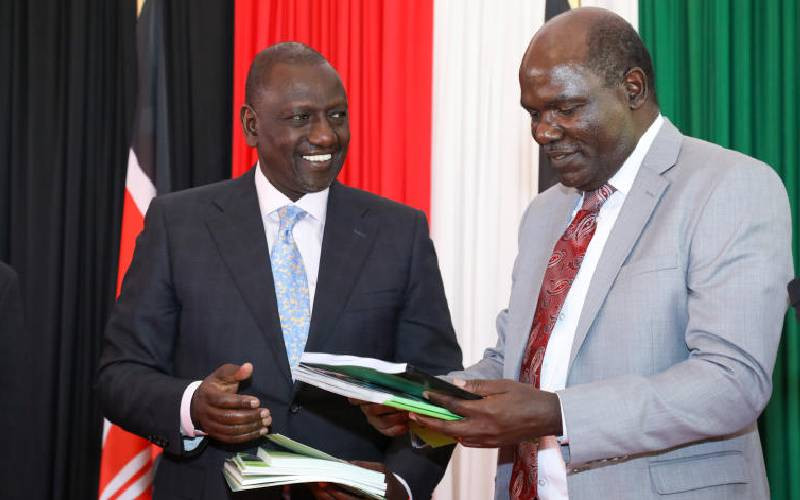 This week the public was treated to back-and-forth alarmist statements whose net effects are likely to be further erosion of public trust in important state institutions.
First, President William Ruto sensationally claimed, without providing evidence, that officials at the highest level of the Uhuru Kenyatta administration approved plans to kidnap and kill former Independent Electoral and Boundaries Commission (IEBC) chairman Wafula Chebukati.
Then came the claim from former Ndaragwa legislator Jeremiah Kioni that a whistle-blower had evidence (which Kioni was yet to analyse) showing that former Prime Minister Raila Odinga won the August 2022 presidential election.
Both claims were enthusiastically boosted by the media and likely generated a lot of clicks. They were also very light on substance. The President of the Republic of Kenya should not be in the business of spreading rumours.
Given the stature of his office, when the president reveals a conspiracy to commit crimes as grave as kidnapping and murder, it should come on the heels of arrests and court arraignments.
Otherwise, it is just hot air, to echo the Supreme Court.
The same goes for Kioni's outlandish claims. Kenyans are not stupid. If indeed he has evidence that the election was rigged against his preferred candidate, he should present it to the public so everyone can evaluate it on the merits.
Going to the press and sensationally touting a report that he had not analysed, is irresponsible.
The mainstream papers failed Kenyans in their coverage of these two stories. As far as I can tell, none of them published analyses of the background details behind the claims by Messrs Ruto and Kioni.
Instead, the papers chose to act like the politicians' stenographers. This should not be the case.
The mainstream media has a duty to fact check every story they publish. They cannot behave like the tabloids.
There are stories that should make it to the papers' front pages, and then there are others that should be condemned to the tabloid cousins of the same papers.
Publishing unsubstantiated rumours, regardless of the source, betrays a lack of respect for readers. It also contributes to the erosion of trust in important state institutions, not to mention encouraging irresponsible alarmism among politicians.
Because words matter, it is high time we held politicians to a higher standard regarding their public utterances.
The writer is an Assistant Professor at Georgetown University
Related Topics