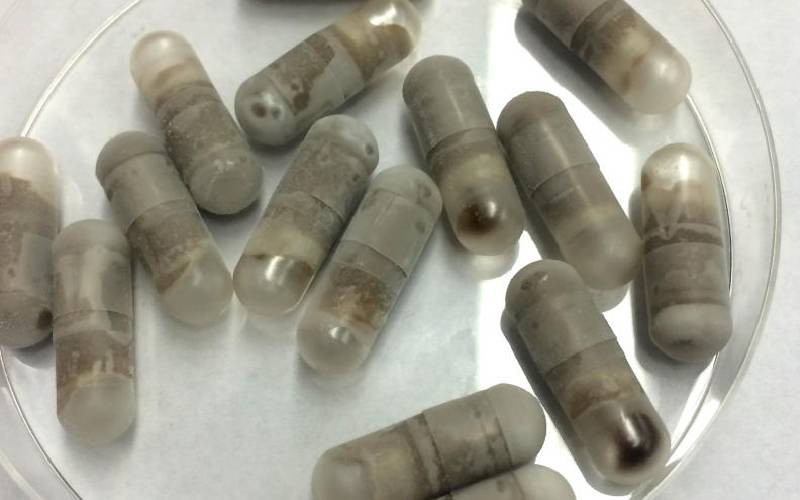 American scientists last Wednesday approved the first pill made from healthy bacteria found in human poop to fight dangerous gut infections.
The US Food and Drug Administration (FDA) cleared the capsules for people over 18 years who face recurrent infection of drug-resistant Clostridium difficile (C. diff), a bacterium that causes nausea, cramping and diarrhoea.
According to scientists, recurrent C. diff is especially dangerous and contributes to 15,000 to 30,000 deaths every year. The infection is treated with antibiotics which end up destroying good bacteria in the digestive tract, leaving it at high risk of infections. The new poop pills are approved for patients undergoing antibiotic treatment.
The treatment has advanced the rather complex previous version of the stool-based procedure known as the faecal microbiota transplant (FMT), which medics have used for more than ten years to save patients' lives. FMT involves collecting faeces or stool from a healthy donor and introducing it into a patient's gastrointestinal tract. The procedure is believed to control dangerous antibiotic-resistant bacterial infections but was largely unregulated and prone to side effects.
Healthy human intestines and the entire digestive system contain a well-balanced thriving community of trillions of microbes, including thousands of species of bacteria, fungi, viruses and other microorganisms that comprise this diverse microbiome, weighing over two kilogrammes. However, these microbes can be thrown out of balance by environmental factors, food and medication, especially antibiotics.
According to the scientists who researched and developed the poop pills, good poop donors are increasingly becoming hard to find, so much so that they're sometimes referred to as "unicorns".
These elusive, healthy humans serve a high-demand market for healthy faecal matter that is growing rapidly as evidence of its benefits piles up.
Currently, in the USA, the stool for the pills and transplant procedures is provided by several stool banks that have emerged at medical facilities and hospitals nationwide.
Emerging evidence has shown that poop transplants and pills can treat ulcerative colitis and inflammatory bowel disease (IBS). Combined with cancer immunotherapy, poop transplants and tablets have also been demonstrated to help prime the immune system and make cancer therapy more efficient.
However, the FDA cautioned in its approval announcement that the therapy "may carry a risk of transmitting infectious agents. It is also possible for the pills to contain food allergens."
The FDA ratified the treatment based on a 180-patient research in which over 88 per cent taking the capsules did not encounter reinfection after eight weeks, compared with 60 per cent who received placebo pills.
Side effects include constipation, abdominal swelling and diarrhoea.
Related Topics