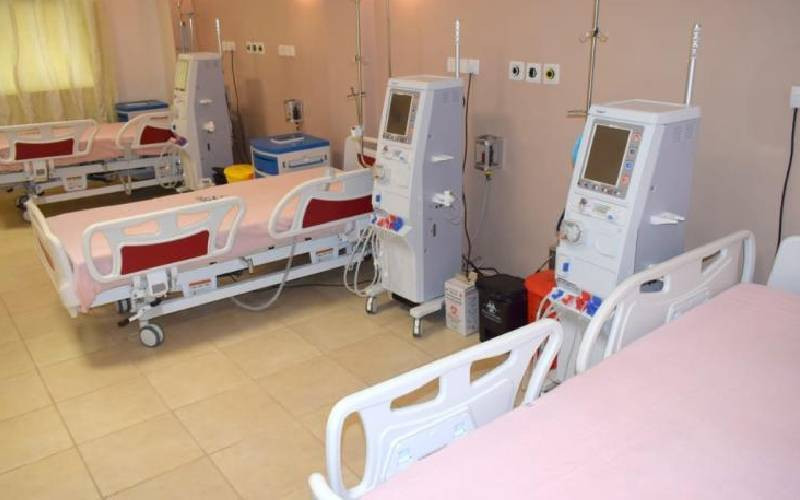 Kenyans have been advised to go for early kidney checkup instead of waiting for the vital organ to fail.
Speaking at Mediheal Hospital in Nairobi on Wednesday, Dr Srinivas Murthy Chief, consultant of Nephrology and transplant at the hospital said the disease can be detected through regular checkup of body pressure, blood sugar, blood screening and urine testing.
Murthy said currently men are more prone to suffering from kidney failure than women at a ration of 60:40.
He said the highest percentage can be attributed to the high prevalence rate among men to their reluctance to go for regular tests.
"It`s important to have a checkups by going through all tests that are able to determine whether one is suffering from the disease or not," said Murthy.
According to the Nephrologist, children too are at risk of suffering from the disease saying since the hospital began kidney transplant five years ago, it has carried out 320 successful transplants with only 15 failing.
The hospital founder Dr Swarup Mishra said since he came to the country in 1997 and set up the hospital he has seen a reduction of patients going to India to be treated of kidney failure.
He said many procedures are currently being done in the country at an affordable fee.
The immediate former Kesses MP said patients from 14 countries around Africa have visited the hospital for kidney treatment since they began kidney transplant operation.
"Let me inform you that we have had patients from Israel and UK being brought here for treatment because our fee is affordable and this means Kenya and Africa is progressing well in the area of medics," he said.
Mishra said the hospital's focus is to launch robotic surgery with plans being at an advanced stage.
The hospital will soon start a liver transplant procedure amid efforts to diversify services to cater for the Kenyan population.
"Before the end of this year we shall commence cancer operation here so that we save the lives of our people and reduce the burden of them traveling long trips abroad in search of treatment," he added.
Related Topics