Kidney failure: Balancing dialysis and a delicate, miracle pregnancy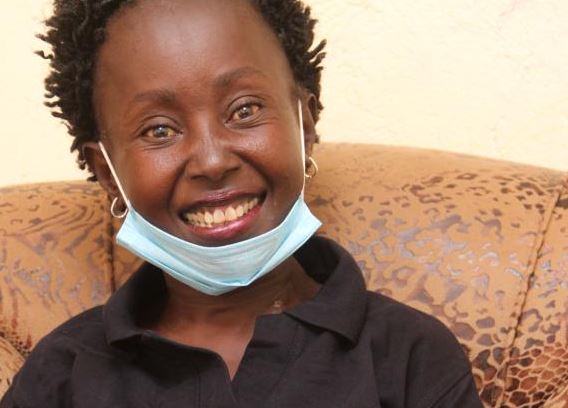 Few people give serious consideration to how an illness might change the tiny aspects of their lives. Elizabeth Nyambura is one such person.
In 2013, Nyambura, an ordained deacon, was dating James Njenga. It had been several months into their relationship and he was taking things seriously.
"He took me to his folks and introduced me to relatives," Nyambura says. "I realised that his intention was progressing towards marriage."
She was afraid though. "I did not want my heart broken," she says. Nyambura was sick. She had kidney failure and was on dialysis. Njenga was yet to know any of this.
"The reason I had kidney failure was because of hypertension. A heartbreak would have made things worse for me," she says.
Misplaced hopes
Plus, Nyambura's mother had instinctively told her she would never be able to carry a child of her own due to the fact that she was on dialysis – twice a week.
"I did not want Njenga to marry me with misplaced hopes of having children. So I wanted to put him off early," she says.
The strategy was to tell him point blank. "I cannot give you children," Nyambura told Njenga one time they had gone out.
She went ahead to explain to him why she wouldn't be able to bear him children. But Njenga, in true Shakespearean style, committed to continue dating.
A year later, the two were married. Theirs was a marriage designed for the sole purpose of fulfilling companionship. Both of them knew that much. Both had consented.
In fact, Nyambura's kidney doctor had told her – much like her mother did – that she would never become pregnant.
"My doctor said women who are on dialysis have a very small chance of pregnancy. Hence when I got married, I did not even think of putting myself on contraception," she says.
But in January 2017, unexpectedly, Nyambura fell pregnant.
"I didn't know I was pregnant. I was only throwing up. Vomiting is something patients on dialysis are acquainted to when the urea builds up in the body after eating meat," she says.
"We got a pregnancy kit from the chemist and the test was positive. I was overjoyed because I had made peace with never becoming a mother. This was a miracle."
Her doctor confirmed the pregnancy but expressed his worries about his patient's chances. So he advised Nyambura to terminate it. She decided to keep it.
"No one was touching my baby. I knew my life was on the line but I did not want my baby aborted," she says.
She found a gynaecologist who was willing to walk with her through her journey. For her to keep the pregnancy, she had to increase her dialysis sessions from two to three a week. And she was expected to go for antenatal clinic once every two weeks.
Nyambura held on. But at seven months, her amniotic fluid started draining. The baby, she was told, had to be born.
Benita Wakunyu Thuo was born on July 14, 2017, weighing a paltry 0.94Kg and placed in the incubator. Today, Benita is a normal child, full of energy and laughter.
Nyambura, however, has to continue with dialysis to stay alive. Her deterioration into kidney failure began in 2001.
Aged 23, she was young, healthy and rearing to go – not quite the profile of a would-be heart, and later, a kidney patient.
"I was slim. I felt healthy. I was fine in every sense. I did not expect that at that age, I would be diagnosed with high blood pressure," she says.
A series of heart-breaking events would however place Nyambura on the path of chronic illness. In January of 2001, she buried her sister.
"Coming back home from my sister's burial I found my house had been broken into and had to be accommodated by a friend for some time," she says.
About two months later, she lost her job. Then in June 2001, she lost her brother.
It was tragedy after tragedy. And then severe and frequent headaches started hitting her. She would self-medicate with over-the-counter drugs but relief was short-lived.
She was diagnosed with high blood pressure – also known as hypertension. The doctor linked the hypertension to stress.
"My doctor told me that I needed to start medication. That I would be on the medication for the rest of my life. I ignored the advice because, at my age, I did not want to believe that I would be on medication forever," she says.
The following year, in 2002, Nyambura had found a new job when she started suffering from illusions, memory lapses, mangled speech, and even more severe headaches.
"One day I am at work and suddenly, I cannot speak. I cannot move. I am sort of paralysed. I am then taken to the hospital where I am diagnosed with stroke," she says.
The whole of her right side – right eye, right hand, right leg, right side of her mouth – became numb and droopy. She couldn't do anything with her right side and she drooled from the right corner of her mouth.
Frightening pain
To make matters worse Nyambura neither had the money nor a medical cover to guarantee her extensive healthcare. She ended up travelling back home to Kerugoya where she could afford some physiotherapy.
Fast forward to 2005. "Out of nowhere my left eye started acting up. I suffered frightening pain in the eye that sometimes I would fall to the floor," Nyambura says.
She went to see a neurosurgeon who referred her to a nephrologist. And the nephrologist, upon performing tests, told her she had kidney failure and needed to start dialysis.
In 2008 Nyambura's body had not given in yet. In fact, she had made some progress with physiotherapy and was regaining some sense on her right side.
Overall though, she was getting weaker and weaker. Fate smiled upon her and she got a job with the benefits of a medical cover.
She routinely went for check-ups and tests which consistently showed that something was wrong with her kidneys. But she still held on.
Towards 2011, her skin started turning darker than usual. And her vitals were not consistent.
"My doctor explained that toxins were building up in my body because my kidneys could not clear them off. The doctor insisted that I needed to start dialysis or I do kidney transplant," she says.
Her younger brother offered to give her a kidney but their tissues did not match.
Without a matching kidney donor, Nyambura had to start dialysis. On July 31, 2011, she underwent her first ever dialysis.
It has been nine years since and she is still on dialysis. She is yet to get another willing donor.
This notwithstanding, she is always in high spirits, optimistic at the mystery of life.