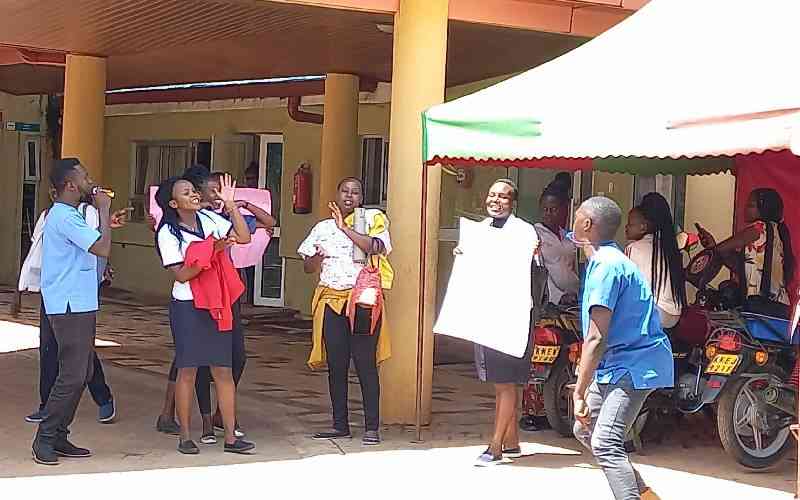 Nurses at Jumia Friends Hospital in Vihiga County are up in arms over delayed pay.
The workers at the private facility held a peaceful demonstration demanding the management to pay their dues.
The 20 nurses also claimed that they were being targeted for unfair dismissal by the hospital management.
Operations at the facility were temporarily paralysed on Tuesday after the nurses protested outside the hospital precincts.
They claimed to have gone for more than three months without pay and wondered why the management had not addressed the issue.
Led by Senter Nangina, the nurses accused the hospital administration of delaying July, August and September pay and issuing them with job termination notice.
A letter to the health workers by the management indicated that the job termination notice lapsed on September 30.
"We write to notify you of the hospital's decision to end your contract as a Nursing Officer on contract, by giving you one month pay in lieu of notice, as per your employment contract dated 1 June 2022," read the notice seen by The Standard.
It adds: "Please arrange to hand over to the Chief Nursing Officer. Your last day of work will be on 30th September 2022."
The nurses claimed that the notice was issued after they piled pressure on the management to pay them their dues one month ago.
"We have been pushing the administration to pay us but they told us to be patient as the accounts office was working on it," said Nangina.
The management had earlier ordered the nurses out of the hospital following the lapse of the notice.
They said the employer has not been remitting statutory deductions, including NHIF and PAYE.
"All we want is our payment for services offered here at the hospital. We are not at war with the administration," said John Midega, a nurse.
The administrator, Geoffrey Nyongesa, summoned the demonstrating nurses for an impromptu meeting but declined to talk to journalists.
It is not the first time nurses at the facility have downed tools protesting delayed pay.
Related Topics