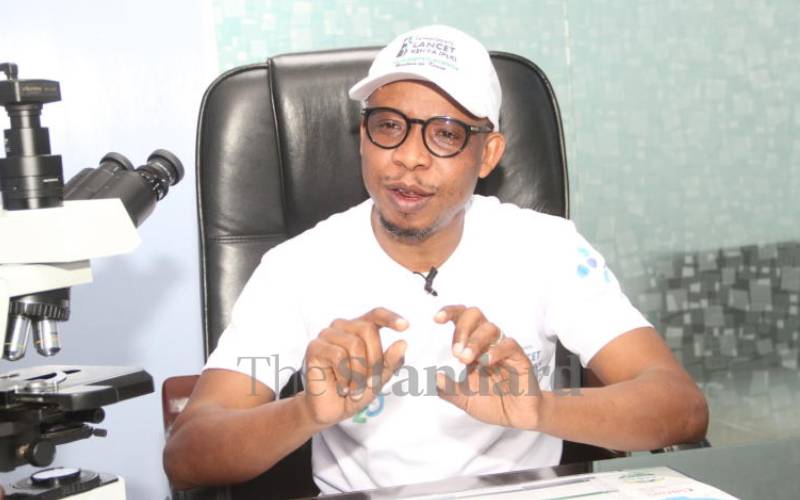 Who would have thought that a young boy from the slums of Kibra would rise to be a celebrated Clinical Pathologist, starting his own company from nothing to being one of leading East Africa's laboratories?
Dr. Ahmed Kalebi, 45 years old developed his love for medicine at a very young age, when he was still in primary school and due to the area he was born in, even his teachers could not believe he was capable of becoming a doctor.
Narrating his story to The Standard, he says his grandfather played a big role in his love for medicine, used to work as a clinical assistant at that time and he would go visit him at his workplace and see how he worked made an impact in his life.
His mother as well influenced him in a way, since when he was young he suffered from recurrent tonsillitis and that made him go to the hospital quite often.
"We would get into the clinic and she would tell me, 'look at this doctor, see how smart he looks,' and since Kibra did not have hospitals at that time, we would go all the way to Haille Salasie and the first thing you would notice would be how immaculate the hospital would look, all the way from the gate, the doctor wearing white coat examining me and every time he would treat me I would get better, so I started thinking this is something I would love to do," he says.
In Kibra at that time, there were only two doctors so whoever heard that he wanted to be a doctor would discourage him including his teachers until one day in class 7 when he drew a full skeleton and his teachers were intrigued.
The details of the drawing were so intricate that the teachers were intrigued and could not believe he drew it, and that was when they believed he really wanted to become a doctor and started nurturing him.
They started by pushing him out of his comfort zone; he was always the first pupil in the exams and they had to push him to be better, especially in the subjects that would make him achieve his dreams.
"My teachers told me to stop being the number one in our class and think beyond our school and beyond our division-we used to call them that back then-and so I had to compete against other students, and that sort of made me wake up," he says.
This he says has been his drive in life, always competing at a higher level and being the best of the best.
His dream of becoming a doctor was almost dimmed when he joined a group of bad boys in his area who later would become his friends and saved his life at some point in life.
"After spending a few times with them, they told me not to join them anymore, that I would put them in trouble that I was cut out for school. They would always tell me to go to school and every time they would hear I don't have a book they would even donate theirs for me to stay in class," he adds, "and nobody bullied me in school because I had my gang always looking out for me."
This was until his high school years when one day, he was almost mugged on the way from school at night.
He had been playing at a table tennis tournament and hadn't worn his school uniform at that time, had a cap and a backpack which contained his clothes so he looked just like a normal person going home.
That gang attacked him with a block of wood which was used to choke their victims but when they noticed it was him, they released him and asked him never to walk in that path without his uniform, to make them notice him from far.
" They were always there when I was going home, and never mugged me but on that day, they told me they had always marked me because of my uniform and I realized they only wanted me to pursue my dreams, by staying in school," said Dr. Kalebi.
According to him, some of those experiences made him have a sense of community that he is not just an individual but a part of a community, appreciating that each person has their own advantages and gifts that can be used to help the community.
In the pursuit of his dreams, Dr. Kalebi started out as a doctor, not sure he wanted to be a pathologist because he first loved doing anatomy.
"Pathology is all about reading deeply about diseases and understanding diseases and it wasn't a fancy thing to think about," he says.
He was however inspired by Dr. Alex Kirasi Olumbe who gave him a job at that time that involved dissecting hearts, measuring coronary vessels and dimensions, at some point he had to go to City Mortuary.
He says, the morgue was not a pleasant place to visit because of the filth, the smell but he had to go there to study, meaning he had to be there when they were doing an autopsy.
His love for pathology grew in South Africa studying when he came across a patient who had a Markel cell tumor, one of the rare tumors in pathology.
He was asked to look for the patient's report from the registrars there and when he got into their office, he instantly knew he wanted to be a pathologist.
"I found them discussing this particular case, with results displayed on the wall, others looking at the microscope and their office was nothing as compared to what I thought a pathologist's office would look like; it was well carpeted and they were even sipping on coffee!" he says.
He, therefore, started off with forensic pathology but edged on towards clinical pathology which he has been doing until the time he took a sabbatical leave to focus on his life and family.
He made that decision when he was at the height of his career as the CEO of Lancet Group of Laboratories, a company that he founded.
He made that decision when he realized he had been losing out on the progress of his family, giving 120 hours in a week to his job.
"My daughter came to me and told me she was getting married, and I was shocked because the last thing I could remember, she was only a young girl and I asked her, 'when did you even grow up? And I knew I had to concentrate on my family and I chose to quit my job at that time," he says.
He says he is now concentrating on his family, and giving back to his community in Kibra, doing community projects, working with football teams including other health-related ventures.
"Nobody tells you how to balance your work with your life and you end up with a lot of health and social issues, and I tell the young doctors not to be like me; find a work-life balance because right now, I am dedicating my time to myself and my family."
Related Topics