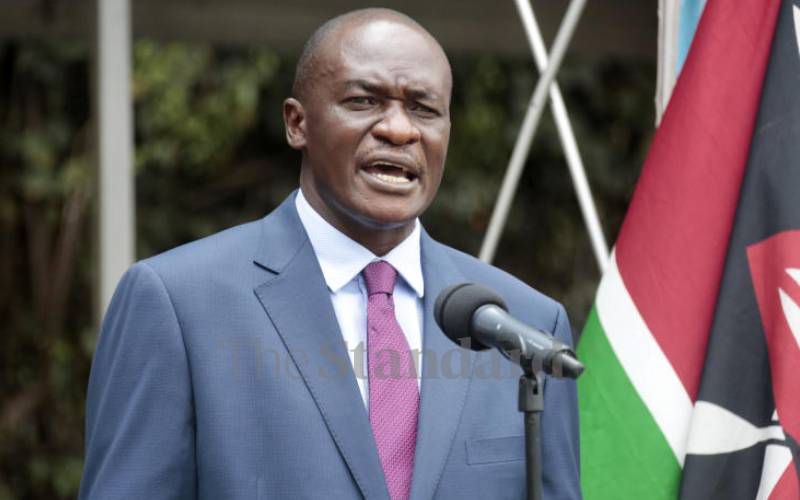 Though immunisation is one of the most cost-effective public health interventions in reducing childhood diseases, at least 300,000 infants miss critical vaccines annually, according to the Ministry of Health.
To correct this anomaly, the Ministry of Health began rolling out a 100-day immunisation campaign against childhood diseases last December. The campaign, which will use rapid result results initiative, will include second dose of measles-rubella and Human Papillomavirus (HPV).
Acting Health Director-General Dr Patrick Amoth notes that "all girls aged 10 to 14 years should be vaccinated with HPV to provide protection against cervical cancer."
In Kenya, at least 33 out of 100,000 women have cervical cancer. At least 49,000 new cases of cervical cancer were diagnosed in 2018 alone and 33,000 deaths reported.
At least nine women die every day due to cancer. The Ministry of Health introduced the HPV vaccine into the routine immunisation schedule in 2019, with the aim of reaching out to 700,000 girls every year.
But the vaccine has faced challenges in delivery, low uptake of the second dose coupled with global HPV vaccine shortages.
HPV is the most common viral infection of the reproductive tract and which affects both men and women who are sexually active.
Infection with certain HPV types also causes a proportion of cancers, such as oropharynx, which are preventable using similar primary prevention strategies as those for cervical cancer.
Although most HPV infections clear up on their own and many pre-cancerous lesions resolve spontaneously, research has revealed that HPV infection may become chronic and pre-cancerous lesions that progress to invasive cervical cancer.
Every year, the Ministry of Health targets to vaccinate at least 1.5 million children against vaccine-preventable diseases.
"Over the years, immunisation has resulted in at least 70 percent reduction in deaths and illnesses from infectious diseases," Dr Amoth noted.
Physical access of vaccination services in some vast sparsely populated counties of Turkana, Marsabit, Garissa, Mandera and Wajir has remained a challenge.
Dr Amoth said that immunisation conducted through the ministry's Division of National Vaccines and Immunisation Programme is also aimed at vaccinating 70 percent of girls aged ten and 14.
Related Topics