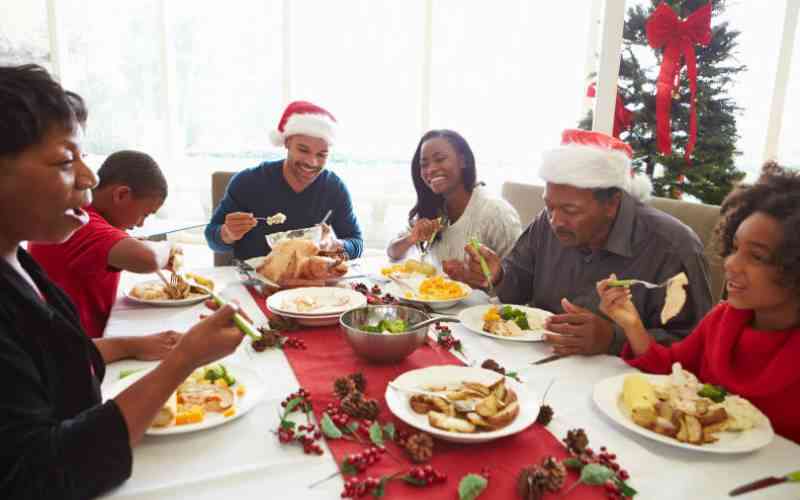 Nothing epitomises Christmas better than food, family, vacations and friends. It is a wonderful time of the year! Virtually, it feels like a reward for all the work done throughout the year- from deadlines to insane working hours, not to mention office politics.
We all need to unwind, admittedly. However, this is the time when most don't fret over going all out on everything, especially the food and whiskey, and then regret it later.
The aroma of nyama choma and chapati has a way of compelling us to eat more or cheat on our dietary routines. The holiday delight could be too astounding you barely notice those inches of fat forming under your skin.
While going back to work in January, you realise that your favourite suit doesn't button up and you can barely pull the trouser above your knees. You might try compensating for it by hitting the gym or extreme dieting but really- let's leave the deflating and inflating to the balloons- or the currency.
So, do you consider yourself an emotional eater? if you find comfort in eating while under stress, holidays could prop a huge red flag. The drastic adjustments during this time of the year are stressful. Proactively managing stress could come in handy.
First, acknowledge the fact that this is stressful and before running to the nearest bakery, pause and take a few deep breaths. Breathing exercises go a long way in calming the tempest within by evening out of the brain and blood flow rhythm. The tension will disappear after a few minutes and you'll wind up feeling more calm and alert.
So, are you one of those people who fill up their plates with so many goodies and eat them like it is a contest? Please slow down, and remember it is not a race. Eating too fast is a major reason why people overeat.
It can take 15 to 20 minutes for your brain to send the signal to your stomach that you're full and you need to stop eating. And if you are not careful, during that time period you can cram an awful lot of food into your stomach.
Drink water, a whole lot of it. Carry a water bottle, nowadays, they come in fun shapes, colours and designs. Grab one and sip as often as possible. That will help combat the "I am so hungry and must eat everything in sight" syndrome that happens to most people around the holidays.
Not everyone can run to the gym and back, especially us who will be upcountry. That is not an excuse to be sedentary. Take a walk and get involved with the work. Also, try slashing a few nips of calories- eating fewer chapatis and chopping off the extra fat from the meat. That is not only for the holiday, but your health could also benefit generally. And I mean even mental health- nothing makes you feel better than self-care!
Related Topics