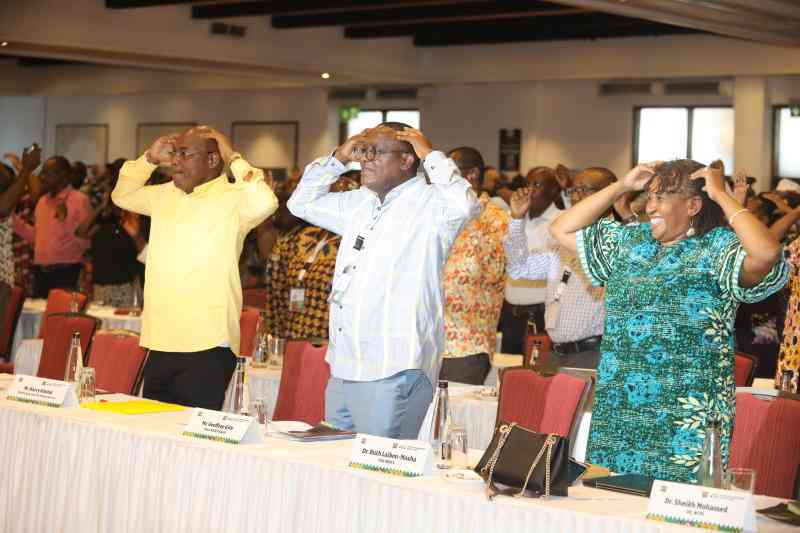 The rate of mother-to-child HIV transmission remained alarmingly high, 8.3 per cent, at the end of last year.
Speaking at the Maisha Conference in Mombasa, Medical Services Principal Secretary Harry Kimtai said Kenya bears the seventh highest burden of HIV globally with approximately 1.4 million individuals living with HIV.
Kimtai said that of particular concern is the sluggish pace in curtailing new HIV infections among children and adolescents.
"Regrettably, the rates of mother-to-child HIV transmission remain alarmingly high at 8.3 per cent as of the close of 2022," said Kimtai.
Data by Elizabeth Glaser Pediatric AIDS Foundation shows that in every 100 mothers, nine transmit HIV to their children through breastfeeding.
Elizabeth Glaser Pediatric AIDS Foundation Country Director Eliud Mwangi said that Kenya can never eradicate Aids if they do not address mother-to-child transmission.
"We are leaving our children behind. We must have funding for our children and put them first to be able to secure our generation. In every 100 mothers, nine of them are transmitting to their child," said Mwangi.
Biggest killer
He said only 44 per cent of children are diagnosed with tuberculosis (TB) yet it is the biggest killer in children.
Kimtai said that in 2022 alone, an average of 141 new HIV infections were reported among those aged between 15 and 24 every week.
He said by the end of 2022, approximately 82,000 people living with HIV had not yet commenced long-term Anti-retroviral (ARV) treatment.
He said while AIDS-related deaths are decreasing, the loss of lives remains unacceptable.
The PS said between 2013 and 2022, the number of individuals receiving lifelong ARV treatment nearly doubled.
He said this had significantly enhanced the quality of life and curbed mortality rates.
"Despite progress, the persistence of HIV-related stigma continues to be a pressing concern," said Kimtai.
However, the PS said there were more patient-friendly medications such as Dolutegravir (DTG), which yielded superior treatment outcomes evidenced by an 89 per cent overall viral suppression among the 1,294,339 individuals under ARV treatment last year.
He said there has been a reduction in annual new HIV infections by 78 per cent, from 101,500 cases in 2012 to approximately 22,154 cases in 2022.
Elgeyo Marakwet Governor Wesley Rotich said the community should be included in the fight against the triple threat and deal with perpetrators of defilement and rape.
Rotich said conditional grants should be allocated to counties to help address the fight against HIV among breastfeeding mothers and adolescents.
Related Topics