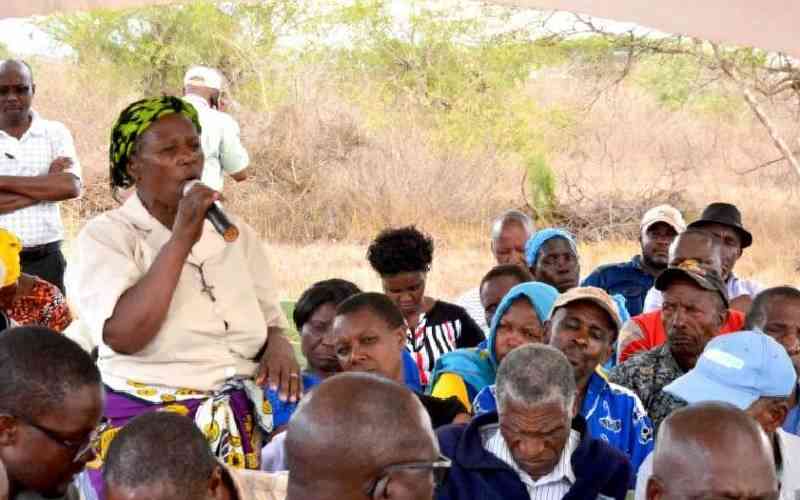 For the longest time, Vincent Oluoch did not think that there was anything wrong with his wife performing all the household chores, while he sat comfortably watching TV.
He would tell his friends that his wife was a superwoman because she could handle her job and her family well. He was proud of her. After all, or so he thought, culturally that was the role of a woman. His duty was to provide for his family.
Oluoch has never given a thought about why women were victims in keeping time. He thought that they were busy dressing and doing make-up. He also thought that, at the office, it was the responsibility of the 'tea girl' to clear his table when he was done with taking his coffee or having his meal.
He would only lend a hand when it involved manual jobs such as fixing a broken water tap or carrying heavy shopping. He never thought of himself tending to chores such as cooking, bathing babies, or changing diapers – not even for his three children. He believed his community would disown him if he did these chores, culturally set as women's duties.
Gladys Wairigia, says she was never a strong advocate for gender mainstreaming or ideologies relating to women's equality, their economic empowerment, and the entire 'hullabaloo' relating to injustices against women.
Despite being a lawyer, surrounded by gender pundits, and working for a gender-based organisation, her ideology was that all the talk about gender equality was 'hot air'. She never imagined a world where the status quo would change. She believed women were destined to be subordinates while men ruled the universe.
"I would argue and side with men on issues of affirmative action and would recognise them as the genuine and legitimate leaders in conservancies where we worked, and I never believed, for instance, that the two-thirds gender rule was achievable in a man's world," she says.
In the field, she believed that the roles of men, for example, were loading and offloading luggage. In the office, she would support men when they did not do specific duties such as clearing their desks which she believed were tasks to be performed by female colleagues.
Today both Oluoch, a programmes officer at the Kenya Wildlife Conservancies Association (KWCA) and Waligura, a policy and advocacy manager, are of a different opinion. This is after both went through unique training to change their approach to beliefs that were based on social norms and cultural practices. The training involved a five-day training using a special tool - the Social Analysis and Action (SAA) training tool.
According to Dr Ferdinand Ondieki, an SAA lead trainer, the tool that has been developed by CARE International addresses the harmful social and cultural practices, gender norms, and biases that continuously disadvantage certain populations in society, primarily women and girls. The tool, he explains, addresses the power imbalances that perpetuate the dominance of certain persons over others while making decisions.
"SAA tool is a community-led social change process through which individuals and communities explore and challenge social norms, beliefs, and practices around gender and sexuality that shape their lives," says Ondieki.
He explains that SAA underpins the fact that persons continuously follow social, cultural, and gender norms without questioning them.
The tool, he says, emphasises staff transformation. It enables staff to self-reflect and ask 'but why', giving the participant the sense of empathising, challenging, and facilitating dialogues.
Related Topics