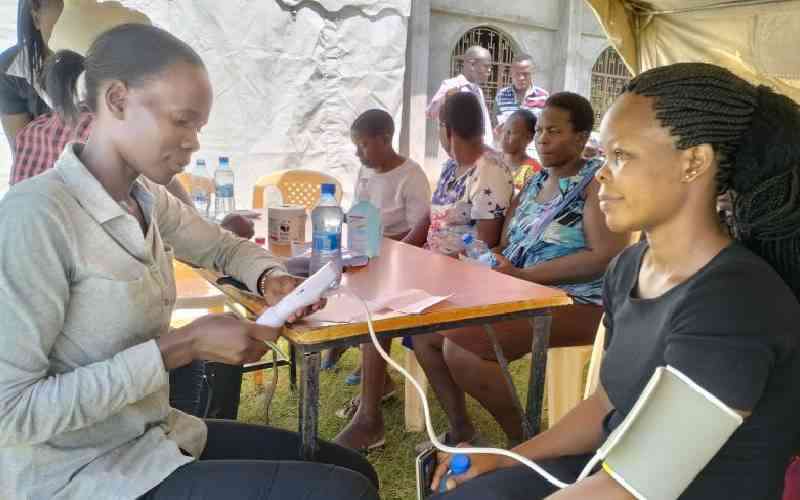 If the Kenya government continues underfunding the management of non-communicable diseases (NCDs), the steep rise of NCD prevalence will bring the healthcare system to its knees.
A report by the Kenya National Strategy for Preventing and Controlling Non-communicable Diseases reveals that over half of all hospital patients suffer from non-communicable diseases, including diabetes, stroke and hypertension.
Further, NCDs account for five out of the top-ten deaths by disease in Kenya. Stroke is the top killer NCD, surpassing even the most focused-on infectious diseases such as HIV and malaria.
In fact, NCDs are set to supersede all other causes of death in Kenya by 2030. It is, therefore, worrying, that Kenya's health system is still centred around the management of infectious diseases like HIV and malaria.
Simon Kariuki, NCD Focal Person for Kirinyaga county, says the Ministry of Health should devolve NCD treatment and management, as it has done for infectious diseases, to simplify NCDs management.
"You will find primary-level clinics checking HIV and treating communicable diseases, but the same rehabilitative services are unavailable for NCDs at the lowest levels except in levels 4 and 5," says Kariuki.
Some health sector players have long criticised the government's propensity to set up visible infrastructure such as mortuaries and hospitals but not the implementation of working systems, policies and recommendations laid out by experts and medics.
"What is the point of buildings without enough specialists and efficient delivery of services?" says Professor Elijah Ogola, a cardiologist at the Kenyatta National Hospital (KNH) and professor of medicine at the University of Nairobi Nairobi.
A 2018 National Center for Biotechnology Information (NCBI) publication by Monicah Adhiambo Onyango and co, focusing on health facilities across eight key counties, revealed a disturbingly low availability of NCD medicine in the public and private sector.
The report featured Nyeri, Kwale, Kakamega, Makueni, Samburu, Narok, West Pokot and Embu counties. It found a 51 per cent availability of NCD medicines in public facilities, meaning that five out of ten patients go untreated in government hospitals.
The report also highlighted a similar trend in non-profit facilities where there is only a 50 per cent availability of NCD medications and a 62 per cent availability in for-profit private chemists.
"Much of the focus is on communicable diseases, but NCDs are killing almost as many Kenyans as communicable diseases," says Dr Catherine Karekezi, Executive Director of NCD Alliance Kenya.
Like antimicrobial resistance, NCDs like stroke present a ticking time bomb for communities and the economy.
Dr Kinoti Ndege, a neurologist at KNH says stroke rarely occurs unexpectedly.
He says it stems from pre-existing and existing diabetes, a chronic disease that botches the body's ability to regulate blood sugar and inevitably wreaks havoc on circulation, kidney function and other vital organs, laying a firm foundation for stroke.
Diabetes 2, hypertension and stroke, all rated among the top killers in Kenya, are comorbidities, meaning they exist in the body at the same time.
These diseases, according to Ndege, often interact, leading up to stroke incidence.
"Excess blood sugar reduces the elasticity of blood vessels, causing them to narrow, which impedes blood flow," explains Ndege.
"Narrow vessels reduce the supply of blood and oxygen, raise high blood pressure and damage blood flow, allowing the formation of clots.
"These clots often end up in the brain or heart. If they end up in the brain, a stroke occurs. In the heart, they cause cardiovascular complications, a number three killer in Kenya," he says.
The interlinkage between communicable and non-communicable diseases was laid bare by the Covid-19 virus.
When Covid-19 hit, reports showed that people living with chronic diseases were at higher risk of infection, with medical journals revealing that most Covid-related deaths in Kenya occurred among people with diabetes, among other NCDs.
"It is hard to overstate just how devastating Covid-19 was for Kenyans with diabetes," says Dr Nancy Ngugi, Head of the Diabetes Clinic at KNH.
"Close to two million Kenyans were already struggling with diabetes, and when Covid-19 came along, it cut a massive swathe of suffering and misery largely disregarded by the public and policymakers," she adds.
Diabetes patients hospitalised with Covid-19 spent more time in the Intensive Care Unit (ICU) and were less likely to survive.
Medics aver that the situation is concerning because if more focus is not put on preventive measures and targeted management of NCDs, majority of Kenyans will soon be grappling with the effects of the diseases.
Research by the African Population and Health Research Centre (APHRC) released last week outlined recommendations that, if implemented, could lessen the sting of NCDs in light of modern-day challenges, including Covid-19 and other novel disruptions.
Shukri Mohammed, an Associate Research Scientist at APHRC, said the Covid-19 pandemic allowed industry players to review and strengthen Kenya's healthcare systems.
"It allowed us a chance to review the gaps and come up with solutions," she said.
Mohammed was speaking during the release of the research by APHRC, where she revealed the challenges people living with diabetes and other NCDs faced during the Covid-19 lockdowns.
From the research, it emerged that interrupted care for chronic diseases was a deadly pandemic 'wave' that went ignored.
Over 66 per cent of patients in four sample counties - Nyeri, Kiambu, Nairobi, and Vihiga - lacked access to health facilities, and most had to find new places to test their sugar levels.
Up to 35 per cent of patients struggled with the heightened costs of diagnostic tests. Oral medications were also difficult to come by, and home testing for glucose levels declined. Additionally, patients with health insurance, especially the National Hospital Insurance Fund (NHIF), faced severe disruption.
Interestingly, patients living in rural areas were not as badly affected as those in cities due to fewer restrictions on movement.
The report further laid out recommendations to fill the gaps that caused unnecessary suffering to people living with diabetes, not only during the pandemic but in their everyday lives.
"The health sector should ensure continuity of chronic care during pandemics and other emergencies by offering online consultations and home delivery of diagnostics and medication," the report reads in part.
It also called for robust training, dissemination of guidelines and prioritisation of chronic disease medical supplies.
The report further recommended provision of subsidies for medicines, diagnostics and transport for patients with diabetes, as well as enhancement of NHIF coverage for chronic disease management.
Related Topics