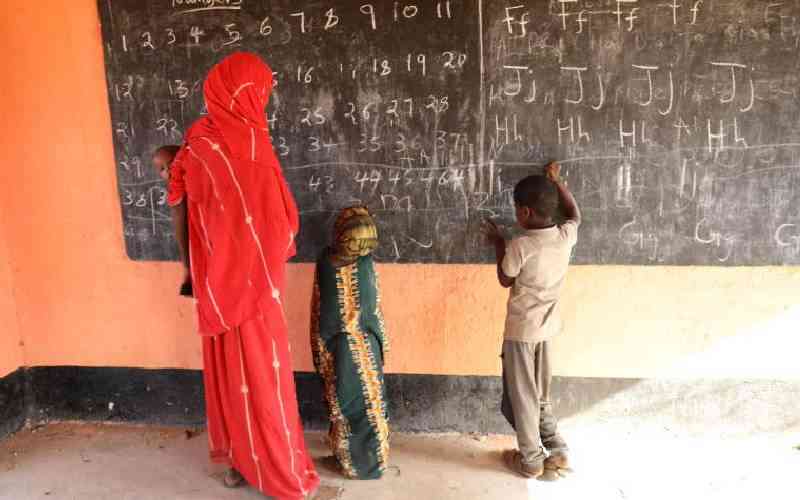 It is a Tuesday morning but the classroom is locked with a padlock. Young boys herding livestock stop by and take shelter from the scorching as they play with marbles on the verandah.
An elderly man clothed in a 'shuka' comes by and unlocks the door to one of the classrooms.
Excited, the boys dash in, as they mimic teachers and learners. Their playful nature rekindles learning at the school, which has greatly been disrupted by the adverse effects of climate change.
This is Bula Mobile Nursery and Primary school. The school has a capacity of about 50 pupils in Pre-Primary 1 and 2 and Grade 1.
The date scribbled in chalk on the board is November 11, 2022, there are other writings indicating a possible English lesson on that date.
It is clear that there hasn't been learning at the school since even though schools closed some 10 days later and opened for the year on January 23, according to the government calendar.
"This school was opened last year but learning stopped," says Aden Double Abdulahi, chairman of the school management board.
Here, learning is a luxury, as the community grapples with food insecurity caused by the prolonged drought.
School-going children are forced to accompany their parents in search of food, water and pasture for their livestock.
"We want our children to get an education, but it is no longer a priority. Children cannot report at school as they are starving," says Abdulahi.
"Families are going for days without food. They walk hundreds of kilometres in search of water for survival."
The situation is dire. Hundreds of livestock, which is the main source of income for the locals, have died, while the few remaining are not productive. Hundreds of carcasses lie in the bare grazing field, with some burning in the thicket and along the road.
Previously, locals used to sell their livestock to buy food and pay for their children's education. There was also a school feeding programme that kept their children fed. Now that schools are closed, the children can only eat what is available at home -- and there is little.
"We had two volunteer teachers whom we paid Sh10,000 monthly, but they have been forced to flee in search of food and survival because we cannot keep them," regrets Abdulahi.
Abdulahi's camels, goats, and cows have been swept by the drought.
"This is the worst drought I have ever witnessed. It has killed my 500 goats, 1 camel and 50 cows," he narrates.
Out of Abdullahi's 14 children, only one goes to school.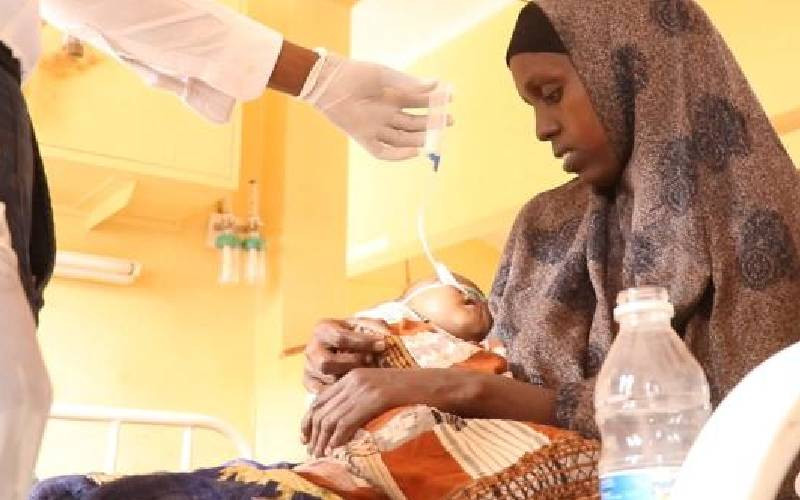 "I am not comfortable having my children walk the long distance to school on an empty stomach as they are too weak," says the father.
Starvation, according to the local, is likely to cause deaths. "Our daily prayer is to have rains, as we risk death due to starvation"
Dhahabu Adan, a parent at the school, can also not afford to pay school fees for her six children.
She has two children in Grade 1 and Grade 2.
"I am forced to stay with my children at home after the death of all my livestock," narrates the mother, adding, "I am hoping that, someday, it will rain and have us afford food for ourselves and our few remaining livestock".
Learning has not only been disrupted at Bula Mobile primary, but nearly all public schools in the county are reporting high rate of absenteeism of both learners and teachers.
Last year, the long rains assessment report by the National Disaster Management Authority of October to December 2022 projection period for the Arid and Semi-Arid Land (ASAL) region estimated that 1.6 million children were at a high risk of dropping out of school as schools reopened for the first term this year. The worst-hit counties according to the report, were to include Mandera, Garissa, Wajir, Turkana and Marsabit.
In the report, Mandera was projected to have the highest number of school dropouts of 295,470 children aged between four and 17 years old, followed by Garissa with 289,410, Wajir at 266,540, and 253,640 cases in Turkana at 253,640 and 107,600 recorded in Marsabit.
Other counties which were greatly affected by school dropouts are Narok with 83,020, West Pokot with 80,070, and Samburu with 64,818 school dropouts.
According to Sam Odundo the head teacher of Hirbaya Primary school where 92 pupils out of 280 have reported to school, the school depends on well-wishers for the supply of water, and food, after the stock supplied by the government is depleted.
"Pupils follow their parents to where they can get water. There is nothing much we can do as management because we also do not have supply," says Mr Odundo.
"The Majority of pupils report to school when there is a feeding programme. But currently, because of lack of water and food, they are out of school."
Related Topics