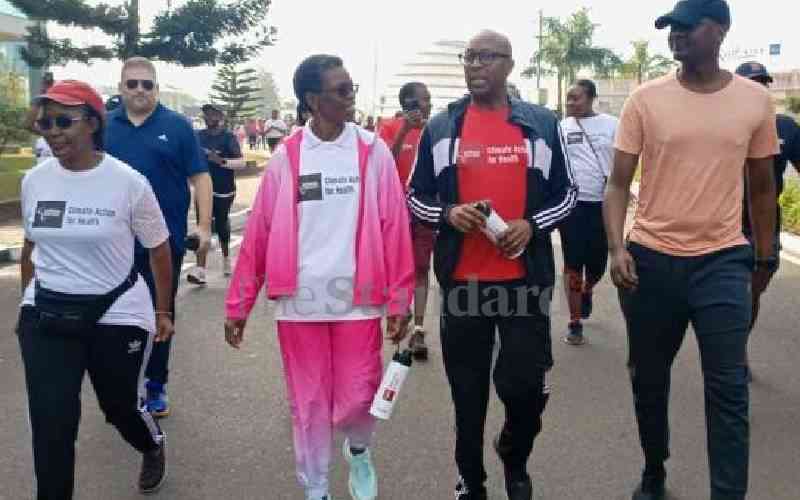 Health experts from African countries and across the globe have converged in Kigali, Rwanda, to deliberate on efforts towards strengthening healthcare systems amongst countries of the continent.
This comes at a time when Africa is grappling with the devastating impact of climate change.
The fifth edition of The Africa Health Agenda International Conference (AHAIC) 2023, kicked off on March 5 and will end on March 8. The conference will run under the theme "Resilient Health Systems for Africa: Re-envisioning the Future Now".
The biennial conference will address the matter of prioritising health investments in response to pressures, and the impact of climate change on human health.
Group CEO, Amref Health Africa, Dr Githinji Gitahi, said there is an urgent need for African countries to unite and strengthen their health systems, and address climate-related health challenges.
"We are seeing extreme effects of weather like flooding, which is affecting sanitation, and an outbreak of diseases like cholera, which require quick solutions," said Dr Githinji.
He acknowledged that changes in climate witnessed in Kenya, Africa and across the globe are caused, in part, by developed countries but there is a need to find mitigation.
Africa, he said, suffers more, from the effects of climate change. For example, Africa is reporting erratic weather patterns, an issue that has contributed to food insecurity.
Children are also missing out on vital vaccines because their parents move in search of food and pasture for their livestock. Globally, at least 25 million children globally miss out on key vaccines.
"The biggest challenges on climate change are coming from developed countries, for instance, use of fossil fuels, industrialisation, emission of greenhouse gases. We have no choice but think of improving our health systems, nutrition and how we do better agriculture, and change health systems in preparation for outbreaks and pandemics," said Githinji.
Dr Adelheid Onyango, WHO Director of Universal Health Coverage, in Africa added that experts and leaders should work hand in hand to find solutions to the ripple effects of climate change that are facing the African continent.
"We are witnessing more cases of malaria, yellow fever, cholera, and more diseases linked to climate change. We, therefore, need solutions," she said.
The establishment of a vaccine manufacturing plant for Africa is also one of the agenda for the conference.
Related Topics