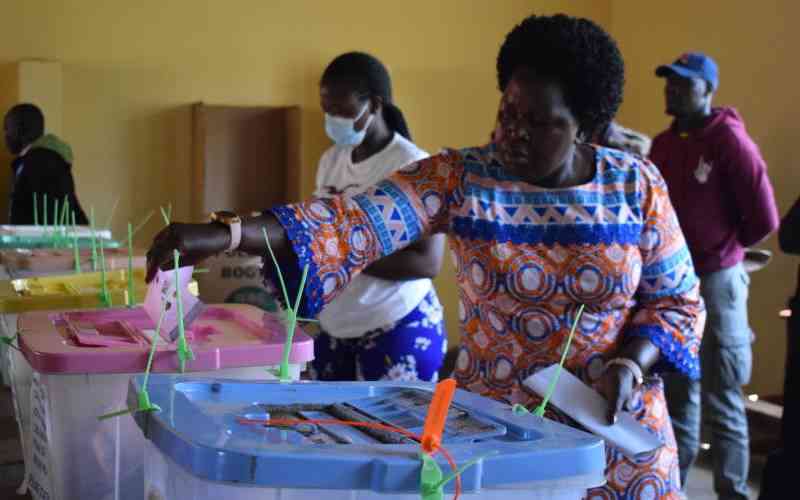 Lilian Gogo has defied all the odds to break the one-term MP jinx in Rangwe constituency.
The constituency was carved from the former Homa Bay constituency in 1988. By then, Homa Bay constituency comprised the current Rangwe, Homa Bay Town, Rongo and Awendo constituencies.
But since creation of Rangwe, the constituency has carried the tag Log dichiel, a Luo expression meaning "wash your hands once" to refer to MPs serving only for one term.
Until Dr Gogo was re-elected in last week's polls, no MP had served for two consecutive terms in the last 34 years.
The late Joseph Ouma Muga became the first Rangwe MP on a Kanu ticket in 1988 but lost the seat after being expelt from the party. He was followed by the late Ray Ndong' also on a Kanu ticket in 1990 who captured the seat in a by-election.
In 1992, the late Muga recaptured the seat on a Ford Kenya ticket. Shem Ochuodho of NDP became the next MP in 1997.
National Cohesion and Integration Commission commissioner Philip Okundi captured the seat on Narc ticket in 2002 before he was dislodged by Martin Ogindo of ODM in 2007.
In 2013, the constituency was divided into Rangwe and Homa Bay Town constituencies.
George Oner became the MP for Rangwe while Peter Kaluma became MP for Homa Bay Town on ODM tickets. Oner also served a single term before voters sent him packing and handed Gogo the mandate to lead in 2017.
Gogo has now broken the jinx following her victory in last week's General Election.
Running on an ODM ticket, Gogo got 22,095 votes, followed by George Oner (Independent) with 15,035 votes, and Omburo Odaje with 3,190 votes.
Gogo told journalists that she faced gender-based stereotypes during campaigns, but that her development record endeared voters to her.
"There are a number of development projects which I have implemented in this constituency in the last five years. I always engaged them through public participation on the services they wanted," Gogo said.
She said that the most important thing as a leader is building a good relationship with the constituents.
Winning voters' confidence
"Listening to the people and prioritising their interests helped me win the confidence of voters during the election," Gogo said.
She promised Rangwe better services in her second term.
"I thank the people of Rangwe for enabling me to break this one-time MP jinx. Let us move forward for better services," Gogo said.
Gogo was born in Alego Usonga constituency in Siaya County and got married to Kennedy Gogo, a resident of Omoche village, Gem East ward in Rangwe.
She holds doctorate degree in Philosophy in food science from Egerton University.
Prior to joining politics, Gogo was a lecturer at Egerton University.
A youthful DAP-K candidate in the Rangwe parliamentary race, Achuodho Kachuodho, considered by residents as a good orator, conceded defeat.
Related Topics