Home
/
Health & Science
Kagwe: Why we banned private importation of Covid-19 vaccine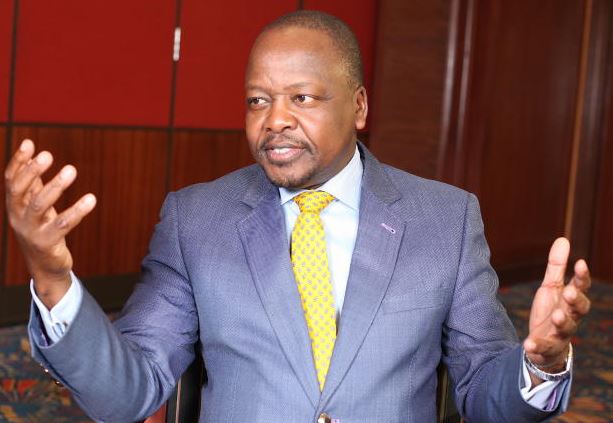 75,000 doses of the Sputnik V vaccine were imported to Kenya and only 527 of those had been administered at the time the government announced the private importation ban of Covid-19 vaccines.
This is according to the Health Ministry in response to the Senate Standing Committee on Health on reasons that led to the ban.
In a detailed report seen by Standard Digital, Health Cabinet Secretary Mutahi Kagwe (pictured) said the government arrived at the decision after it was made aware of the irregular deployment of the vaccine, which it says could have reversed the gains made in the fight against the coronavirus pandemic by way of introducing counterfeit vaccines in the market.
"The appointed distributors were engaged in the marketing of the vaccine in contravention of guidelines issued by the Pharmacy and Poisons Board, which prohibit marketing when a product is still under Emergency Use Authorization (EUA)," the report said.
The National Emergency Response Committee on Covid-19 (NERC), the team tasked with handling Kenya's Covid-19 preparedness said that it chose to put on hold the private sector importation, distribution, and administration of the said vaccine in the interest of public health safety.
The Health Ministry admitted that the Pharmacy and Poisons Board (PPB) had given Emergency Use Approval for the Sputnik V vaccine in Kenya through a private pharmacy.
"Sputnik vaccine went through the necessary process at the PPB to ensure safety, quality and efficacy. The emergency authorisation was based on conditions," MoH said on Thursday.
The Mutahi-Kagwe led ministry however maintains that persons who had received the Sputnik jab will get their second doses as scheduled.
The CS also said that no private entity will be involved in acquiring the Johnson and Johnson vaccine and only the government is allowed to procure the jab.
Kenya hopes to have vaccinated over 400,000 people by the end of this week and have all vaccinated persons get their second doses starting May 5.
Further, Kagwe said that they are monitoring adverse effects of the covid-19 vaccine, some of which include fever and headaches.
Related Topics