Home
/
Health & Science
Many counties still lack life-saving gas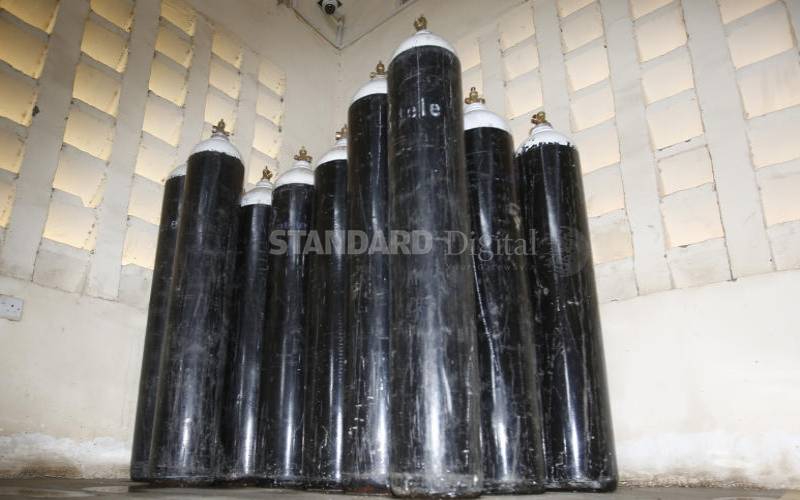 There is no respite in sight for Covid-19 patients with breathing difficulties with medical oxygen only available in 16 per cent of hospitals.
A report by the Ministry of Health's Covid-19 task force has revealed that an estimated Sh2 billion is required to support over 300 health facilities across the country with medical oxygen supplies, piping and devices.
"Demand for oxygen will grow 10 times over what other conditions currently consume, yet the supply landscape has not changed significantly," noted the report, which recommended boosting supplies in 76 hospitals in 16 high-risk counties.
The counties include the five that are currently on partial lockdown, namely Nairobi, Kajiado, Machakos, Kiambu and Nakuru. The task force also singled out Mombasa, Migori, Uasin Gishu, Kilifi, Busia, Nyeri, Narok, Kisumu, Taita Taveta, Garissa and Mandera.
The estimated budgetary allocation for the 76 facilities was Sh588 million.
Of that amount, Sh236 million was for installation of oxygen piping and medical air systems, Sh53 million for installation of oxygen manifolds with piping, and Sh63 million for a pressure swing adsorption (PSA) oxygen-generating plant and one oxygen purification system.
Oxygen delivery accessories (flow meters, humidifiers, regulators), bulk liquid oxygen supply, and oxygen supply in cylinders were allocated Sh17 million, Sh170 million and Sh48 million, respectively.
In Nakuru, the task force recommended a review of contracting arrangements at the Rift Valley Provincial General Hospital's oxygen plant to ensure the country was able to optimise the resource through production of quality medical gas.
Nakuru has four isolation facilities, namely the Rift Valley Provincial General Hospital, Langalanga Sub-county Hospital, Naivasha Sub-county Hospital and Bondeni Maternity Hospital.
In Uasin Gishu, the Moi Teaching and Referral Hospital was listed as the main Covid-19 isolation centre. And while the vast majority of isolation wards in hospital in Nairobi and Kiambu had access to medical oxygen, none of the isolation wards in Bomet, Embu and Lamu had the life-saving gas.
Whereas the majority of patients hospitalised during this third Covid wave ended up in the intensive care unit, only 42 hospitals were documented to have ICU or high dependency units.
Out of this number, only 37 were able to provide oxygen to patients.
All private and faith-based facilities–as well as those run by non-governmental organisations–provided ICU services while 90 per cent of Level 5 hospitals and 82 per cent of public primary hospitals with ICUs and HDUs provided oxygen in wards.
The task force recommended the scaling-up of oxygen availability in the out-patient, isolation and ICU/HDU wards in public primary hospitals. It also recommended the installation of a central/piped oxygen supply in all hospitals.
Related Topics