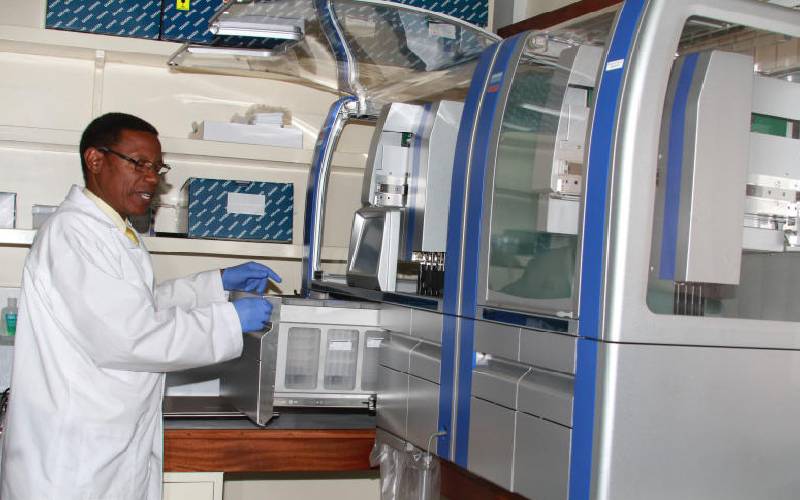 Conventionally, a doctor may do a physical examination to feel areas of your body for lumps that may indicate a tumour. Abnormalities in different parts of the body may indicate the presence of cancer.
In biopsy, a doctor collects a sample of cells for testing in the laboratory. In most cases, this is the only way to definitively diagnose cancer.
Imaging tests are also crucial in cancer diagnoses as they allow doctors to examine bones and internal body organs in a non-invasive way. Unfortunately, most Kenyan hospitals lack the necessary technologies needed for screening, diagnosis and treatment of cancer.
Due to the lack of comprehensive public cancer care centres, most Kenyans are forced to seek these services in private hospitals or outside the country. This tide is, however, set to change following the construction of the first-ever Integrated Molecular Imaging Centre (IMIC) in a public facility in Kenya.
This unique facility will be situated at the Kenyatta University Teaching, Research and Referral Hospital (KUTRRH) and is expected to address gaps in the screening, diagnosis and treatment of cancer. To enable this, the hospital has procured state-of-the-art radiotherapy equipment and will employ patient-tailored medicine to design cancer drugs that fit the genetic makeup of individual patients. The real game-changer, however, is the acquisition of a cyclotron.
How a cyclotron works
A cyclotron is a machine used to make short-lived radioactive isotopes that can be used for medical imaging or research. The cyclotron produces radioactive elements by accelerating particles at a very high speed then focusing them on a target substance.
This reaction transforms atoms of the substance into radioactive, unstable isotopes that are used by a Positron Emission Tomography (PET) scanner to produce images.
A PET CT scan is an imaging test used to diagnose diseases, to find out how a condition is progressing and to see how effective treatment is on a disease.
Information from these scans enables oncologists to make better treatment plans for cancer patients because it can reveal the presence and stage of cancer, if it has spread and where to.
It can also detect a recurring tumour sooner than any other technology and will indicate if chemotherapy is working.
Why the cyclotron is important
The cyclotron produces Fluorine-18 (F-18), a radio isotope that acts as a tracer for cancer in patients. F-18 is a radioactive sugar that shows the affected body cells by tracing the progression of cancer cells in the body.
"The cyclotron is the reason people go to South Africa, India and other foreign countries to seek cancer treatment," says Dr George Njoroge, chief scientific advisor at KUTRRH.
"The cyclotron we are procuring will be the largest in Eastern and Central Africa and will be operational by April 1 this year."
The operationalisation of the hospital's IMIC is, therefore, expected to minimise the cost of cancer treatment because patients will no longer need to travel abroad to seek these services.
KUTRRH has partnered with the Council of Governors to see how this technology can benefit other counties.
Related Topics