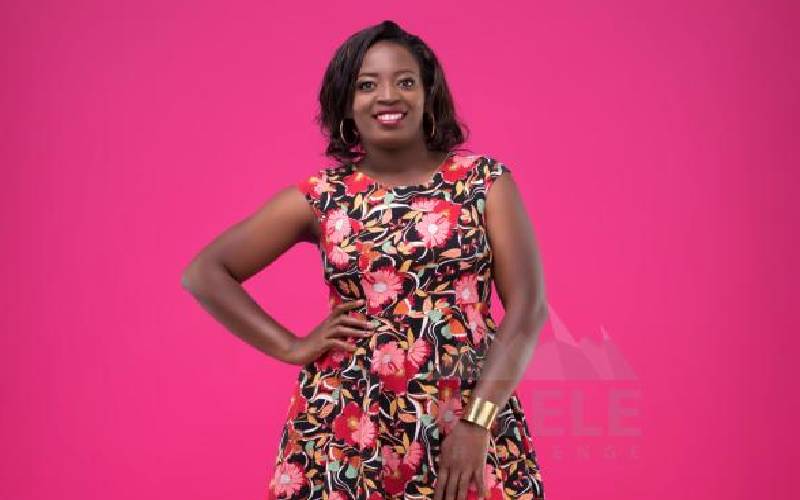 Until 2011, the then 26-year-old Joan Wangari (pictured) had no serious health complications and generally led a normal life. But that would all change fast. "It all started when I began to feel itchy on my palms. Over time it became very intense. Even scratching the itch didn't help. I would even cry when I was overwhelmed. Soon I began to notice that I had lost a lot of weight too," she recalls.
Thinking it was an allergy, she went to the local chemist and bought some ointments but didn't get a reprieve.
Joan's health took a fast turn for the worse when she began experiencing abdominal pain and yellowing of the eyes. This was accompanied by bouts of acidity.
At the hospital, she had a blood test and ultrasound done but there was nothing of concern detected.
"However the doctors decided to treat me for hepatitis C because of the symptoms, but still the peculiar symptoms didn't go away," she recalls.
Her doctor surprised that no changes were happening, recommended a CT scan. It was then that they discovered a tumour in her pancreas. They said that they had to remove it immediately as it was obstructing the passage of bile.
This was urgent because, besides its digestive function, bile also serves as the route of excretion for bilirubin, a byproduct of red blood cells recycled by the liver. When this function is obstructed the patient then presents with yellow eyes and intense yellow urine because the bile gets absorbed into the blood. Bile also increases the absorption of fats and is an important part of the absorption of the fat-soluble substances, such as vitamins A, D, E, and K.
After the surgery, Joan had to undergo chemotherapy after tests from the tumour showed that it was malignant. She had pancreatic cancer.
Pancreatic cancer and diabetes
According to Dr Primus Ochieng', an oncologist who specialises in colorectal cancer at the Kenyatta National Hospital, pancreatic cancer is most common in people with diabetes.
"Worldwide, it is associated with people who are heavy smokers or take alcohol, however it is also seen in people who have had family members diagnosed with a similar condition," he explains.
Joan did none of those things. She wasn't a drinker, never smoked a day in her life and wasn't diabetic. And the news that she had cancer devastated her. At only 26, she thought that she had the world at her feet, and now she was learning that it may be not that way after all.
"Interestingly, by the time I got the correct diagnosis, my symptoms at this point had completely disappeared. But I began chemotherapy anyway."
The first six sessions of chemotherapy went smoothly. And she didn't suffer any of the side effects she had read about.
"My hair was still intact. After the six sessions, I was informed that I had to do more chemotherapy sessions because the cancer was not completely gone," she adds.
In total, Joan underwent 18 sessions.
"My final session was in 2014 April and that is when they did tests and I was declared cancer-free," she recalls.
The following year, Joan conceived and delivered a baby girl.
"I am leading a generally normal life, I do not take any medication, but I watch what I eat and ensure that I eat fruits, vegetables and exercise. I generally just avoid things like sugary stuff or foods that might trigger cancer, "she says.
She now goes for review every year to check and confirm that everything is i
"I still have fatigue, I still have back pains and sometimes get tired from doing light jobs but it has not affected my day to day activities," Joan says, adding that she remained strong knowing how lethal this type of cancer was because of her faith in God.
Joan now leads a normal life having been declared cancer-free.
"So far so good. I am glad to have come this far apart from eating right and exercising. I do go for hikes with my friends and have fun. I am happy."
What you should know about pancreatic cancer
1. Stomach pains that don't go away no matter how strong the painkillers you take can be one of the earliest signs. "Often, people will ignore these symptoms or mistake them for ulcers and when they finally get checked, the cancer is in its advanced stages," says Dr Primus Ochieng', an oncologist at Kenyatta National Hospital.
2. It can be mistaken for acidity. "In the early stages, this type of cancer presents itself as heartburn and can be confused with acidity, "says Dr Ochieng.
3. It can also look like diabetes. "It also comes with diabetic symptoms whereby a patient is unable to control their sugar," he adds.
4. Comes with rapid weight loss, yellowish eyes and yellow urine. This is because of the accumulated bile in the blood.
5. "Pancreatic cancer is very lethal," Dr Ochieng warns. "If the cancer is small, in that it has only affected the pancreas, surgery can be done to correct that. And that is why one should get diagnosed early."
6. Thankfully, it is rare cancer taking up only three per cent of all cancer occurrences.
7. Extensive surgery to remove part of the stomach, the whole of the pancreas, part of the duodenum and part of the colon may be done if cancer has spread. "After the operation, a patient must also undergo chemotherapy to try and cure it. However, despite these treatments, a survival beyond five years is at about 20 per cent. This is because the majority of people come to us very late," he says.
8. Depending on how cancer presented itself, radiation may be needed too. "Some countries in Europe also administer Immunotherapy which is targeted treatment. We do not have this type of treatment in Kenya yet due to its high costs," he says.