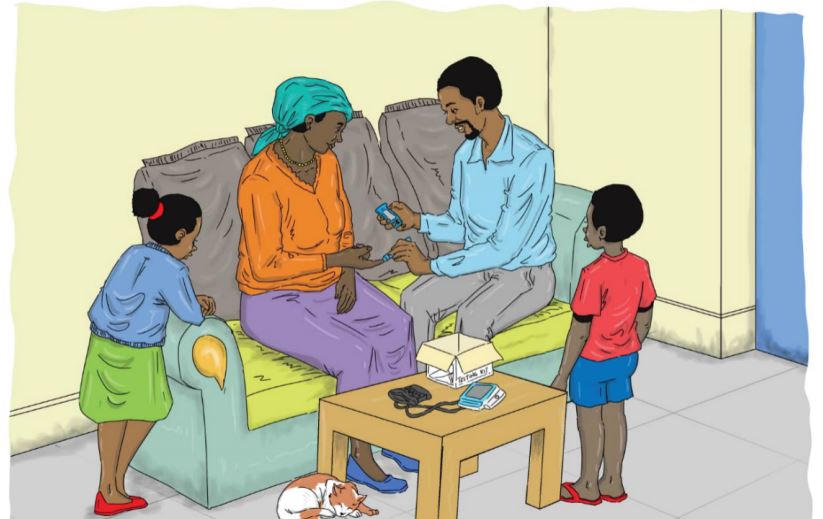 Kenya joins the rest of the World to mark the World Diabetes Day (WDD) is celebrated annually on November 14 every year. This initiative is led by the World Health Organization and International Diabetes Federation (IDF) globally. The theme for World Diabetes Day 2020 is The Nurse and Diabetes. The campaigns geared towards the realization of this theme will aim at raising awareness on the crucial role that nurses play in supporting people living with diabetes.
Diabetes is a lifelong condition characterized by high blood sugar resulting from the lack of or insufficient production of insulin, insulin resistance (inaction) or both. Our body needs glucose (from food) to make energy. The entry of glucose to the body cells is facilitated by a hormone called insulin. It acts like a key that opens the body cells for glucose to enter and produce energy. When cells do not take up glucose, it floods the blood system. This is then referred to as high blood sugar or hyperglycemia.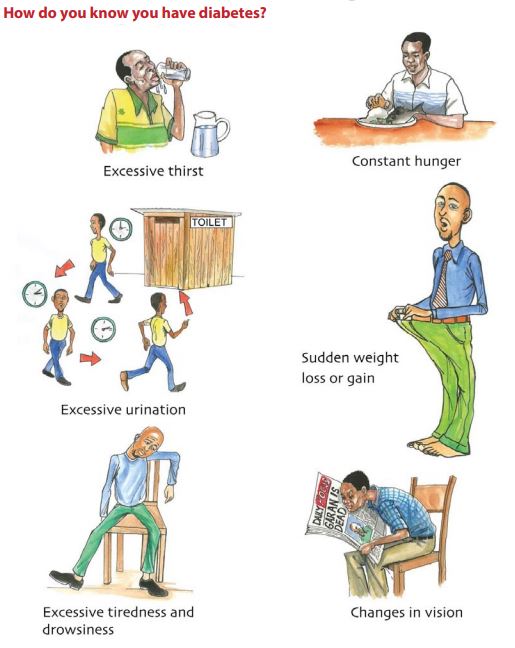 The risk factors for diabetes are; overweight and obesity, family history, unhealthy diet, tobacco use and physical inactivity. Some of the warning signs for diabetes include excessive thirst, constant hunger, excessive urination, excessive tiredness and drowsiness, sudden weight loss or gain, changes in vision.
To prevent diabetes or help control blood sugar if one is living with diabetes, it is important to adopt a healthy lifestyle. This entails eating healthy foods – more vegetables and fruits, less carbohydrates, fats, sugars and salts. One also needs to exercise regularly; at least 30 minutes of brisk walking every day will do you good. Take the stairs, not the lift. Walk short distances. Avoiding boarding a vehicle or boda boda for short distances. Avoid smoking. If you are a smoker, seek assistance to quit. Avoid harmful use of alcohol. Excessive use of alcohol is dangerous to health. Visit your nearest health facility for regular check-up for diabetes and blood pressure. Early diagnosis and proper treatment prevents complications of diabetes.
The national activity was held at Serena Hotel on Tuesday November 17, 2020 in partnership with Novo Nordisk and Kenya Diabetes Management and Information Center.
•The event was used to highlight the burden of Diabetes in the country and the plight of people living with diabetes. In line with this year's theme, the event will also be used to draw attention to the crucial role nurses and other health workers play in the fight against diabetes, and award some of the nurses who have shown outstanding performance in the management of diabetes.
•The event also showcased the value of partnerships, particularly through the Changing Diabetes in Children project which is a joint venture between MoH, Norvo Nordisk, Roche and Kenya Diabetes Management and Information Center. The project offers free insulin, glucometers and other supplies to children under the age of 18. The project has so far enrolled over 2500 children. The project was to end in 2020 but the donors have granted a 3-year extension.
•The event was also used as a platform to hand over insulin to persons living with diabetes that was donated by as part of the Covid-19 Strategic Preparedness and Response Plan. Below is the breakdown of the donation that was received.
1. 11,500 vials of Mixtard insulin
2. 1,500 vials of Actrapid insulin
3. 100 vials of glucagon (Glucagen Hypokit)
This article is sponsored by Novo Nordisk and Diabetes Management and information Center.
Related Topics