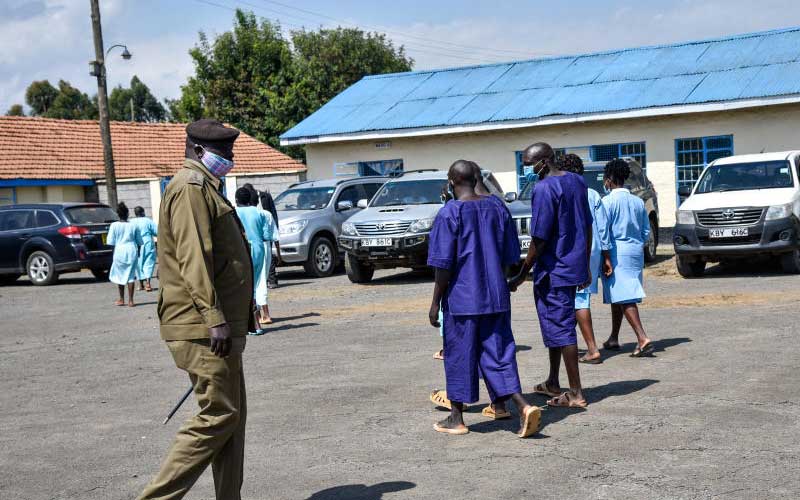 The country's largest mental institution, Mathari National Teaching and Referral Hospital has stopped admitting convicts with mental illness due to congestion.
As a result, inmates and suspects requiring mental services will be incarcerated in prison cells.
The facility stopped admissions to allow social distancing following the outbreak of Covid-19 in the country.
The deputy medical superintendent, Victoria Wamukhoma, explained that only the forensic department where they admit mentally ill offenders had stopped admissions, but outpatient services for the public were available.
Wamukhoma noted that they had around 500 patients in the two wings with 240 of them being inmates.
"We have 580 beds but we can only accommodate 500 due to the spacing requirements set by the ministry in dealing with the pandemic," she said.
"The forensic department where we admit mentally ill offenders is currently full and some patients are sharing beds and we, therefore, are unable to admit patients under the circumstances," reads a letter from the facility to the Prisons Department. In another letter written to the Department of Prisons, the medical superintendent in charge, Joseph Jumba, said they had stopped any new admission or transfer of patients.
"We have stopped forensic outpatient clinics, no new admissions or transfers and we shall have limited laboratory services for outpatient services," he said.
A senior officer from the prison termed the development a major threat to inmates suffering from mental illness in correctional facilities across the country.
The officer who declined to be named said the condition of some suspects was worsening due to lack of treatment, while others were a threat to themselves and other inmates.
"Tens of suspects suffering from a mental breakdown cannot get medical treatment despite the court orders and this means they will have to stay longer in cells," he said.
In the latest case, Beatrice Mwende, a woman accused of killing her four children in Naivasha three months ago, is still locked up at Naivasha Prison despite a court order that she be admitted to the mental facility for treatment.
Last month, High Court Judge Richard Mwongo ordered that Mwende be transferred to the mental institution for treatment before taking a plea.
The judge ordered that a report on her progress be presented in the court in two months.
In July, the Cabinet approved a proposal by Nakuru County Government to take over Gilgil Mental Hospital.
The move followed a request by the county through the Ministry of Health to take over the facility due to financial constraints.