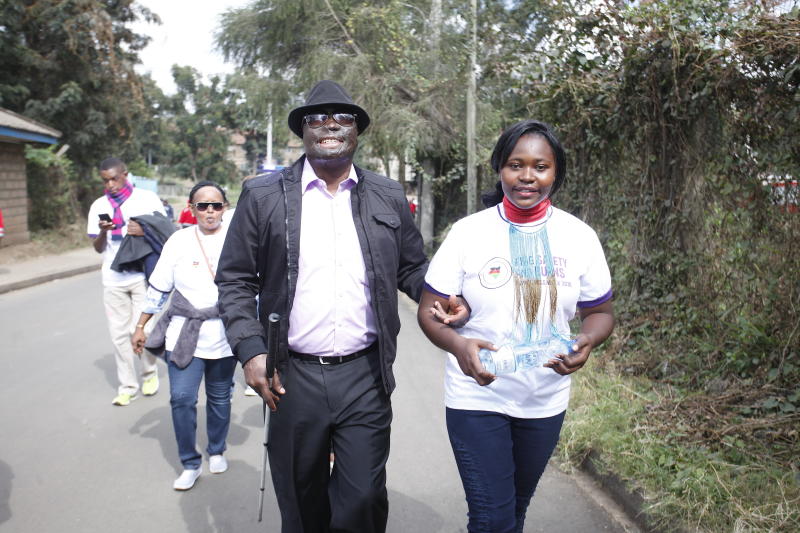 For 21 years now, Gertrude Katula has braved the burden of the scars on her body. At the tender age of three, and sleeping by the fire-place to beat the night cold, her clothes caught fire and left permanent imprints all over her body.
Alone that fateful night, and with her left torso burnt, she fought a lone battle, shaking off the clothes and writhing in pain until rescue arrived.
Countless surgeries and painful skin grafts later, the difficult part of the journey began; the battle to face the world with her scary scars.
"I remember I used to hide while bathing because fellow students would look at me and start discussing. When I came to puberty I did not develop one breast because I had lost it to the fire," says Katula.
Like so many other burn survivors, Gertrude felt the devastation of her injuries physically and emotionally, but little by little found the strength to face and conquer each fear.
For Yusuf Otieno, however, the pain is still raw. Now a household name in Kenyatta National Hospital, Otieno was admitted in the facility in March this year and is still undergoing treatment.
He says on the fateful day, after the day's work he retreated to his house in Kayole, Nairobi. After making super he then proceeded to put off the stove but hell broke loose.
The stove blew on his face, severely burning the upper part of his body, including the face and hands.
He was then rushed to Mama Lucy Hospital, Nairobi, and later referred to KNH for specialised treatment where he has been to date.
He says his wife has since left him and the landlord has also reclaimed his house because he is incapable of paying the rent.
"My wife left me because of the condition I am in and the landlord of my house in Kayole has locked the door because the arrears have piled up," says Otieno.
Similar tales of pain and agony are told by Dan Shishia Matakaya, a police constable in Industrial Area police station who owes his predicament to domestic violence.
On the fateful day, in September 2013 he says he had come from work, taken supper and gone to bed, only to be woken up by a feeling of burning sensation after a liquid was poured on his face. The liquid was later identified as Sulphuric acid.
The attack dealt a big blow to Matakawa as it led to the loss of his sight, his face got disfigured then he was airlifted to KNH where he got treatment but he could not recover his sight after suffering from the chemical burn.
After numerous sessions of counselling, his spirit livened up and he went to a special needs school where he learned how to live with his newfound condition. He has also enrolled for a degree programme in criminology in one of the universities.
The three are not just part of the shocking statistics released by the Burns Society of Kenya and KNH. They are also champions of burns who are helping burn victims to face their newfound challenges.
Throughout this week and under the "Zuia Moto, Zuia Gharama" theme, the two organisations and their volunteers organised fire safety and burns awareness sessions to sensitise Kenyans.
According to Dr Loyce Kahoro, a plastic surgeon at KNH and secretary of Burn Society of Kenya, due to the high cases of burn victims, the organisations saw the need to create awareness and train caregivers on how to keep fire safety.
Related Topics