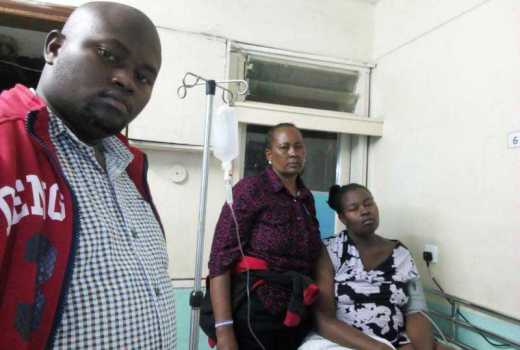 The family of a 29-year-old woman who died at Thika Level 5 Hospital last month has disputed the results of a postmortem.
Rose Waithera died at the hospital on April 29. She had been referred from Gatundu Level 5 Hospital after she developed complications following a Caesarean delivery.
According to a postmortem report written on May 2, Ms Waithera died due to excessive bleeding as a result of ulcers. The postmortem was conducted at the Thika hospital.
However, the family has rejected the report, claiming it did not reflect the true cause of death.
On Monday, Waithera's brother, Mwangi Kanyingi, announced that the family had postponed her funeral, which was slated for yesterday, to allow for another postmortem to be conducted today.
"We are sure there was a clear case of professional negligence and have engaged a private pathologist for a second opinion," said Mr Kanyingi.
Kanyingi said Waithera had the Caesarean section at the Gatundu hospital on April 19 to deliver her first child but began complaining of severe pain in her stomach shortly after delivery.
Started swelling
He claimed his sister was not immediately attended to even after her stomach started swelling.
On April 26, as Waithera's condition grew worse, the hospital referred her to the facility in Thika.
"I paid Sh4,000 for the ambulance to Thika Level 5 Hospital. When we reached there and even before she could be operated on, she started vomiting blood."
Kanyingi said the doctors at Thika Level 5 Hospital told the family that Waithera's intestines had been ruptured during the Caesarean delivery.
He said his sister also had difficulties breathing when she came out of theatre and was taken to the hospital's Intensive Care Unit for a day before she was transferred to a normal ward.
She died on April 27.
The family is disputing the preliminary results of a postmortem that was conducted last Wednesday.
"Our sister has never been sick before, not even during her pregnancy. We are therefore shocked to hear that she died of ulcers," said Kanyingi.
He said the family planned to sue the hospital for negligence after Waithera's burial, to be held at their home in Ituramiro village, Gatundu South.
County Health Executive Joseph Murega said his department was investigating the matter.