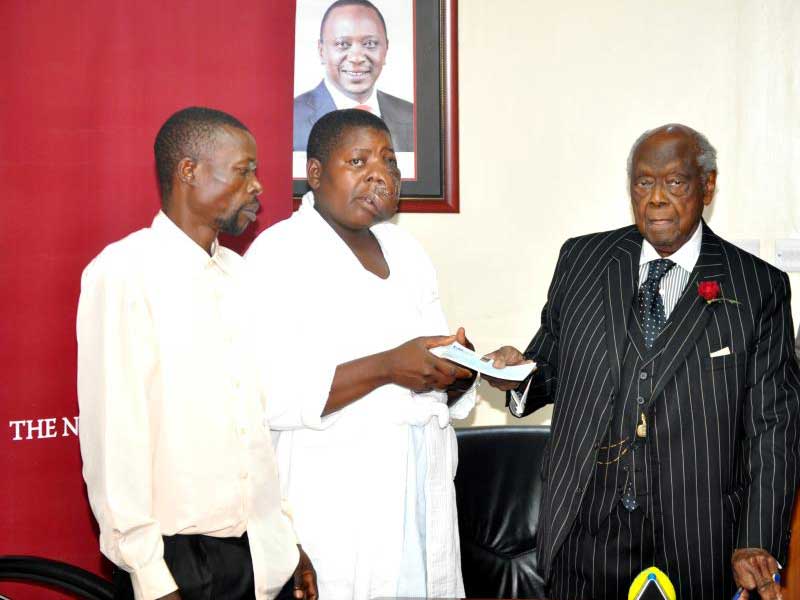 Every time Christine Nasambu looks at the palms of her husband's hands, emotions surge inside her, pushing her to the brink of tears.
His palms are hard, scarred and many shades darker than they ought to be – painful reminders of the difficult life the couple has endured.
But every time Ms Nasambu leans over and gently caresses Luka Wanyonyi's hands, he catches his breath and laughs – a sound tinged with love and pain. For Nasambu, the rough hands are an endearing reminder of her husband's love and sacrifice.
Since the couple got married in 1996, those calloused hands have worked tirelessly to keep the family alive and together.
The story of how they met is simple yet touching. Mr Wanyonyi, then a young man living at home in Mt Elgon, had travelled with a friend to Bungoma County. When he laid eyes on Nasambu, the pair felt an immediate connection and knew they wanted to spend the rest of their lives together.
"I talked to her parents and they told me I could marry her. They told me to ask my family to visit them for introductions," Wanyonyi, 41, recounted. And just like that, the two were married.
Married life
Perhaps married life would have been easier and happier for them were it not for a tumour.
As a young girl, Nasambu had developed a tumour on the left side of her face, for which she had successful surgery in 1986.
"The doctor told me it would not grow again so I never imagined it would come back," Nasambu, 42, said.
Unfortunately, the growth returned just a few months after their wedding. As the months progressed, so did the tumour, setting the stage for the couple's unending struggles.
"My family was not happy with Nasambu's appearance. They asked me to leave her and when I refused, they alienated us," Wanyonyi revealed.
The couple went about their lives, hopeful that Wanyonyi's family would ultimately accept their marriage. Shortly after, Nasambu gave birth to their first child, a boy.
"I asked my father for some land to grow food and he offered us a quarter of an acre," Wanyonyi said.
But his family remained cold towards Nasambu, warning him that she was a burden and would die, leaving him to raise their children alone.
"I often heard my siblings gossiping about us," Wanyonyi said. "One day, I overheard them mocking Nasambu so I confronted them."
The confrontation turned ugly as Wanyonyi's siblings ganged up and attacked him.
Matters escalated in 1997, when Nasambu returned home from the river to find that her father-in-law had set her house on fire.
"I was very scared, so I took my son and we fled to my aunt's place," Nasambu said.
When Wanyonyi, who was away doing odd jobs, was told what had happened, his first thought was whether his family was safe. But he had no news of their whereabouts.
"I checked everywhere. I even went to her parents' home but could not find her."
He eventually found his wife and they opted to rent a small house in Bungoma.
Their family continued to grow, with Nasambu giving birth to six more children.
In 2002, with savings worth Sh11,000 and an additional Sh10,000 token from Wanyonyi's employer, they bought a quarter-acre plot in Bungoma and built another house.
Meanwhile, Nasambu's tumour was growing bigger. The one-kilo growth hung heavily on the left side of her face and prevented her from doing any meaningful work.
"My father was my only friend in my family. He paid for my medical treatment and did everything he could to help me," Nasambu said.
More tragedy
More tragedy would strike after her father, opposed by the family when he wanted to sell his cows to raise money for her treatment, and unable to help and unwilling to see his daughter suffer, took his own life.
Things were not so rosy for Wanyonyi either, after his family sold their land, including the quarter-acre bequeathed by his father, and moved to Uganda.
This rejection brought back memories of a troubled childhood.
"I was the first-born but while my parents educated my brothers and sisters, they denied me the chance to learn. My father disliked me and that pushed my mother to reject me," Wanyonyi said.
He continued working as a casual labourer and admitted that it was an uphill struggle to put food on the table.
"We don't have any friends; it's just us. My only friends are a jembe (hoe) and panga."
The couple's oldest child is in Form Two at Namwera Secondary School and paying fees is hard.
"This year we have only managed to pay Sh6,000 of the required Sh40,000. Our second-born scored 295 marks in KCPE last year but we told him to repeat because we could not afford to send him to secondary school," the couple said.
Supplement income
To help supplement her husband's meagre income, Nasambu became a beggar. And it was during a begging expedition in Bungoma that she met Nick Lukendo, a man she did not know but who would change her life forever.
"I was driving from Kitale to Bungoma with my uncle in February when I saw Nasambu begging. I asked someone to call her; it was a reflex action," said Mr Lukendo, who works as a manager at SEACOM Kenya.
He listened to Nasambu's story and promised to help. He asked for and got her photograph and phone number.
When Lukendo returned to Nairobi, he showed her picture to Meshack Ong'uti, a maxillofacial surgeon at the Nairobi Hospital. When he said he could operate on Nasambu, they began planning for the surgery.
"I told Dr Ong'uti that I could only raise Sh30,000, so he talked to the hospital's CEO to see if they could help," Lukendo said, adding that they intended to find a cheaper hospital if their efforts failed.
As they worked on finding a more affordable theatre, Ong'uti bumped into former Attorney General Charles Njonjo in the hospital's parking lot and showed him Nasambu's photo.
Donate Sh800,000
According to Lukendo, Mr Njonjo pledged to donate the Sh800,000 needed for the surgery. He instructed the doctor to arrange for Nasambu's travel to Nairobi for the operation.
But Nasambu refused to travel to Nairobi, which Lukendo said might have been due to lack of trust. Nasambu on the other hand said she wanted to wait until her children closed school for the April holidays before she could travel.
She eventually agreed to travel to Nairobi and Lukendo sent them bus fare, picked them from the bus station and gave Wanyonyi a place to stay while his wife was hospitalised.
The day after Nasambu checked into the hospital for surgery, Njonjo visited her and gave the hospital a cheque of Sh800,000.
"Njonjo even sent our children money for food while we were in Nairobi and promised he would visit us once we settled back home," the couple narrated, moved by the mercy of strangers.
According to the hospital, the surgery lasted around seven hours and revealed that the growth was not cancerous. Once she is healed, Nasambu is expected to live a normal life.
Last Sunday, Nasambu was discharged and she went to stay at Lukendo's home awaiting a check-up, after which she and her husband would return to Bungoma.
She remains excited that for the first time in more than 20 years, she will be able to live and work without hindrances.
Related Topics