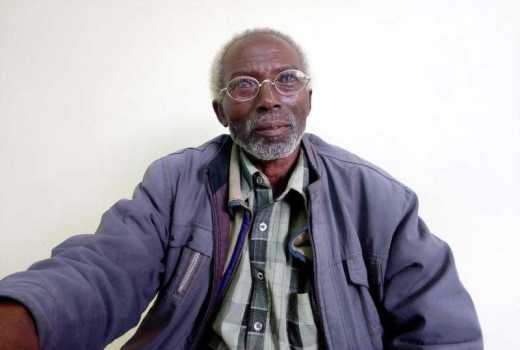 As the globe marks the World Glaucoma Week that commences today, Agnes Kaburo can only wonder what befell her three daughters.
What started as itchy eyes in her children eventually led to blindness.
Pamela Kendi's eye problem started as a nagging itch but worsened over the years culminating in blindness.
A tearful Kendi, 17, says she was in Class Six at Lailuba Primary in Tigania West when she started having problems reading what was written on the backboard.
Her mother could not afford to take her to hospital, and bought eye drops hopping this would cure the problem.
Unfortunately, in 2011, Kendi went blind.
Ms Kaburo who is in her 50s had taken her daughter to a clinic only to be told that a blocked vein in the eye had led to blindness.
"Unfortunately, I could not afford to pay for corrective surgery," she said during the interview at her homestead at Lailuba village, Tigania West (Meru).
It was double tragedy for Kaburo after her second daughter Jeniffer Kalayu, 23, also developed itchy eyes.
The mother, alarmed by the prospect of her second daughter going blind, sought help at the Meru Catholic Diocese.
The diocese took Kalayu to a clinic run by the Lions Club in Nairobi, but in spite of efforts to save her eyesight, she lost one eye followed by the other. In 2014, she went blind.
Kaburo is now desperate after her third daughter, Linet Kamathi, 6, started complaining of pain in her eyes.
"She keeps squinting and rubbing her eyes, so I am very worried for her. I need help to save her eyesight but we are too poor and I don't want to bother neighbours because they are also poor," she says.
Kubai Mamira, a neighbour, says Kaburo's husband deserted her after their daughters went blind.
"He said it is a curse so he went away, carrying everything. Kaburo and the children sleep on the floor with no proper blankets," says Mr Mamira.
Dr Paul Gatimu, a vision therapist who attended to the older girls, says they suffer congenital glaucoma, which was at an advanced stage by the time they sought medication. He says though he performed surgery on the girls, the optic nerves were already damaged.
Gatimu assures that with early intervention it is possible to save one from going blind.
"There are few clinics that specialise in glaucoma, and they are based in cities. If you get it and you have to travel all the time to seek treatment, it can be straining," he says.
Manage it from progressing
He however, notes that Kenya has made progress in diagnosis and treatment of glaucoma as more hospitals acquire ophthalmology machines.
Medics in Kenya are now raising concern over increasing cases of glaucoma, especially among young people. Prof Daniel Kiage, a glaucoma specialist says there has been an upsurge of people being diagnosed with the eye condition, which is the leading cause of irreversible blindness in the world.
"There is a worrying trend in Kenya, where we are seeing people coming in with late stage glaucoma. Sadly, when vision is lost from glaucoma, it cannot be regained. Doctors can only manage it from progressing," says the medical director at Kisii Eye Hospital. Prof Kiage says it is disheartening to watch people in low income families slowly lose sight because they cannot afford treatment.
Dr Sheila Marco, an ophthalmologist in Nairobi notes that the disease which was predominant among people over 35 years is slowly creeping into the younger demographic and attacking people in their early 20s to mid-30s.
"Of 25 patients I see in a day, about five are under 35," she said. Christabel K'omullo was diagnosed with glaucoma at 28 when she had just graduated from university. When she was first told she was losing sight from glaucoma, she thought the ophthalmologist was out to make money with the diagnosis. "I was not in pain, apart from red eyes and occasional headaches. For the doctor to tell me I was going blind – it was like a joke," she says.
Christabel who had surgery to prevent the progression of glaucoma and save her extremely low vision says she uses eye drops that cost about Sh3000 per bottle.
"People do not talk about this disease, yet it is so expensive to manage. I use about three bottles monthly, but I always live in fear over what will happen if I don't get the drops. I will get totally blind," she said, adding that she only has vision in her right eye and it is extremely poor.
Screening
Dr Michael Gichangi, head of Ophthalmic Services Unit at the Ministry of Health says glaucoma is the 'silent creeper' that comes with no sign, eats up the eye by putting pressure on the optic nerves, and by the time one notices all is not well the vision is gone.
Doctors advise that once you clock 30s, you should go for regular eye check up, to avoid developing late stage glaucoma.
Medics regret that the country is yet to establish centres that offer screening, specifically for eye pressure that would identify the onset of glaucoma.
Related Topics