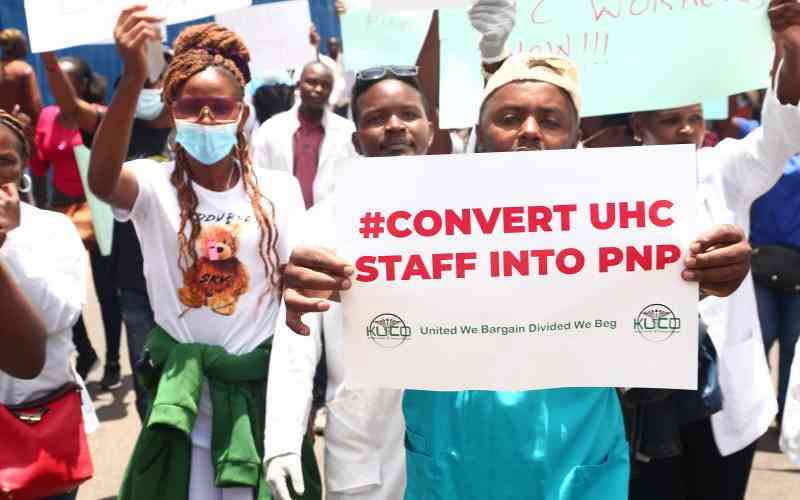 Our Constitution, under Article 43, recognises the fundamental right to the highest attainable standard of health.
It is essential to acknowledge that various socioeconomic factors impact one's health, including access to safe drinking water, ample supply of safe food, proper nutrition, suitable housing, favourable occupational and environmental conditions, access to health-related information (especially on sexual and reproductive health), and adequate sanitation.
Furthermore, the responsibility for healthcare has been decentralised since the 2010 framework. As per constitutional obligations, the national government is tasked with formulating health policies, offering technical support to counties, and managing national referral health facilities. Conversely, county governments are responsible for delivering health services. Over a decade after devolution of health services, there have been notable achievements and challenges.
These challenges encompass issues such as the dismal doctor-patient ratio, emigration of domestically trained healthcare professionals that worsens the ratio, labour disputes between counties and health staff, inadequate cooperation and coordination between the two levels of government, delays in fund transfers to counties, and encroachment on county roles by the national government, among others.
Healthcare workers, including doctors and nurses, have decried unfavourable working conditions under county administrations. They argue there is no central body overseeing or standardising human resource matters in the counties, leaving them subject to the discretion of individual counties. They have expressed the desire for a Health Service Commission, akin to the Teachers Service Commission, to address these concerns.
On the other hand, the Council of Governors has raised complaints about persistent policy and legislative impediments hampering implementation of healthcare as a devolved function. This situation underscores the need for clear statutes harmonising health functions between the national government and counties, achieved through effective functioning of the Health Sector Intergovernmental Consultative Forum.
In addition to these issues, challenges have arisen in establishing a framework for Universal Health Coverage (UHC), ensuring an adequate supply of essential health commodities, and enhancing emergency service preparedness. There have also been concerns about Kenya's setbacks in the fight against HIV, with reports of increasing new infections. Over the past decade, Kenya has made several attempts to achieve UHC for all its citizens. Recently, President William Ruto announced deployment of 100,000 Community Health Workers nationwide. Plans are also underway to establish three separate funds to replace the National Health Insurance Fund (NHIF), known as the Primary Healthcare Fund, Social Health Insurance Fund, and Emergency, Chronic, and Critical Illness Fund.
These proposals are being debated in both houses of Parliament, raising questions about their tax implications in an already heavily taxed populace. Also, what mechanisms will be put up to prevent corruption within the new funds?
Among the components of UHC are products, services, and personnel that are scientifically and medically appropriate. There is a need for skilled and professional medical personnel. It is essential that products, equipment, and facilities are approved and safe to use. The drugs must be unexpired. For the average Kenyan, healthcare costs, particularly out-of-pocket expenses, remain a significant challenge, making it difficult to access quality and affordable healthcare.
Regarding the Bills under consideration in Parliament, it is crucial to ensure comprehensive public participation. Additionally, issues related to corruption, role duplication, and government inefficiency must be addressed to ensure that every resource is used judiciously, guaranteeing that all Kenyans have access to healthcare.
Related Topics