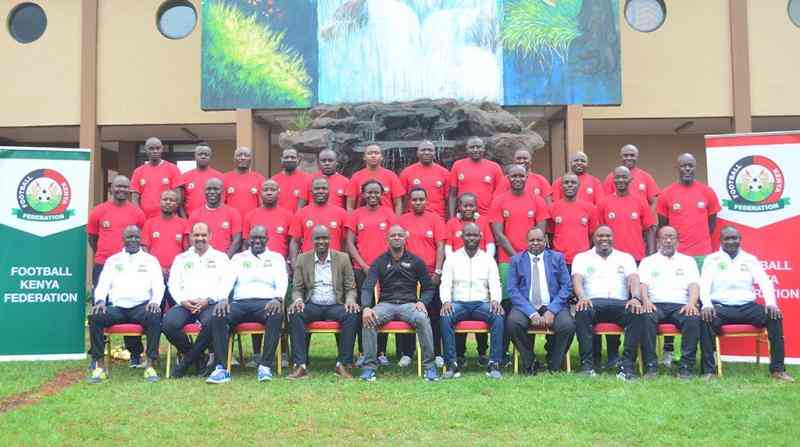 Football Kenya Federation (FKF) has unveiled plans to host the lucrative Confederation of African Football (CAF) A License Coaching Course.
The course will be held at Kenya Institute of Special Education (KISE), Nairobi from October 2023 to March 2024, offering a comprehensive curriculum consisting of 17 modules.
Commencing on October 16, 2023, and concluding on March 24, 2024, the CAF A License Coaching Course represents the second highest coaching qualification awarded by CAF in the continent.
In a statement, the federation encouraged passionate football coaches who meet the rigorous eligibility criteria to submit their applications to the FKF technical department before October 16, 2023.
Applicants must hold a valid CAF B Coaching License and showcase active involvement in football coaching.
Additionally, candidates should have accumulated at least two full seasons of coaching experience after obtaining their CAF B License. Prospective participants are expected to maintain a comprehensive coaching diary and possess basic computer skills. Proficiency in reading and writing in Kenya's official languages is also a prerequisite for applications.
To ensure an optimal learning environment and individualised attention, FKF and CAF has limited the number of participants to 25.
Successful applicants will be required to pay a course fee of Sh120,000 and register in the federation's Competitions Management System.
The federation further called on coaches who qualify for the course to seize this unprecedented opportunity to augment their coaching credentials and actively contribute to the progression of Kenyan football.
"This investment in their coaching education promises to enhance their skills and knowledge, empowering them to make substantial contributions to the growth and development of football in Kenya," said FKF.
"FKF endeavors to host the prestigious CAF A License Coaching Course in Kenya underscores our unwavering commitment to elevating coaching standards within the country. By equipping coaches with advanced training and expertise, the federation aims to foster a new generation of skilled football mentors capable of nurturing talent and fostering excellence on the field."
Related Topics