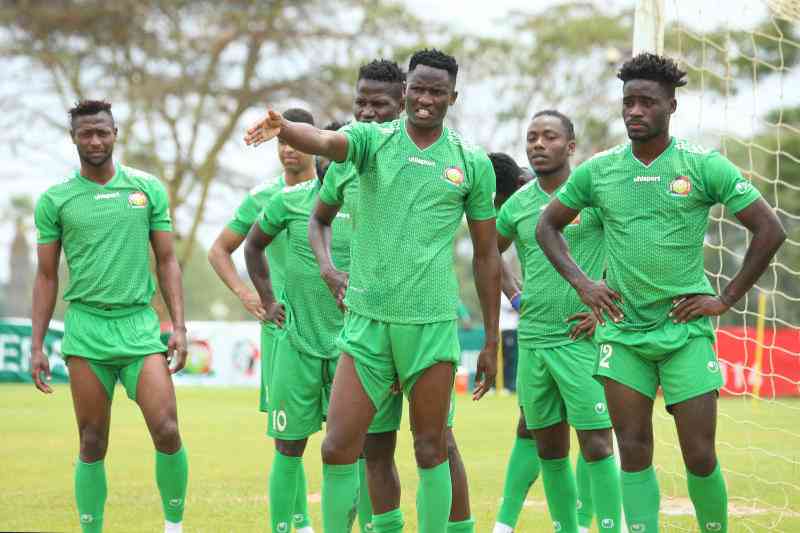 All eyes will be on Harambee Stars head coach Engin Firat when Kenya plays Iran today (Tuesday) at Azadi Stadium in Tehran, from 7pm.
Since the Turkish tactician first arrived in the country on September 2021, he has been under intense criticism from Kenyans.
Stakeholders and fans have regularly questioned his capabilities considering his 9-0 matches defeat record when he led Moldova, his 6-0 aggregate defeat to Mali and the recent omission of FKF Premier League top scorer Benson Omalla (19 goals) from the national team squad last week.
Silas Okello, a die-hard AFC Leopards fan and Harambee Stars loyalist from Kisumu, said he believes the Football Kenya Federation (FKF) has taken the right path with playing highly ranked nations but is not sure about Firat's choice of players.
Okello believes mixing top local talent with the foreign contingent led by Qatar-based Michael Olunga will balance the team in terms of achieving team chemistry and understanding, considering Kenya has not played in two years.
"I am very happy that we will be playing Iran. In fact, going forward, let us play the likes of Ghana, Ivory Coast, South Africa, USA, Japan, Morocco, Belgium, Spain or even Brazil," said Okello.
"How do you want to qualify for the World Cup but you cannot beat Uganda and Ethiopia to qualify for the Africa Cup of Nations? It is a shame. But when we play big team, the level of teams will be higher and we can edge the smaller teams."
"Our players have not trained together for two years and now we are putting a team with more foreigners than local players who have played together in the local league."
"He said he is rebuilding the squad, but have you seen England leave EPL top scorer Harry Kane out of the team because they want to try new talent? It was very sad for the FKF Premier League top scorer to be left out. That move will kill other local players' morale," Okello added.
This will be the first international match for Harambee Stars since Fifa lifted its suspension on the country in November last year.
Harambee Stars last played in November 15, 2021 during the World Cup qualifiers where Kenya defeated Rwanda 2-1 at Nyayo Stadium.
Kenya had been in the cold for close to two years due to Fifa suspension that took effect on February 25 last year after former Sports CS Amina Mohamed disbanded Football Kenya Federation in November 2021 over mismanagement of public funds.
Firat has insisted that he is pleased with Kenya's quality and sees a bright future in them despite the criticism.
"Kenya is a good football nation with so many talented players. I come here because I believe in the project and I believe that we can qualify for the World Cup," the coach said in a previous interview.
"I looked at the group and analysed it and I believe that if we work well, we can achieve something. If I didn't believe in this team, I would not have come."
Ahead of the Iran fixture, Firat said they are rebuilding and Kenya should not expect victory.
In 1997, Kenya played Iran and lost 3-0 before losing again 1-0 in 2009, the last time the two sides met.
"The reason why I want this kind of a match is for the players to understand what it means to play at the top level, where we are and where we have to go. This is a match to learn, show character, be united as a team and try our best," said Firat.
Kenya has lost only three matches since 2020 (World Cup qualifiers 5-0 and 1-0 against Mali and 2-1 against Comoro in Afcon qualifier).
Related Topics