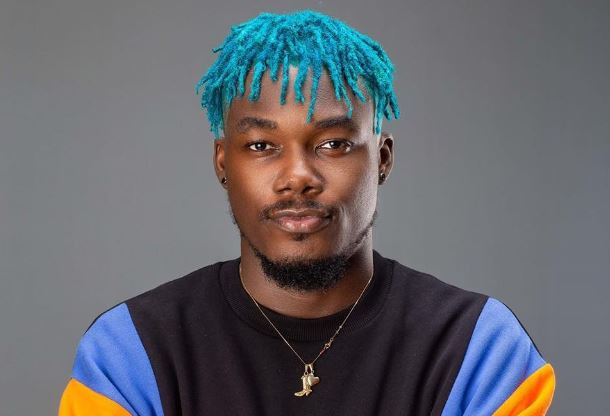 How did you come up with Camidoh as your stage name?
The name Camidoh stemmed from me eavesdropping on my mum and I think a colleague or a friend's conversation a long time ago. That is how I heard the word Camidoh, and fast forward, I was going to pick a Facebook name and this word kept ringing in my head. So I picked that and I started using it as my nickname and my stage name in school. Fast forward again, I told my mum, I wanted to keep the name. She does not even know how I came about the name, but she was like, "Cool, anything you want." So she helped me pray over it. That's how the name came about.
How would you describe the music that you create? Has it evolved in any way?
From the beginning, I was inspired by Akon, so in the early days of my music, I was making a lot of RnB. Over time, it evolved into Afropop and I believe it is still going to evolve with time. I am going to learn new things, I am going to be inspired and I am going to dive into more areas.
Where do you find inspiration for your music?
I draw inspiration from everything that happens around me, from anything at all that I connect with. Most of the time, my situations, other people's situations, but the only thing that cuts across is ensuring that these situations touch my heart.
What has been the most defining moment of your career?
I believe my defining moment was the day I decided to tell my team to put out 'Sugarcane'. We were not ready to put out music but I felt that we needed to put out a song that I had just made and there was no time. So we put it out, and it has changed so much for me. It has been taking me around the world doing shows, a lot of people know me now because of that record and that decision that I took.
What has been the most challenging moment in your career?
I have faced a lot of challenges. I think that the most significant one has been finances. I come from a home where I wasn't born with a silver spoon in my mouth, so it has been tough for me. I have had to hustle and make sacrifices, invest in myself and all that. However, I do not let it put me down. I'm just excited and optimistic about the future.
Your song 'Sugarcane' did very well internationally. Did you expect that to happen so early in your career, and what impact has it had?
I am the type of artiste who believes in himself. There is no point in putting out a record that I do not believe can connect with the people or is good enough. Given the right resources, I believe that every record should be able to do great.
You have cited Akon as your musical influence and inspiration. What did it mean to you when he praised 'Sugarcane'?
That statement changed a lot for me mentally. (Akon) is the reason why I ever thought about making music. I feel like that is a blessing and it is special. So for him to even be a fan of my music already, and it has just been how many years? People have lived all their lives and never met their mentors or never had a word or two with them, or their mentors never really got to listen to their works. It gave me a lot of motivation for him to even feel like that about my music and I just look forward to meeting him in person and even making music with him or even just sitting with him. Akon goes beyond the music. He is changing lives in Africa our motherland and doing a whole lot for the continent. So he inspires me way past the music.
Is there a possibility of you working with him in future?
I am waiting for the day that we will work on a record together. I cannot wait for that day, man! That will be beautiful. Very, extremely beautiful.
Which artistes would you love to work with?
There are like a billion artistes I would love to work with, starting with Angélique Kidjo. Big, big shout out to Mama Africa. She is doing amazing. From my infant days till now, she's still killing it so I would want to be on a record with her. I love Adekunle Gold. He is doing so much for the culture, Afropop. I also love Bruno Mars, I would love to make music with him. I love the music he makes. I love the Weeknd. People like that. Diamond Platnumz. There are countless people I would love to work with but let us keep it at that, just to mention but a few. Love to everyone. They inspire me and hopefully, we will get to work together.
What difference would you say the Kenyan market has made in your career?
I feel like the Kenyan market shows support for foreign artistes. As long as the music is good, people just show love, and when you show love, it shows on your faces so much. I love the fact that the culture allows you to smile and laugh so much. I know we are in one Africa but the Kenyan market is just so open and welcoming.
What do you think of Kenyan music?
I think Kenyan music is awesome. I love the fact that they love to include the local dialect in their music. I am one artiste who loves to incorporate the local dialect into the music even though people will feel like not a lot of people will understand the language. But I believe that the music already is the universal language, so there is no point in worrying about the barrier of my local dialect to the world. So I love that about Kenya as well.
Which Kenyan artiste would you love to work with and why?
I have already worked with them, but I would love to work with them some more – Sauti Sol. They are an amazing group. I love their music.
Related Topics