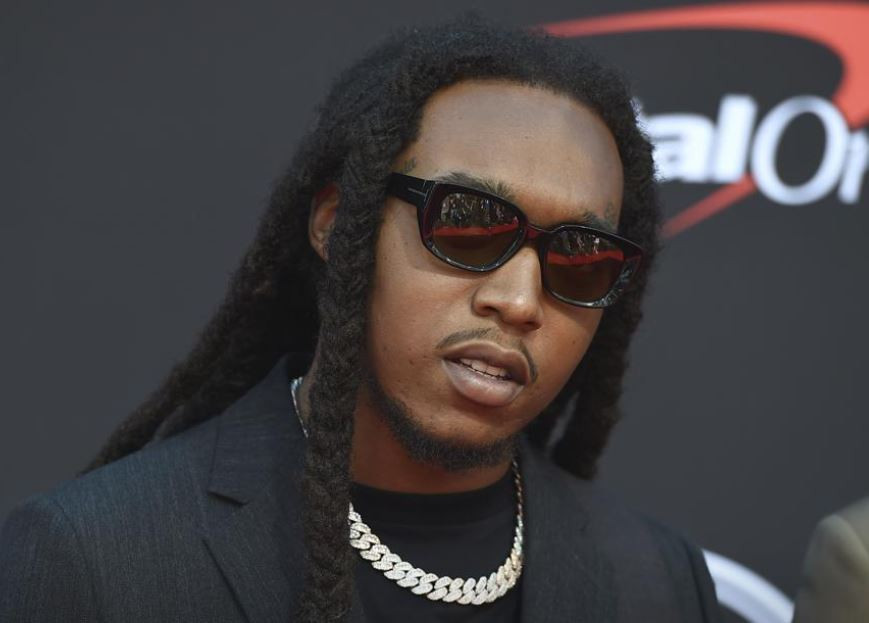 It has been a sad time in the Hip-Hop community as stars and fans alike mourned the loss of American rapper Takeoff.
The incredibly talented rapper had his life cut short tragically on November 1.
Unclear videos of the 2am Houston shooting incident suggested that an argument over a dice game caused tension before guns were drawn.
"Law enforcement sources, and multiple witnesses, tell us the fatal incident went down shortly after 2:30 am ... that is when cops got the call for a man shot at a bowling alley called 810 Billiards & Bowling Houston," entertainment website TMZ reported.
Takeoff, 28, was famously on a successful rap group called Migos, where he rapped alongside two of his close family members, Quavo and Offset.
"Takeoff, whose real name is Kirsnik Khari Ball, was the youngest member of Migos. Quavo was his uncle, and Offset his cousin," TMZ noted, adding, "They came together as a group in 2008 in Georgia, and became multi-platinum hitmakers, dropping their first major hit, 'Versace,' in 2013. They would hit number one on Billboard in 2016 with 'Bad and Boujee.'"
The incident brought echoes of September 1996 when American superstar rapper Tupac Shakur was gunned down at the age of only 25 years. Or when his nemesis, another talented rapper, Biggie Smalls (The Notorious B.I.G) was murdered six months later.
The deaths in hip-hop have changed the music scene, along with the lives of their loved ones for good.
"It is so hard to tell you that ima miss you because you were always with me and we did everything together. Since we were children you been by my side, looking up at me, the eyes waiting on me to make the next move," Quavo said in a heartbreaking speech at Takeoff's funeral.
"Super quiet though, quietest in the room, but paid attention to everything going on in the room, always been like that! Nothing ever really bothered to take and he did not bother anybody," he added.
He shared his parting words to Takeoff on his Instagram account, captioning it, 'Dear Take.'
The other Migos group member Offset, who is notably married to rapper Cardi B, has been just as heartbroken by the loss.
"The pain you have left in me is unbearable. My heart is shattered, and I have so many things to say, but I can't find the words," Offset's goodbye on a speech posted on Instagram read in part.
"I wish I could hug you one last time. Laugh one last time," he wrote.
It was an all-too-familiar, distressing tale, just like how the Hip Hop community mourned Tupac Shakur and Biggie Smalls back then.
"Many music experts agree that before his death, Shakur was growing into a community leader and turning his life around," ABC News reported in 2017.
It added: "Like others before him, such as Malcolm X, it took time for them to evolve in[to] the men they would be," Chuck Creekmur, owner of Allhiphop.com, told ABC News in 2016. "And I think Pac was actively making moves ... evolving very rapidly to what I think he would have been."
Complex magazine reports that Biggie Smalls is remembered to this day.
"On March 9, Christopher George Latore Wallace-the beloved bad boy Biggie Smalls, a.k.a. the Notorious B.I.G.-was pronounced dead at 1:15 a.m. at Cedars-Sinai Medical Center in Los Angeles, of gunshots from a drive-by shooting following a Vibe magazine party," Miles Marshall wrote for Complex.
Life After Death was Notorious B.I.G's final album and was released on March 25 1997.
"The memory of Tupac Shakur's senseless murder less than seven months prior was fresh on everyone's spirit," Marshall added.
The murders in Hip Hop have continued to rob the industry of stars at an alarming rate.
It now seems that every couple of years, either a rapper has narrowly survived a shooting or another is fatally wounded after a violent ordeal.
In September this year, Philadelphia rapper PnB Rock, real name Rakim Allen was robbed and fatally shot at a restaurant in Los Angeles.
"As news of his death surfaced, many of his music-industry colleagues offered heartfelt condolences. Meanwhile, a tense debate over who was to blame spread across social media," entertainment magazine Vulture reported.
Before the sad passing of PnB Rock, gun violence had taken the life of yet another promising rapper, Young Dolph.
The Memphis rap artist was killed in November 2021. Rolling Stone describes the rapper's murder as "a hail of gunfire" which resulted in his being shot multiple times.
A murder investigation is still underway, and two suspects have been charged.
TMZ reports that "there have been so many others, both fatalities -- like Pop Smoke, Nipsey Hussle, Slim 400 and XXXTentacion - and those who luckily survived ... like Lil Tjay and 50 Cent."
The website notes that Nipsey Hussle was gunned down outside his Marathon clothing store in his neighbourhood... with at least 10 bullets striking him.
"XXX was only 20 years old when he was shot dead as he was leaving a motorcycle dealer in Florida."
CNN reports that gun violence "has claimed the lives of at least one hip hop artiste every year since 2018."
"News of Takeoff's killing rocked hip-hop, but his loss is being felt well beyond the bounds of music as many chimed in to offer condolences and praise, while others questioned what needs to be done to stop the scourge of rappers being killed," CNN notes.
Related Topics