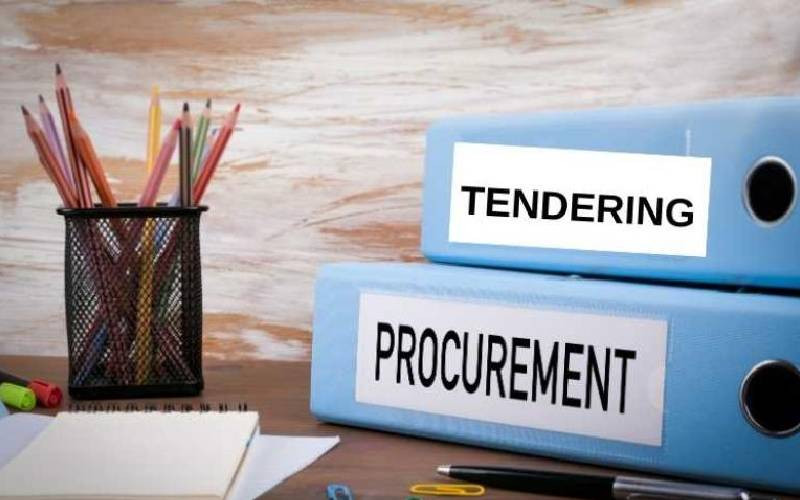 Entrepreneurship comes in various shapes and forms depending on the market gap.
One of the specialties is doing business with the government, or what has popularly come to be referred to as tender-preneurship.
While bagging a government tender has changed some entrepreneurs' lives, it's no rosy affair and has a dark side to it.
Pending bills by counties and other government agencies have in recent years become a sore to the economy that never heals – particularly for small businesses.
This has made entrepreneurs who provide supplies to the government become wary of transacting with it.
In February, the Controller of Budget (CoB), Margaret Nyakango, warned that the National and County Governments' unpaid bills stand at Sh637.91 billion.
However, this hasn't dampened entrepreneurs ambitions from striking it big with State tenders.
Enterprise spoke to Gatwiri Githinji who does business with the government to understand how one can get into the business the risks involved as well as the landscape of the trade. She is the director HMG Works Limited and supplies various goods to the State.
Create an entity and be compliant
The government has had a good platform inviting the youth and business people to trade with it. Once you decide that you want to trade with the government, the first thing you need is an entity.
You need to incorporate a company. This is to encourage compliance and having the requisite documents to trade legally.
You need to register yourself with the necessary authorities, for example, the Kenya Revenue Authority (KRA).
You must have a KRA pin and a tax compliance certificate.
Then, if you fall under the category of youth or women according to the Constitution under the Access to Government Procurement Opportunities (AGPO) program, then you need to attain a certificate of AGPO.
This helps determine whether you fit into the women or youth or people with disabilities (PWD) category.
Knock on doors
After the registration of the business, you must start knocking on doors and figure out what it actually takes to trade with the government.
What are the areas and opportunities? This depends on your pocket size and market demands. Government also has priority areas.
Marketing is very key. Marketing is door-to-door, tender applications, standard documents that are pushed out through the government procurement portal, public procurement portal, and also advertising advertisements that are on newspapers and myGov.
Partnerships
For young people, building a thriving business is not easy. Also, the Kenyan financial system is not accommodating to them.
It's like you can't access money without money. People who access money are the people with the money.
Here, business partnerships really help because they bring in a pool of expertise and one is able to source funds.
Start small
So for a start, I would not advise anyone to go after huge contracts if they do not have the capital to finance them. Rather go for the small and less capital-intensive ones.
For example, under the AGPO program, there are supply contracts with minimal requirements to start.
These involve supplying stationaries, branding, and cleaning materials.
Those are the kinds of niches that a young business person can think of going into alone. Big contracts will only strain them and they may be unable to deliver the goods or services.
Delayed payments
You don't want to put yourself in a situation where you have a contract of, say, supplying stationery worth Sh100,000 but then your bill will take 90 days to get paid.
You will get stuck. So you want to work where you have clear credit days with the organisation you are supplying to.
If you can only manage to give credit of 30 days so that you are able to turn around the money back into the business then you go after institutions that can pay you within 30 days.
So also the quality of institutions matters. It's not just about tenders, you must know the nitty-gritty of what is the historical performance of vendors in this institution. How are the payments how have payments been conducted before?
How to navigate the culture
There is widespread corruption that is still making government business unattractive, but there have been efforts to kill the kickback culture which continues to make it hard for young entrepreneurs to trade with the government.
I won't sugarcoat it.
However, there is transparency in procurement. It is not mandatory that you have people in procurement organisations.
Many organisations are transparent in what they do. They like admitting vendors honestly. They want you to do business with them honestly, and they will pay you promptly without asking for kickbacks.
Kickbacks have become a silent way of doing business but aren't mandatory.
However, when faced with such a situation you have to sit down and think. For example, if you are trying to beat 20 vendors you must be creative so that you come out on top.
So my advice to anyone who's looking to come into this field, is that it is lucrative but it's not a walk in the park. Managing the dynamics of the business is a bit challenging.
It is good to approach people who have been in that field and learn from them that is unless you have "godfathers". It takes a lot of patience to succeed in trading with government.
I remain optimistic as there has been a significant change in the industry and it will finally get rid of the bad apples.
Related Topics