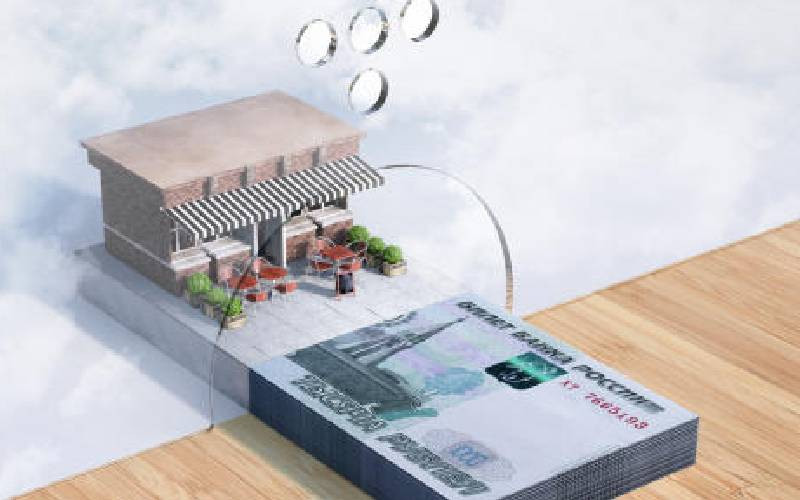 Airtime usage and payment history are some of the ways banks are using to determine the level of risk micro, small and medium enterprises (MSMEs) pose during lending, according to a report by the sector's regulator.
Such innovations by the banking sector have seen the number of active MSME loan accounts increase by 29 per cent by December 2022 to over a million since December 2020. This is besides there being a drop in non-performing loans (NPLs) by the end of 2022 as compared to 2020.
At the same time, lending to MSMEs generated Sh105.1 billion for the banking industry according to the Central Bank of Kenya (CBK) report representing 24.4 per cent of the total income generated from lending by the industry.
"A significant increase compared with the overall revenue from MSME lending in 2020 that stood at Sh70.8 billion (12.2 per cent of the banking sector overall lending related income)," reads the CBK report.
Innovative products
The latest Bank Supervision Annual Report 2022 documents the strides the banking industry has made in improvising financial access to MSME which is largely considered risky and hence underbanked and even unbanked on some occasions.
The report says over time; commercial banks have realised that venturing into this sector needs innovative products. These products are customised to meet the consumers' needs.
The banks, therefore, invested heavily in product innovation and risk management to provide variety and flexibility in product design, resulting in relevant financial services to MSMEs reads.
"The products have assisted MSMEs in managing business volatility as well as providing funds for working and yield enhancement," the report reads.
The report also notes that banks have provided accessible and knowledgeable relationship managers to deliver expert advice on financial management solutions to MSMEs. Similarly, technological advancements, the report says, have given MSME consumers the power to choose fit-for-purpose financial products.
The report has it that in 2022, banks innovated further in their products targeting MSMEs which relied heavily on technology to reach this untapped market.
CBK notes that banks have designed various credit products targeting MSMEs. More than 55 per cent of all commercial banks offer products targeting all three categories of MSMEs. These are micro, small and medium-sized businesses.
"(Some) 21 per cent of commercial banks offer products targeting only enterprises in the medium category, while 10 per cent offer products targeting enterprises in the small and medium categories. (Some) 43 per cent of microfinance banks MFBs offer products targeting all three MSME categories, while 14 per cent offer products targeting only micro and small enterprise," the regulator report states.
They (banks) employed the use of artificial intelligence, utilised third-party service providers mainly fintechs and payment service providers(PSPs), provided applications accessible on the go through smartphones and other devices, and leveraged data and analytics to be able to not only understand but also serve this market segment better.
"There is the use of algorithms drawing from various data sources, including airtime usage and payments transaction history," the report says of the characteristics of the innovative products targeting MSMEs developed by banks.
The report states that as at December 2022, with 1.18 million MSME active loan accounts, the total value stood at Sh783.3 billion. This is an increase from Sh638.3 billion in December 2020.
Loan portfolio
Of this total, commercial banks, and mortgage finance companies, cumulatively, disbursed Sh750.3 billion (96 per cent) while microfinance banks disbursed Sh32.98 billion (four per cent).
"The proportion of the MSME loan portfolio to the total banking sector loan book as at December 2022 stood at 21.3 per cent compared to 20.9 per cent as at the end of 2020," the CBK report states.
The CBK report also indicates an improvement as well in the payment of loans by MSMEs by three months when compared to the previous survey in 2020.
"On average, MSME borrowers took 27 months to repay loan facilities as at December 2022, slightly lower than 2020 (30 months). Loans to micro-enterprises had the shortest average repayment period at 16 months, with small and medium enterprise loans taking 30 and 35 months, respectively, to repay," the report says.
During the period surveyed, the average rate of interest charged on facilities to MSMEs as at December 2022 was 15.5 per cent for commercial banks and 27.0 per cent for micro finance banks, respectively.
The average of interest rates charged by commercial banks and microfinance banks ranges between 12.6 to 13.9 per cent and 20.0 to 22.0 per cent, respectively.
Banks have also witnessed a drop in the value of non-performing loans held by MSMEs that the CBK report documents as at December 2022 stood at Sh90.4 billion. This represents 18.3 per cent of all MSME loan accounts.
"By comparison, the level of MSME non-performing loans in December 2020 was relatively higher at Sh98.7 billion or 14.6 per cent of the overall MSME loan portfolio of Sh638.2 billion," the report says.
The CBK report notes that non-performing loans in MSMEs also made up 17.5 per cent of total banking industry NPLs as December 2022 which stood at approximately Sh515.7 billion.
Written off loans
"In the 12 months to December 2022, a total of 18,105 MSME loans valued at Sh9.6 billion were written-off, with commercial banks and microfinance banks writing off Sh9.10 billion and Sh51 million, respectively. The total accounts written off constituted 1.5 per cent of total MSME loan accounts and 1.2 per cent by value," says the report.
The report, which borrows from the FinAccess Survey of 2020, has documents of the Covid-19 pandemic economic effects that spilled over to 2022 for banks doing business with MSMEs.
The report notes that the pandemic had a significant impact on MSMEs access to credit which the 2022 survey sought to monitor the progress. In the report, 61 per cent of commercial banks rated the impact of the pandemic on MSMEs lending as moderate while 34 per cent rated it as high. Similarly, the report says, 64 per cent of microfinance banks rated the impact on SMEs lending as moderate while 21 per cent said it was high.
By comparison, it adds, in 2020, commercial banks and microfinance banks restructured a total of 17,381 loan facilities valued at Sh138.7 billion.
CBK says MSMEs continue to be a significant source of funding for the banking industry, accounting for 14.9 per cent and 59.5 per cent of total customer deposits held in commercial banks and microfinance banks respectively.
The largest allocation of credit in commercial banks to MSMEs as at December 2022 was to the trade sector (45.2 per cent) followed by real estate (19.4 per cent) and communication (11.3 per cent).
For microfinance banks, the largest proportion of loans to MSMEs was to trade sector as well (44.1 per cent) followed by real estate (14.2 per cent) and agriculture (13.4 per cent).
Related Topics