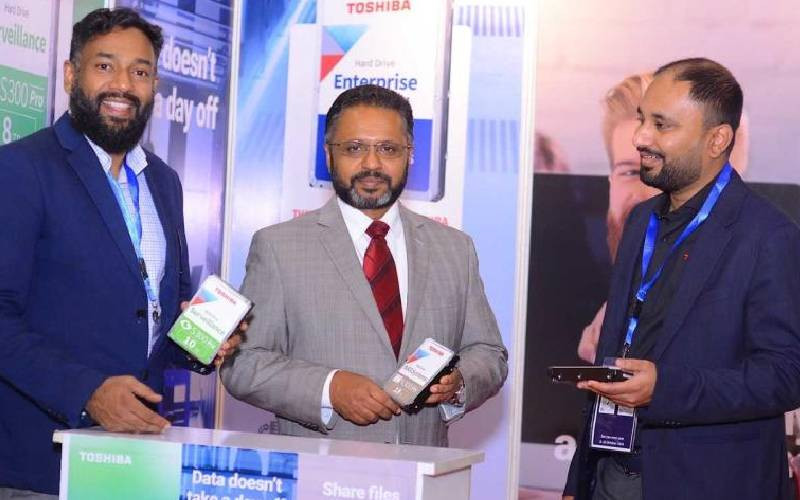 Japanese conglomerate Toshiba has entered into a partnership with Mitsumi Group in a move that will see the firm launch data centres.
The build your own data centre (BYODC) initiative is set to enhance cloud data centres in the region.
"It is a unique concept that Toshiba plans to roll out across all its regional markets where the business will be able to build their data centres incorporating hardware (server), software and storage with an ability to scale up storage capacity depending on demand," said President Toshiba Gulf FZE Vice President Santosh Varghese.
Mr Varghese, who is spearheading the BYODC initiative, said Toshiba offers a complete 360-range of storage products from personal or client hard drives, enterprise hard drives for cloud and data centre storage and surveillance storage for the CCTV cameras where pictures are recorded and stored.
"This technology has enabled people and businesses to be more resilient and bounce back on track quite fast," he added.
The Toshiba boss was speaking on the sidelines of the ongoing security conference at Sarit Centre in Nairobi.
He said research shows 166 Zeta Bytes of data will be produced globally and this data not only needs to be stored but also analysed by businesses for better decision-making.
Mitsumi Group chairman Jagat Shah said the BYODC is a great initiative to empower the leading business sectors in Africa with cost-effective and efficient data storage solutions.
"We are looking at a market potential of more than $2 billion(Sh260 billion )in this region for data centres projects in the next three to four years in Kenya," said Shah.
Related Topics