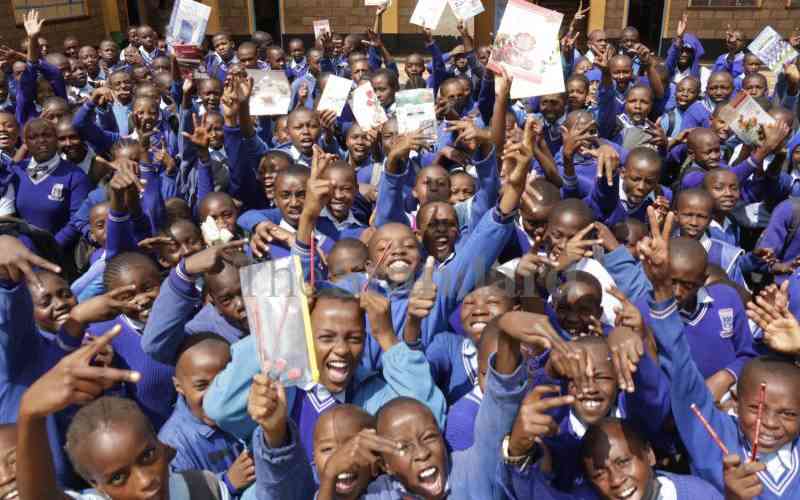 Learners returned for the first term today, ushering in a return to a normal learning calendar that is already facing new challenges due to the implementation of the new curriculum, which includes double admission in secondary schools.
Normalcy is returning after two years of disrupted learning due to the Covid-19 pandemic.
There are concerns about a lack of adequate space, the high cost of the Competency-Based Curriculum (CBC), a lack of proper teacher training, inadequate classrooms, and a lack of parental engagement.
A positive outlook despite the challenges in the education sector, Education Cabinet Secretary Ezekiel Machogu recently expressed confidence that all is well.
"Undoubtedly, we have successfully regained our school term; this recovery places our education sector on a comfortable gradient upon which to deliver on the many reforms outlined in the Kenya Kwanza education charter," Machogu said.
Finding space
Even though the CS was upbeat, promising a smooth transition from primary to secondary school, the biggest issue is finding space for the approximately 1.2 million Grade Seven students who are now enrolling in Junior Secondary alongside nearly a similar number of 2022 Kenya Certificate of Primary Education (KCPE) candidates competing for Form One slots.
More than 13,000 schools have met the Ministry of Education's requirements for junior secondary schools so far, with the government allocating Sh9.6 billion in capitation to fund junior secondary students.
As of now, most public schools are struggling to cope with infrastructural challenges caused by the high enrolment of learners as a result of the mandatory 100 per cent transition policy.
Due to a large number of students, space is limited, putting a strain on other facilities such as dormitories, laboratories, and washrooms.
President William Ruto, aware of the challenge, urged MPs to help improve infrastructure by constructing more classrooms through the CDF kitty.
"It is our collective responsibility to work with the national government to improve the learning environment in schools. We cannot delegate all of that responsibility to the government.
"The government will work with MPs to ensure we have one class in every public school," Ruto said.
However, some MPs, such as Titus Khamala of Lurambi, are dismissing the President's request, saying they have already identified pressing needs and priorities in their respective constituencies.
"The government must move quickly and distribute funds to schools to improve infrastructure to deal with these obvious challenges," Khamala said.
Potential disruptions
According to the lawmaker, the government has only disbursed Sh7 million, of which Sh5 million will go to bursaries for needy students and the remaining Sh2 million will be used for administrative purposes.
As the government grapples with infrastructural challenges, school administrators are warning of potential disruptions in learning activities due to a high number of students overstretching available facilities.
Kenya Secondary School Heads Association national chairman Kahi Indimuli has raised the alarm about their predicament, saying some of the newly constructed classrooms earmarked for Grade Seven students have either been allocated or occupied.
"Even though the classrooms proposed by the government were intended for Grade Seven students, many schools used them before they were handed over to the government," Indimuli said.
In some cases, schools are forced to construct temporary makeshift structures to meet the needs of their students.
"Under the government's transition policy, the number of learners sent to schools exceeds the target for many public secondary schools, necessitating immediate intervention," Indimuli said.
Lack of tutors
Another issue confronting school administrators is a lack of tutors for specific subjects, despite the government's plans to hire approximately 30,000 teachers to fill the staffing gap.
This is despite concerns that the recruitment process has been hijacked by politicians looking to ensure their cronies are given priority.
The teacher shortage in public schools is slightly more than 100,000, and new recruitment is a drop in the bucket.
Aside from the shortage of teachers, approximately 15,000 have been relocated to new stations as a result of a delocalisation policy that has since been reversed.
TSC stated in a circular dated January 9 to all regional directors that the transfers were based on teacher requests and were aligned to address understaffing as well as correct imbalances in counties.
There are 10,934 primary school teachers, 1,948 primary school principals, and 1,316 secondary school teachers among those who have been transferred. Some 226 secondary school principals and 189 deputy principals are also affected.
Under-trained teachers
There has also been disagreement over the physical location of junior secondary schools, with both the Kenya National Union of Teachers (Knut) and the Kenya Union of Post Primary Teachers (Kuppet) expressing concerns that many teachers are under-trained and lack the necessary skills to administer CBC.
Knut has argued that moving the children to secondary schools may pose safety risks, whereas Kuppet believes that secondary schools are better equipped to handle the transition. The standoff may jeopardise the implementation of the transition and new curriculum.
Parents, on the other hand, will have to dig deeper into their pockets after the government recently lifted the subsidy relief programme instituted in response to the Covid-19 outbreak.
The elimination of the subsidy at a time when many people are experiencing financial hardship means that students in national and extra-county schools will now pay Sh53,554, rather than Sh45,000.
There will be more pain for parents as school administrations struggling to stay afloat will pass on the high cost of food to them.
Additional levies
Although Machogu has warned schools against imposing additional levies, school administrators will be forced to devise new methods of raising funds.
When the KCPE exams were released, the CS said the Sh15,000 capitation for learners in boarding schools was adequate.
Some parents are already complaining that the cost of uniforms for their children entering Grade Seven is prohibitively expensive.
To differentiate the two groups of students, the Ministry of Education directed schools to design their own uniforms. "The type of school uniform will depend on the individual school, but what is certain is that Junior Secondary will wear a different school uniform than the lower classes," Machogu said.
Another requirement that teachers see as a burden that will cause them to lose focus on their primary mission of teaching is the requirement to provide proof of sufficient land with valid ownership documents.
Schools must now have approvals from relevant authorities such as county governments and the National Construction Authority as well as valid certificates of completion and occupancy.
[email protected]
Related Topics