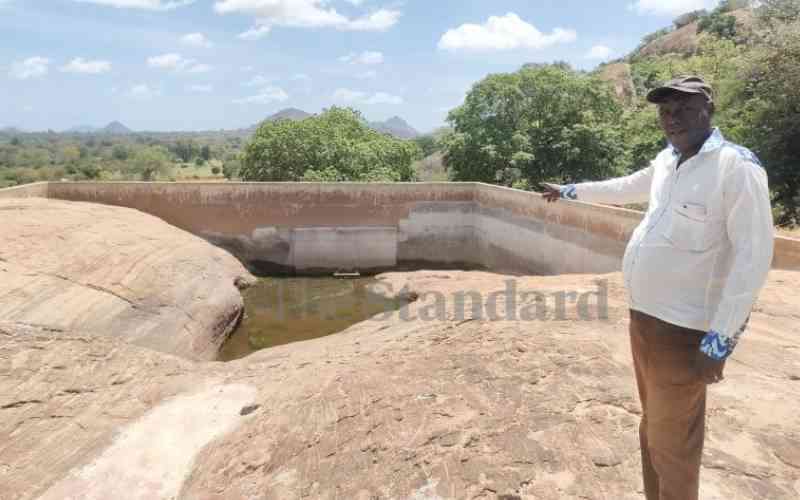 Early morning and a group of farmers gather inside a vegetable farm located beside a huge rock located at Ndui village in Mutomo, Kitui South sub-county.
The farmers begin tending to vegetables; pulling out weeds, pruning dry leaves while others check on the working condition of drip lines in readiness to irrigate the farm.
Josephine Mbuvi, a farmer from the nearby Kawelu village says the half-acre farm is a demonstration site where locals are trained how to grow and manage horticultural crops.
Mbuvi says it has not been easy for locals to grow crops as Kitui is a semi-arid area.
"Apart from cereals and pulses like cowpeas that can withstand harsh conditions, we cannot grow vegetables here," she explains.
Matters are made worse by the effects of climate change which manifests as long, dry seasons and unpredictable weather patterns.
However, in Mutomo area, interventions by stakeholders such as non-profits Welthungerhilfe (WHH) and Concern Worldwide are helping people improve food security and nutrition by making water accessible for home use, livestock rearing and farming.
Benedict Mailu, Head of Project for WHH in Kitui County says they innovatively harvest water from the massive rock and piped to over 500 households.
"Although water is a major challenge here, the area has huge rocks we use to collect water. We have constructed troughs using sand and cement around the rock and when it rains, water is collected into the troughs and channelled to a reservoir, which is part of the rock, before it is piped into two storage tanks," he says.
From the two storage tanks, each with a capacity of 450,000 litres, the water is pumped using solar to water kiosks where locals fetch for use.
The project has also facilitated youth from the community to train in agribusiness at the Latia Agripreneurship Institute in Kajiado, who in turn train other community members. Caroline Wambua is one of the youth who benefitted from a four-month training in agribusiness.
"I learnt how to manage horticulture and vegetable production including land preparation, preparing nursery, planting, weeding, use of pesticides, harvesting, marketing, storage and managing post-harvest losses," she says.
Caroline owns a kitchen garden where she plants kales (sukuma wiki), tomatoes, onions and spinach.
Kelvin Shingles, Country Director of WHH says despite the county being dry, they are initiating projects that promote food security among the locals.
"We are supporting households to diversify food production, take adequate nutrients and reduce stunting rates. We do this through empowering the community on new skills in agricultural practices that increase the livelihoods and nutrition intake at the household level," he says.
Penina Lwaya, Sub-county Nutrition Coordinator for Kitui South says the joint effort from different partners is helping reduce stunting. The 2022 Kenya Demographic and Health Survey (KDHS) put Kitui county at 25 per cent in stunting.
"We have trained different healthcare workers and Community Healthcare Volunteers using criteria of friendly community initiatives which involve passing of healthcare messages on food nutrition to families," says Lwaya.
Caroline Mugo, the Senior Manager for Health and Nutrition at Concern Worldwide says in order to reduce malnutrition, there is need to strengthen food systems, along a whole value chain from production to consumption at the household level.
"When you have improved food systems, it means you also have improved nutrition status for better health of the population," she says.
Availability of water has also saved women and girls from walking long distances in search of the commodity. Susan Katili says before they began trapping water, she would walk over eight kilometres to get just a little.
"We walked long distances in search of water, which we then scooped from river beds and shallow wells," she says.
Now that water is accessible, Katili says she saves time and dedicates it to her farm where she plants vegetables, in addition to maize, beans and soya beans. Locals buy water at Sh2.50 per jerry can. The money is used for repairs and maintenance.
"We are happy with the efforts we are seeing from government and all stakeholders in ensuring that people in this area are healthy, food and nutrition secure," says Stella Kimani, Nutrition Coordinator at WHH.
Despite the effects of climate change, Ms Kimani says they are supporting farmers to harvest water and practice irrigation farming, warning that reliance on rain-fed agriculture is no longer sustainable.
Related Topics