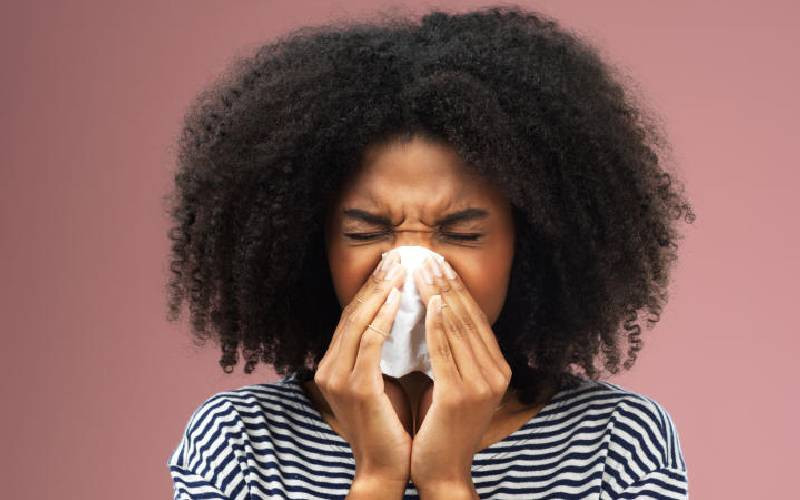 Margaret Wanjiru from Buruburu estate in Nairobi has perennially experienced a running and blocked nose, but she little does she know she suffers from allergic rhinitis, also characterized by sneezing, nasal congestion and body itches.
Allergic rhinitis has the 'runners and blockers' stages.
Prof Isaac Muthure Macharia, an Ear, Nose and Throat (ENT) surgeon, explains the above as symptoms of the early phase of allergic rhinitis-or the runners stage- which can be treated with antihistamines or anti-allergy drugs.
The blockers stage, says Dr Macharia occurs "when the condition progresses due to continued inflammation of the upper respiratory tract, causing nasal congestion and discharge of thick mucus."
Wanjiru says her chronically blocked nose results in disturbed sleep and nasal discomfort for which she uses steroid inhalers as therapy.
Runners and blockers was first coined by Dr Robin Green, a paediatric pulmonologist at Sunninghill hospital in South Africa and the research findings published in the Medicine Journal in October 1988.
Prof Macharia says allergic rhinitis refers to inflammation of the nasal lining following exposure to allergy-causing agents like dust, paint and pollen.
It is not Covid-19.
The two types of allergic rhinitis are perennial and seasonal. The former is linked to exposure to allergens like dung from pets, or house dust mites, while the latter occurs seasonally like when plants are flowering.
Both perennial and seasonal allergic rhinitis have similar symptoms but nasal congestion is more prominent in perennial rhinitis.
Prof Macharia says between 15 to 20 percent of Kenyans suffer either perennial or seasonal rhinitis with about 30 percent of cases as being genetic.
A 1996 Moi University study among 3,018 patients in Uasin Gishu and published in the East Africa Medical Journal, found that modern lifestyle, effects of traffic pollution contributes to the increase in allergic disorders, especially in urban areas.
Though both allergic rhinitis are not life-threatening, both result in poor quality health, poor sleep and lethargy with about a third of all seasonal allergic rhinitis patients developing asthma.
Medics say allergic rhinitis treatment has long relied on a group of anti-allergy drugs known as the first generation antihistamines.
But Dr. J.K Patel of the Hindu Council, says there is a more effective second-generation antihistamines, which do not cross into the brain.
Some of the old antihistamines, says Dr Patel, have adverse side effects on heart activity. One of overcoming the condition is regular and rigorous exercise as it helps to relax the condition.
Children with perennially running noses, Dr Patel says, are mostly aged below 12. Besides lack of strong immunity, most play in contaminated places or live in confined home environments with germs as not all corners in most homes are cleaned with antiseptic-and thus become vulnerable to cold weather or hot dusty weather.
Related Topics