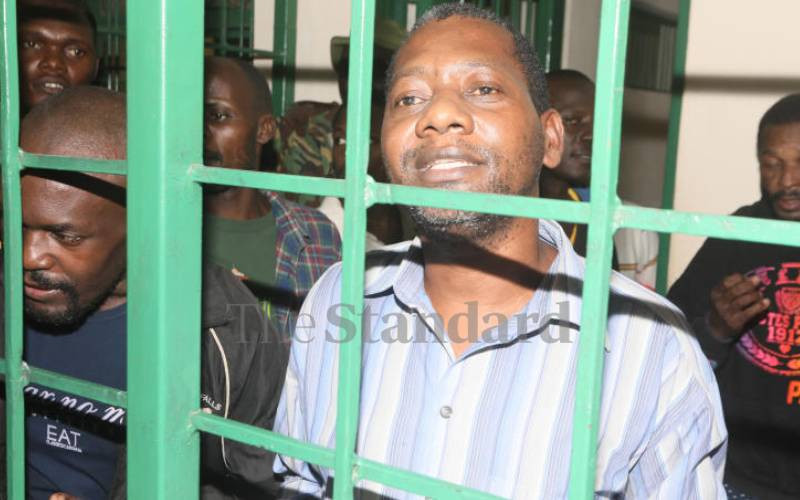 Paul Makenzi has protested his "perpetual detention" and asked the State to either charge him or release him on bail.
This is after the prosecution on Friday sought an extra 60 days to detain him pending investigations.
Makenzi's lawyer Elisha Komora said if the State has evidence linking his client to the alleged massacre in Shakahola Forest, they should charge him and others.
The State claims that Makenzi ordered the followers of his church, Good News International, to fast until they meet Jesus Christ and ostensibly attain martyrdom. Makenzi has denied the accusation.
So far, over 240 bodies have been retrieved from the forest. Makenzi, his wife, Rhoda Maweu and 17 others are in custody.
The 30 days the court had allowed the police to detain the suspects lapsed yesterday.
State prosecutors yesterday said DNA profiling stands at 12 out of 243 bodies so far exhumed or recovered.
Raphael Wanjohi said the DCI team has also submitted several inquiry files with preliminary findings to the DPP, and there are areas that need to be covered extensively before charging.
"Over 464 persons have provided DNA samples to the DNA centre to assist in identifying their missing family members that are either believed to have perished or reported to have been missing," said Wanjohi.
He said out of 249 bodies, preliminary findings by the pathologists show 73 of them were minors, 58 adults and 12 undetermined.
Wanjohi said seven bodies are fresh, 49 mildly and moderately decomposed, which will take about 21 days to profile, and 187 are severely decomposed and may take 8o days.
He said the preliminary findings on the cause of death reveal that 61 are not ascertained, 92 died from starvation, four cases of asphyxia, five head injuries and one strangulation, amongst others.
Shanzu Principal Magistrate Yusufu Shikanda will Wednesday rule on whether Makenzi and others will be released on bail.
Related Topics