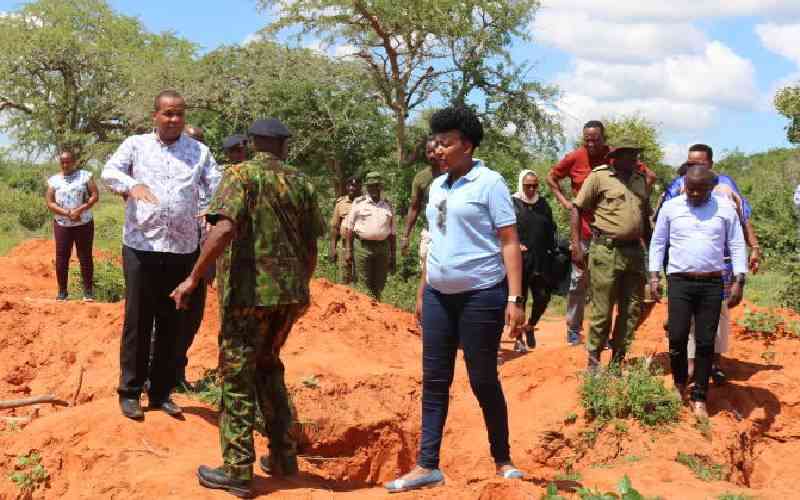 The third phase of recovery of bodies from shallow graves at Shakahola forest will start on Friday after the autopsy of 129 bodies exhumed in the second phase.
On Wednesday, chief government pathologist Johansen Oduor said they did postmortem of 16 bodies completing the second phase of the autopsy. He said 243 bodies have so far been analysed.
''Six of the 16 bodies were males and nine were female. We were unable to determine the gender of one body because of the level of decomposition," he said.
One of the persons who died in the hospital after receiving treatment total, we found out that the cause of death was acute kidney failure which was caused by dehydration.
Dr Oduor further said the victims were either forcefully starved, hit by a blunt object, or strangled to death. He further said the degree of decomposition has limited many aspects of the postmortem.
He said the focus will now be directed on phase two of the exhumation exercise in Shakahola forest.
The detectives and forensic experts have taken a break to prepare for the third phase of exhumation. ''The team will break and resume on Tuesday next week to exhume more bodies for the third phase,'' said Oduor.
According to the homicide director Martin Nyuguto, the 93 families who turned up for postmortem will have to wait for two months for the DNA results. Addressing journalists at the Shakahola command centre last week, Interior Cabinet Secretary Kithure Kindiki said more graves have been identified in Shakahola forest.
"We have evidence and data showing that there are more graves there and more victims are still holed up in that forest. It is sad but we are going to comb the entire land to ensure no Kenyan is left inside whether dead or alive," he said.
He also said more people are still holed up inside the forest and the government is planning to bring in more tactics to make sure all people are rescued and reunited with their families.
He said among the leads the security agencies were following, was sexual abuse of children in the shanties constructed in the 800-acre forest. Speaking before the Ad hoc Committee on the Proliferation of Religious Organisations on Friday, the CS regretted that such cruelty may have been done in the name of religion.
So far 34 people have been arrested in connection to the cult deaths.
Related Topics